The beginning of a new year is a good time to take stock of the year that went by. For this blog, this means searching across the blogosphere for exceptional articles for, from and about agencies.
2017 was a good year for such articles. Agencies, and the people who work for them, are producing more content than ever. You were spoiled for choice if you wanted to learn new strategies, grab new accounts or explore new dimensions in your business.
On that note, I've compiled a list of the best blog posts for agencies from 2017. This includes content created by agencies, consultants and publications targeting agencies and marketers.

Content that provokes, challenges and questions is a staple of best-of lists, and ours is no different. Thought leadership content is perhaps even more important in the fast-paced agency business.
Here are some of the most thought provoking blog posts of 2017 (in no specific order):
By Eric Holubow, Leo Burnett
As one of the largest and most-respected agencies in the world, Leo Burnett is known for constant innovation. And constant innovation requires constant questioning of long-held beliefs.
This article by Eric Holubow perfectly captures this spirit. Holubow asks readers to look beyond the obvious 'what' of a brand and seek the 'why' of its existence. A tough exercise but one that is necessary to make relevant brands in 2018.
Select quote:
"The foundation of brand trust is built on top of the solid bedrock of a clear and selfless brand purpose"
By Matt Basford, Beyond
What is the core ingredient of a successful product? Matt Basford answers this important question in this thought piece originally published on The Next Web. Basford makes a solid case for prioritizing empathy and objectivity in product design, inviting users into the product creation process.
Select quote:
"The beginning of any creative process is a time for divergent thinking – opening yourself up to many possible solutions, and generating multiple ideas for addressing users' needs...Later on, you'll need convergent thinking – filtering and refining the ideas you've generated, before deciding on the best possible solution"
By Caspar Mason, Jack Morton Worldwide
Caspar Mason stirs the pot and challenges one of the more dominant ideas in branding of the last two decades: "human brands". Mason questions the value of making a brand more "human" when the resultant effort usually ends up as insincere pandering.
Although the bulk of Mason's ideas are in the embedded presentation (and not the blog post), I've chosen to include it here because of the sheer value of the content.
Select quote:
"The more brands try to be human, the more they risk alienating the humans they so want to connect with. So can brands be 'more human'? Or more importantly…should brands be more human?"
By Simon Bird, PHD
Being able to measure the results of your efforts is important to both agencies and clients. But Simon Bird, writing in StopPress, makes a compulsive case for not focusing on hard metrics.
Bird argues that a creative agency's most impactful work - emotion-based, mass-targeted campaigns - is difficult to measure. Focusing on metrics also focuses you to take on more short-term campaigns. These might yield results, but they also undermine your agency's long-term relevancy.
A long but compelling read.
Select quote:
"The 'big data approach' requires fast, direct feedback loops to work. But mass, traditional, emotion-based, brand advertising doesn't provide very good fast, direct feedback loops."
By Various, Richards Group
This isn't a single article but 10 complete blog posts covering the most important trends in marketing, tech and the agency business in 2018, according to Richards Group's top execs. An in-depth, thought-provoking report that covers everything from AI to augmented reality, this is a must-read if you want a handle on next year's most important trends.
Select quote:
"Successful brands find unique ways to create more digital touchpoints within their ecosystem that still seem reasonable within the definition of the brand."
By William Owen, Made By Many
William Owen, founder of Made By Many, makes an argument sure to provoke its target audience: upper management. Owen argues that much of upper management in large companies was trained to solve 20th century problems in a 20th century manner. While this may have worked earlier, the disruption created by digital innovations makes them ill-equipped to solve problems today.
Owen makes a strong case for management to examine its own approaches if it wants to be 'future ready' and truly embrace digital.
Select quote: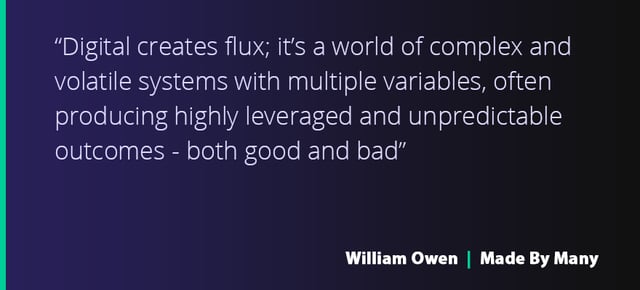 By Various, GMR Marketing
This is a collection of blog posts from GMR about our world of "blended reality" where we move in and out of digital experiences seamlessly. GMR explores the impact of this blended reality on how we socialize, how we explore, how we buy and how we play.
Along the way, GMR notes opportunities for businesses and how brands can thrive in this new "real life". A must-read four-part series.
Select quote:
"IRL now refers to our blended world. It infers that technology has embedded itself into our lives in ways that we don't consciously notice, becoming seamless in our day-to-day world and blurring the line between virtual and real."
By Gary Grates, W2O
As Grates points out in the opening paragraph, how an organization communicates internally is often a proxy for how the organization operates. Strong organizations also have strong internal communications.
Grates argues that internal communications in the digital age is about giving employees the knowledge and the tools they need to create value. Instead of top-down communication, he asks businesses (especially agencies) to have a stronger collaborative, bottom-up framework for communicating.
When employees debate and discuss, your internal communication, and by proxy, your business, thrives.
Select quote:
"Internal communications can identify both potential issues and broken systems such as pursuing the right imperatives and priorities, to uncovering innovation and potential new markets and opportunities."
By Samuel Scott, TechCrunch
Scott's title is provocative enough in an industry that depends on, and even venerates Google Analytics. The content is even more thought provoking. Scott essentially asks: how would you market your business if there was no internet?
If you don't have answers to this question, you don't really have a marketing strategy. Provocative, but compelling and a great read for analytics-focused marketers.
Select quote:
"To ask 'What is the ROI of social media?' makes as much sense as asking 'What's the ROI of the telephone?'"
By Nicola Watts, Strategy and research consultant
Ogilvy isn't just one of the most successful agencies in the world, it is also an online media powerhouse. Its blog publishes hundreds of stories every year, but this piece by Nicola Watts has to be one of the best simply because of the impact of its key takeaway: simplicity sells.
At a time when brands are grappling with increasing complexity, Watts pulls out the numbers to make the assertion that the simpler a brand is, the more successful it will be. She includes everything from customer surveys to stock market performance to make her point.
The takeaway is clear: strip away complexity from your brand and you will thrive.
Select quote:
"Simple brands make life easy, they make it easy to purchase them, and provide an uncomplicated post-purchase experience that maintains and reinforces the brand customer experience"

Every year, non-agency focused publishers produce a number of long-form pieces on business, technology, and even marketing. Many of these are relevant to agencies, even if it might not appear so from the outset.
Here's a look at some of the best, and most relevant editorial content pieces for agencies in 2017.
By Samanth Subramanian, Guardian
How exactly do you build a nation's brand? How does a city make itself more attractive for tourism and investment?
Subramanian explores these tough questions in this long feature story in The Guardian. Much of it is about the challenges a nation (or a city/region) faces in pitching itself to outsiders, and whether that is even worth the resources.
For agencies, however, there are a ton of lessons in brand building.
Select quote:
"In an era when money, influence and people could flow anywhere, countries that aspired to be a destination for these energies had to sell themselves hard. A nation's identity, for perhaps the first time, had to pull the rest of the world in, rather than bind the nation against the rest of the world."
By Abe Streep, Outside Magazine
Patagonia has built a huge business by trying not to build a huge business.
Abe Streep explores this intriguing company and its unconventional success in this glowing profile in Outside Magazine. While there are lessons aplenty, agencies will want to read it to learn from Patagonia's brand building efforts and corporate social responsibility done right.
Select quote:
"In the end the great brands will be the ones that have vision to face facts square in the eye and take action—radical action"
By Sean Cooper, Tablet Mag
Sean Cooper's expose on the content marketing industry, revolving around the Content Marketing Conference in Boston is an eye-opener for any agency veteran. It gives you an outsider's perspective on some industry practices we've come to see as the norm, and how they might be upended.
If you're in the business of content (and all agencies are), this is one of your must-read stories for 2017.
Select quote:
"Marketers are disruptive, pervasive, and not particularly well-liked. But that's why we're here, to make marketing that doesn't suck."
By Casey Newton, The Verge
Casey Newton's essay highlights something that has gone largely unnoticed by agencies and brands alike: the impact of social media on how businesses design their physical spaces. Newton notes how restaurants are starting to adopt more "selfie-worthy" decor ideas to appeal to the Instagram generation.
Fascinating if you work in interior design or restaurant branding. Even more fascinating if you can take the lessons from the restaurant industry and apply it to other industries.
Select quote:
"On Instagram, 'we basically trade memories of commodities.'"
By E.J. Schultz, Ad Age
Schultz' feature story talks about one of the most important developments in the marketing industry in years: the influx of consultancies.
From IBM to Deloitte, a large number of established consultancies are getting their hands dirty with creative and marketing work from their existing management clients, undercutting traditional agencies. So much so that four of the 10 highest grossing agencies last year were actually consultancies.
Schultz explores this phenomenon, offering both advice and warning to agencies. If you care about large accounts, this article - and the related development - should be high on your priority list for 2018.
Select quote:
"The big consultancies are underestimating the value of creativity [and] the agencies are under- exploiting the value of business analytics...someone's going to crack that soon because data plus creativity is the future."
By Ronan Shields, The Drum
One of the biggest stories of 2017 was the rise of rampant ad fraud, expected to cost the industry as much as $50B by 2025. With clients demanding more accountability and transparency from agencies, tackling ad fraud is a key concern for everyone in the industry.
This article from Shields takes readers behind the scenes of an ad fraud botnet takedown. The botnet in question - hyphobot - was estimated to cost up to $500,000 in fraud every day.
A great read on the how of ad fraud - and how to prevent it.
Select quote:
"Similar to how those in the financial services industry must ensure equities sold on their exchanges are legitimate, it is incumbent on ad exchanges to perform such checks."

The humble how-to features prominently in any list of content for and by agencies. Teaching readers everything from best practices to new ideas, these how-to articles are great for SEO and for living by the content marketing motto: teach what you know.
On that note, let's look at some of the best how-to blog posts of 2017.
By Mark Curtis, Fjord (by Accenture)
This blog post is actually a summary of Fjord's report on building an internal design team. While you're welcome to read the report, the blog post does a good job of giving away the key takeaways.
Curtis argues that the only way to build a design culture from within is to select the right leader and to your team free rein to be creative. A clear vision and regular input from end users helps as well.
Select quote:
"Creativity is a fickle beast, and it's rarely – if ever – stimulated by following rules. Liberate the studio, hub or bootcamp from any restrictive bureaucracy handed down by the parent organization."
By Miriam Ellis, Moz
If there is only one blog post you can read on local SEO this year, make it this one. In covering local SEO pitfalls, Ellis comprehensively covers every aspect of this niche, but crucial branch of SEO.
Obviously, this isn't a topic for every agency, but for any marketing or SEO-focused agency, it's a must-read.
Select quote:
"What I've learned is that to be agile enough to beat the odds, local business owners have to swing over the obvious pitfalls that less savvy competitors are doomed to become mired in."
By Paul Roetzer, PR20/20
Paul Roetzer pitches a number of questions and ideas in developing your agency pricing model, but what he is really pitching is his agency's innovative point pricing model. This model eliminates billable hours and gives both you and your clients flexibility.
Use this list of questions to think about your own pricing, and for further guidance, consult Roetzer's point pricing model above.
Select quote: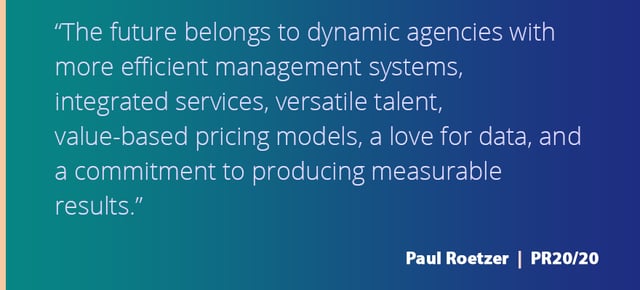 By Michele Linn, Mantis Research
"Content marketing is what?"
Anyone who has ever worked in or pitched content marketing to a lay friend, colleague or client is all too familiar with this question. Content marketing is simply hard to explain to people who aren't already working in the industry.
Michele Linn's handy, beginner-friendly guide is a great tool to help you figure out how to talk about content marketing to any audience. You'll learn easy, cocktail party-ready descriptions about what you do and how to pitch it positively.
Select quote:
"By becoming a credible, authoritative resource on topics that matter to potential customers, your business is more likely to get discovered by the right audience and earn their loyalty and trust."
By Brian Dean, Backlinko
As the title indicates, this is a "definitive" guide to SEO in 2018. Skilled SEO practitioners might know all these 2018-ready tactics, but those new to the field or wanting to share something with clients, this is a must-read.
Select quote:
"Google will consider the mobile version of your site the 'real' version. And this will be the case even if someone searches from a desktop."
By Kyle Gray, The Story Engine
The writers among you would be familiar with the hero's journey. The marketers would know the buyer's journey. What Kyle Gray does in this infographic/blog post is bring together these two ideas together. The storytelling thrust of the hero's journey finds a home in the more result-focused buyer's journey - something all content creators should strive for.
Select quote:
"The Hero's Journey maps out how your customer is experiencing and engaging with your brand, while The Buyer's Journey maps out the "logical" decision-making process that is happening in tandem with the experience. By using them both together we can outline a brand storyline that emotionally engages our audience and provides them with everything they need to make a buying decision."
By Heidi Cohen
This blog post is essentially a compilation of research and data about content consumption habits culled from sources across the internet. The result is an extremely useful, takeaway-filled post about how your customers are consuming content.
Use this data to change how you market yourself (and your clients) and what kind of content you create.
Select quote:
"The 5 types of content consumption include: Focused consumption, dual consumption, information snacking, time shifted content, and content bingeing."
By Michael Gass
In this post, Michael Glass summarizes Peter Levitan's book, The Levitan Pitch, adding his own insight and takeaways on how agencies can better negotiate new business deals. The first negotiation, Glass argues, sets the tone for the entire client-agency relationship. Get this part right and you'll never struggle to get the kind of clients you want.
The entire post is chock full of takeaways, from initiating first contact to negotiation tactics.
Select quote:
"The negotiation process is the the most critical time in the client/agency relationship. During this time you are given the chance to define whether the relationship will be profitable or unprofitable account."
By Jason Brewer, Brolik
Marketers can often be obsessed with capturing new leads, rather than tracking actual deals and revenue from leads. Jason Brewer argues that instead of lead volume (an easy and perhaps, lazy metric to measure), agencies should focus on "closing the loop".
This means tracking leads through the entire pipeline, from acquisition to eventual deal and revenue generated. This, Brewer argues, will give you a much better idea of your sales and marketing efforts than simply stuffing the pipeline with new leads.
Select quote:
"Closing the loop means that you are tracking your sales and marketing efforts from the initial lead source through to closed deals and revenue. This way you know exactly what sales and marketing efforts and channels are driving your business."
By Jonathan Taylor, Klipfolio
$100k in Facebook ad spend might be a lot or just peanuts depending on the kind of agency you run. Either ways, Taylor's piece in Inbound.org is a great walkthrough for new marketers, small businesses and young agencies tackling Facebook ads.
Taylor walks readers through the failures and the successes of a $100k Facebook campaign. Takeaways range from the impact of fresh creatives to the value of tracking. A great read for beginners to Facebook.
Select quote:
"Asking someone to start a trial of your software is a lot like calling a friend and asking them to catch up with you over coffee in an hour. The message is out of the blue and entails a time commitment. No matter what their interest level is, they simply may not be able to do it right then."
And finally, there's one of our own - a comprehensive guide to team building activities. 31 activities covering both indoor and outdoor events, suitable for teams of all size. This should be your go-to resource for any team building event.
Anything we missed? If you enjoyed this list or have some articles that deserve a spot here, let us know in the comments below!
In the meantime, share this with your agency friends to give them their reading list for the week!