Tried-and-True Brainstorming Strategies for Your Next Creative Project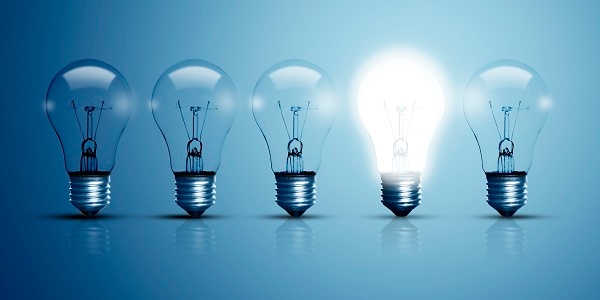 Inspiration isn't spontaneous.
Yes, the great idea for a creative project is akin to the proverbial light bulb going off in your head. But the light doesn't come on by itself. In fact, it may require the equivalent of you pushing your way through a crowded room to flick the switch.
You often must brainstorm many bad ideas to come up with some good ones—and then sift through those to find that great idea that makes your creative project a winner. Generating those initial ideas isn't easy either. You cannot always quickly come up with ideas, because you must consider factors like your project's budget, timeline, and purpose.
Follow these five tried-and-true brainstorming strategies for your next creative project to find the inspiration that will lead to success.
1. Start small if you want to think big
You may want to invite as many people to your brainstorming session as possible so that you can get more suggestions to consider. But groups of three to five people are best suited for brainstorming, because everyone is likely to participate, whereas larger groups tend to discourage involvement, according to a McKinsey & Company article on seven suggested steps to better brainstorming.
Invite the people who are most informed and likely to cooperate. Avoid "idea crushers" like bosses, "bigmouths," and subject-matter experts, whose presence could intimidate other participants, thereby discouraging them from contributing, the article's authors suggested.
2. Define your expectations
You might be ready to go for a touchdown, but make sure that you're running toward the right end zone first. For example, it won't do you much good to come up with a creative project that increases visits to a client's website if the client really wants its customers to call instead.
Frame your brainstorming session by laying out the parameters in your creative brief. Detail the target audience and share the goals for your creative project. Explain how you will measure success so that the ideas that your team propose would move you toward those objectives.
Share supporting documents and files through creative management software so that team members can reference them before, during, and after your brainstorming session.
3. Empower your employees
Creatives thrive on challenges. Charge one of your team members with leading your brainstorming session. This will boost ownership and inspire innovation.
Create a supportive environment that is conducive to contribution. Team members are more apt to propose great ideas if they don't feel as if they will be penalized for suggestions that aren't so great. Encourage candor, but ensure that it is directed at the ideas—not the team members who proposed them to the group.
Keep the brainstorming going by facilitating the communication and providing the information that your employees need. Then stay out of their way.
4. Manage conflict
Creative differences inevitably arise when you ask creatives to be creative, because everyone has ideas to offer. So, even the most cohesive teams may need occasional coaxing to stick together when conflict erupts.
Conflict management keeps your team members focused on your creative project—not their creative differences. Confirm the underlying issues and propose solutions that leave everyone involved feeling as if they have been heard and that their concerns have been fairly addressed.
5. Offer alternative perspectives
Each member of your team sees your creative project differently. Solicit ideas based on these perspectives and then challenge them to take a new approach.
Digital consultant John Boitnott offers 10 longtime brainstorming techniques in an article for Inc.
Among them:
Teleporting storming – Approach the project as if you were in another time or place. What ideas might you have if you were on a desert island instead of in a conference room?

Figuring storming – Have your employees picture themselves as someone else. The prospective customer for whom the creative project is intended is usually ideal. But even imagining themselves as a particular celebrity or role model could inspire your team to see the project differently.

Mind mapping – Put your goal at the center of a whiteboard and draw out possible connections. Branch out as far as you can and then review the results to find the most powerful ideas.
Great ideas require great effort. Follow these five tried-and-true brainstorming strategies for your next creative project to find your great idea.
What brainstorming strategies work best for you?
About The Author