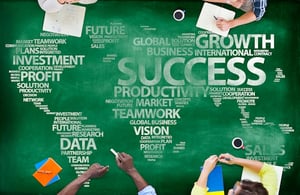 Efficiency fuels profitability.
The more efficiently you work, the more profit your agency makes.
Integrated project management is the key to showing profitability because it allows you optimize your people, processes and finances and to prove the return on the resulting efficiencies.
Coordinating the use of resources and involvement of stakeholders keeps your projects on time and within budget (i.e. your targeted profits) by improving communication and collaboration.
Here are six ways you can use agency management software to show profitability through integrated project management.
1) Projects start right.
Preparing accurate estimates with templates based on previous projects establishes realistic profitability goals. You can then track compliance with that budget, and thus your eventual profitability.
You can also convert sales information to project records, like schedules that let you set aside enough time for your creatives to finish the work to the client's satisfaction without incurring additional costs. Monitoring pending projects, including those for new clients, helps you efficiently plan for future deliverables as well.
2) Resources work effectively.
Creatives like to be challenged but they don't like to be exhausted. Managing workflow and workloads based on a holistic view of the work your team must complete helps you ensure that they work to—but not beyond—their creative limits. Project templates with pre-defined checklists offer additional efficiency by allowing your team to assist one another in keeping their collective work on track.
3) Processes flow smoothly.
Creating a communication plan that facilitates collaboration among creatives and clients shows that you are minimizing delays and revisions- too many of which could decrease profitability. Regular meetings and status updates based on shared information also keep you on track.
4) Goals remain aligned.
Integrated project management aids in your fight against scope creep, which could cause you to absorb unbudgeted costs that should actually be covered by your client. Clearly establishing the agreed-upon scope through shared documentation and communication from the outset lets you demonstrate that the project is as profitable as projected. If a change order is warranted, you can preserve profitability by documenting it appropriately and charging the client accordingly.
5) Cash flows.
Automating the creation of detailed timesheets, expense reports and vendor invoices allows you to bill clients more efficiently. You can also eliminate disputes over clients' bills by substantiating all charges and speeding up their collection by notifying account executives when they should follow up on past-due receivables.
6) Productivity surges.
With integrated project management, you can measure productivity and show profitability in real time by comparing actual resource and time management numbers to estimates. You can also ensure that you have adequate resources to meet any increased workloads by staying abreast of revenue projections derived from your new business reports.
Delivering projects on time, on budget and within your clients' expectations is key to completing them profitably. Integrated project management helps you do all of this and to show results that are accurate and up-to-date.
Tell us how you've used integrated project management to show profitability.