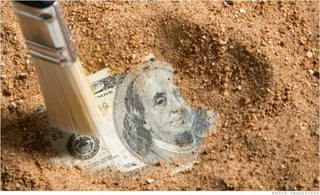 Managing the project financials is probably the most critical task that the project manager or creative manager performs on any engagement – after Job One which is effective and efficient communication.
Why is the budget and revenue forecast – which to me is the budget in action – so important? Because in many people's eyes, often including your senior management, it means the difference between project success and project failure. That bottom financial line on the project can be everything the project manager is measured against internally. I know it was for me on one huge government program that I managed for the company I worked for. It was a $50 million contract we had with the US Department of Education and it was my organization's largest project. Each month, I had to justify every dime of profit margin I was forecasting on the project to our company's Chief Financial Officer (in person, with the door closed), because it drove so much of the overall company's bottom line profit margin that being off by just 4-5% would make a big difference.
So, I do know a little bit about revenue forecasting, analyzing the profit margin and the importance of accuracy in that department. Or at least I've been hammered on the extreme side of that key aspect of a project. When we are analyzing our project budget and revenue forecast, what might we be missing as we try to finalize that every week or month – depending on what is requested (demanded?) of us as the project leaders? What could potentially fall through the cracks if we aren't careful? Those things that fall through may look small now. But left unattended, they can grow and financially throw a project off the tracks. Please consider your own list; for me it comes down to four items that many projects have in common.
Project team members' holiday and vacation time. This may or may not be the case, depending on how vacation and holiday time is absorbed in your organization. It will definitely be a concern in your resource forecasting process. Forgetting to plug in holidays like I did on one 7,500 task multi-million dollar project early in my PM career can be a major headache and a real learned lesson on avoiding future re-work by never repeating that mistake. Thankfully, I caught it in the draft project schedule phase and it didn't ultimately affect the project – it only cost me many hours of re-work creating the draft project schedule and making deliverable dates work based on the estimated hours of effort I was given by team members. If your project absorbs vacation time and holiday pay, then something like this will be a major concern when working on your revenue forecasting at the beginning of the project and every week and every month going forward.
Third party vendor delivery and potential issues. Have you considered everything you're going to need from those "other" resources? Namely, your 3rd party vendors and suppliers. And, likewise, you may also want to consider any potential in-project risks that can arise from those vendors like missed and late deliveries and any potential costs associated with those issues. You don't want to fully load those cost risks, but possibly a percentage of all so if any one is realized you won't be taking on the full brunt of that one vendor mishap or issue.
Risk factors, likelihood of realization, and pro-rated associated costs. Did you do a thorough job on risk planning, management, and avoidance/mitigation strategizing? That's important, because if you did not, then the likelihood of the project schedule and the project budget taking a hit or two along the way is about 100%. As I recommended with the the 3rd party vendors and planning potential costs with issues that might be realized, you can and should do the same for all project risks you map out. You have to be careful, because planning too many potential costs into the budget that might hit you due to risks realized might price you right out of the game when you bid projects. List your potential risks, rank them by likelihood of realization, and associate a potential cost with each. Then step back and figure out how much of that potential cost across all risks you should build into the budget. 5%? 10%? 25%? It depends on the project, your customer, the complexity of the work and possibly some other factors. It will end up being somewhat subjective... but that's inevitable.
You may not have found the real project yet. Today I had a mechanic checking out a problem I was having with our van. I knew the belt broke and needed replaced. The belt replacement was a small project. But it could have had an underlying cause making it a big fix – turning a $90 belt replacement job into a $900 compressor unit repair to the air conditioning system. Thankfully, that wasn't the case. But these are the type of underlying causes that are found all the time, and the same can be true with a project that is more of a fix than a want to have or change. What you or you client initially may think is that the issue you are seeing is a mere symptom of a much bigger problem that truly needs to be addressed... now. It's important to do the upfront investigation and planning to determine the real need or project – avoiding an unwanted surprise and major expenses later on in the engagement.
Summary / call for input
An accurate revenue forecast can be very important to the overall success of any creative engagement. Carefully considering what you may be missing in your budget or revenue forecasting is critical – because several items slipping through the cracks along the way throughout the project can spell disaster for the project budget. My personal thought on the revenue forecasting and analysis process is this: always be reviewing, forecasting and re-planning (if necessary) because while a 10% budget overage is fairly easy to fix and may even be an acceptable end result, a 50% budget overage is nearly impossible to fix and no senior manager or C-level exec is going to give you a pat on the back for bringing in a project that far over budget. In fact, you will probably be looking for a new job when the project is over.
Readers, what are your thoughts? What do you agree with on this list? What would you add or change? Please share and discuss.