Workamajig Server Requirements
Below are the minimum requirements for Workamajig. Please remember these are the minimal requirements and we don't recommend them for companies with over 30 users. There are various ways to set-up your Workamajig site for maximum efficiency. For our clients the typical install is done on one server (Web/Application SQL and File Storage (WebDAV). However, depending on the number of users as well as, the specific functions that are being used on the system i.e. functions that rely heavily on the SQL Server such as reports you may want to configure the site differently. You can use separate servers [Web/Application SQL and File Storage (WebDAV Server)] and/or increase the minimum hardware requirements for its optimal use.
Here is the hardware configuration for the server:
1. Current generation processor
2. 16 GB RAM or higher
3. 100 GB drive space for IIS web application and MS SQL database. File server should be on a separate server with space depending on files/attachments needed for collaboration and reviews.
4. 100/1000 Base-T Network Card
B. Software requirements for the Workamajig server. These must be installed prior to the installation of the Workamajig server software:
Web Server must be installed on a

Windows

2016 or 2019 (64-bit mode)

R2 Standard Edition Server. Other 64-bit applications (like Exchange) must run on a separate server from the Workamajig webserver (Workamajig can be run on a virtual server). We do not support Windows Essentials Servers formerly known as Windows Small Business Servers.
Install either 2014, 2016, 2017 and 2019

SQLstandard or express server, the standard version will allow you more functionality and faster speeds and thus is recommended for companies with a higher user count

(more than 30 users). The express versions can be downloaded from the Microsoft website.
Please provide Workamajig with the sa login and password for the SQL server. The db user must be the owner of the database and your SQL Server Collation must be set to SQL_Latin1_General_CP1_CI_AS. If you decide to this via a Web Session you must have the credentials on hand before we can schedule your installation.
TLS 1.0 and 1.1 must be disabled (we currently support TLS 1.2 or higher)
Please provide SMTP address and login information for setting up Workamajig task manager and installer. This is used for your outgoing notifications for example your overdue timesheets, calendar notifications, diary notes etc.
ASP.NET 4.7.2.
7. IIS Installed via the Server Manager Counsel using the following setup (please see screen shots)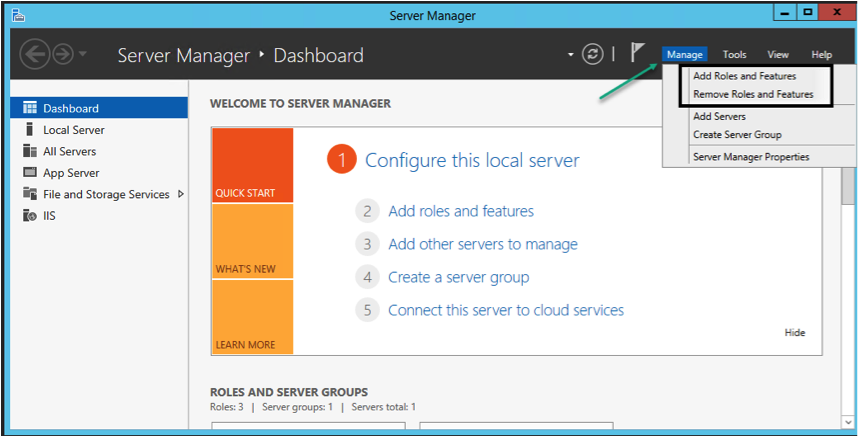 - Please make sure that both the HTTP Errors and the WebDAV Publish Roles are not installed. If they are already installed, they will need to be removed and a restart will be needed.
- ISAPI Roles located in the Application Development area are required to be installed along with the Performance Roles.
- Make sure the .net features are allowed.
8. SQL Management tool needs to be installed (i.e. studio express.)
9. SQL Reporting Services cannot be installed with Workamajig, if SQL is on the same server.
10. A URL or IP that resolves internally and externally (you can use SSL). This is not needed if you have your server is closed off based on your contract with us. If you plan blocking external access to your server but want to auto-update or get a new registration key, you will need to white list these IP's addresses: 70.90.55.194, 12.196.215.162, 67.135.129.2, 70.90.55.193, 75.58.206.214, 68.15.179.104, 68.14.242.210, 71.39.252.162, 198.65.136.125,130.94.64.172, 128.241.121.222,70.166.216.223, 198.65.136.125, 108.58.189.210, 204.141.51.17 and 204.141.51.36.
11. RDC access to your server to install the software or we can install via a web session. Admin rights will be needed for the install. If you would like to go over the server setup, please advise us after the install has been completed.
Note: If you are installing a test Instance, we will set up your production instance first and once your user, billing, etc., data is entered we will install you test instance. Additionally, we will show you how to reduce the user count in order to reflect you test license of 5 users.
Maintenance:
Your IT staff will need to include the Workamajig data and application into your existing backup strategy you will need to back up the SQL database for Workamajig and all the Workamajig working folders (Web, Task, Manager, Digital Assets, WebDAV Config and Exchange Sync (if applicable). Additionally, Workamajig does not advise or train your staff on how to perform backups or restoration of files. Workamajig is not responsible for any network, hardware, firewall, mail (Exchange, Gmail, etc.), backups, or any other clients, components not related to our software.
Our technicians can help you install Workamajig and configure it to automatically download and apply future updates. If you wish to change these settings, you can run the WMJInstaller.exe application under the Workamajig - Task Manager Folder. You will need to stop the services first. Make and save your changes. Then, restart the Workamajig services for the changes to take effect.
Public Access (Local Hosted Servers Only):
While it really is your contractual obligation to allow us access to your server for our billing purposes, we do have a way out of this obligation for you. However, this 'way out' does have its limitations.
You may have already prepaid for a set number of login-users for the year. Currently, you have the ability to increase, at any time, the number of login-users over and above that which you've contracted for. At the end of each month, our servers are supposed to 'ping' your server to determine if you've used more login-users than you've prepaid for. If you have, then we bill you for that overage. That's the way that it's supposed to work, allowing you the flexibility of adding additional users at any time.
Alternatively, we can license to you an 'Installed' license registration for the number of login-users that you've prepaid for. The limitations here are simple.
1. You need to continue to prepay annually for the users that you want to activate.
2. If you need more users, you can't add them yourself until we issue to you a new license registration for an increased number of users.
3. The license registration for your server will necessarily expire at the end of the period for which you've prepaid. Meaning that after that date, you will be unable to use the software until you've prepaid again for the next year, and we've re-issued you a fresh license registration for your server.
These are the small limitations that some of our clients are willing to live with. If you also would like this alternative, with its concomitant limitations, please make sure you contact our admin department, and we'll set you up accordingly.