We help creative people work more efficiently.
At Workamajig, we

bring it all together

for creative agencies & in-house teams to give you full insight into everything going on in your company, at all times.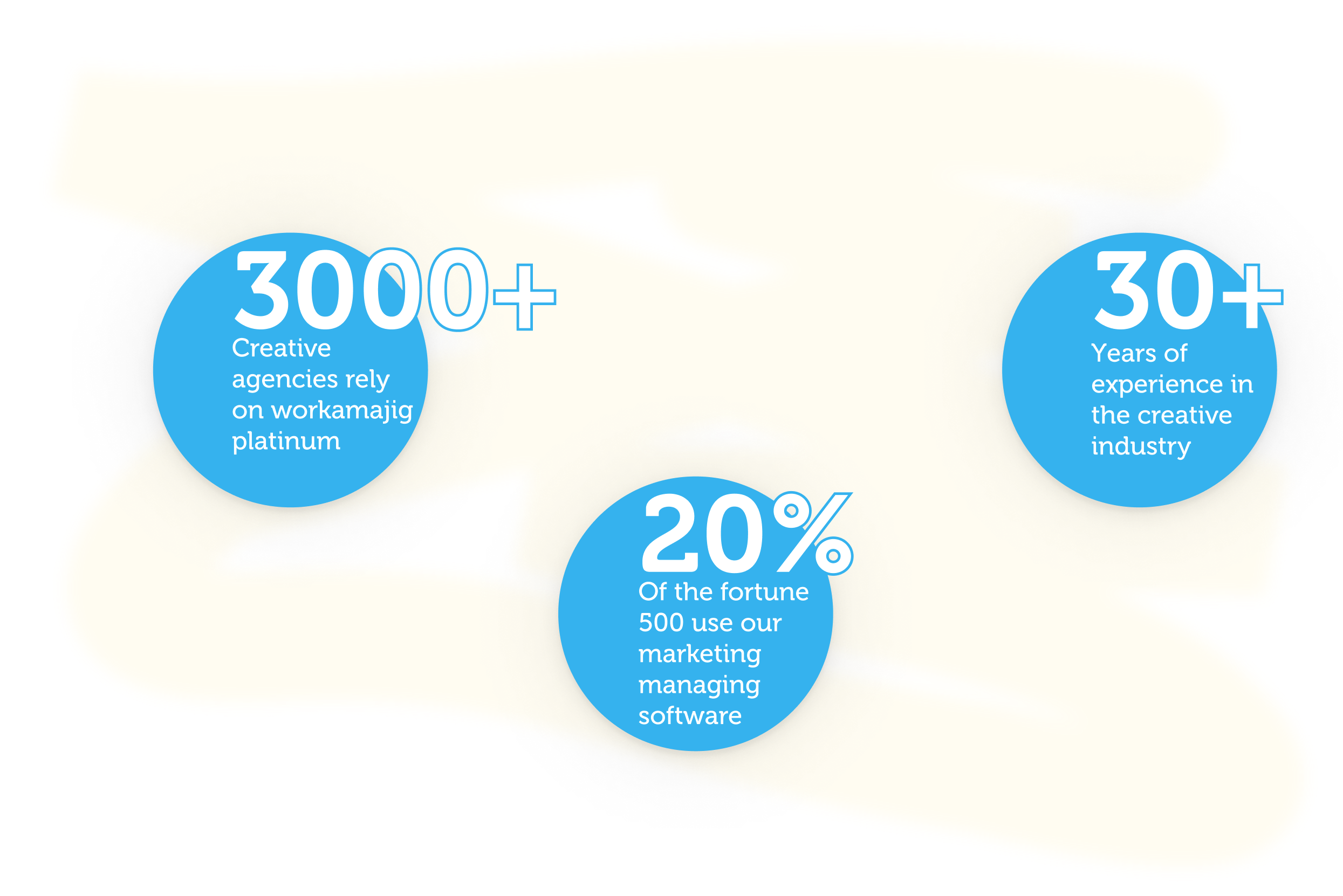 Our Story
A history rooted in the creative industry
Over 30 years ago, we started out as a management consultancy to help creative companies achieve the excellence they deserved. We worked with businesses of all shapes and sizes to streamline their operations and find the tools they needed to unclog creative bottlenecks.
Soon enough, we became the largest consultancy firm in the creative industry, helping hundreds of clients build better businesses.
Innovation through insight
Even as we continued to grow, we realized that few creative companies had any real insight into their operations. Disparate systems and duct-taped solutions were the norm. Sales did not speak to billing and management was isolated from accounting. Whatever tools were available focused mostly on finance, leaving companies over-reliant on third-party PM tools.
Moreover, most solutions were on-premise and required immense upfront investment. You paid for the software, the training, and the ongoing maintenance. Smaller agencies were effectively locked out and watched their bigger rivals race away.
We knew there had to be a better way to run creative companies. And that better way was Workamajig.
From confusion to clarity
At Workamajig, we pioneered the SaaS model for the creative industry. We built a comprehensive system that brought together sales, accounting, reporting, and collaboration under one roof. And we priced it at a low monthly fee that made it affordable for the smallest of agencies.
No fat contracts, no annual maintenance fees, and no six-figure training programs. Just world-class ERP software that gives you access to powerful CRM, PM, accounting, billing, and collaboration tools from a single dashboard.
Today, over 3,000 agencies and 20% of Fortune 500 marketing departments rely on us to scale their excellence.
More than software
Workamajig isn't just an ERP solution. It's also a collection of creative industry best practices ('The Way'), consultants who help you maximize operational efficiency, and training programs to make the most of your Workamajig implementation.
Whatever you need to succeed in the creative industry, you'll find it with Workamajig.
But we're not resting on our success. We continue to add features to make Workamajig the only creative management system you'll ever need.
The creative industry moves at a dizzying pace. And we do too.
2022
Workamajig introduces new education scholarships for marketing students.
2018
Workamajig completes the transition to the Platinum platform for the entire ERP/PM solution.
2016
Workamajig launches Workamajig Platinum, a revamped design for its agency project management platform.
2015
Workamajig launches Platinum for Sales to streamline agency sales operations
2010
Workamajig launches Workamajig Labs,
 a platform for users to opt into new Workamajig features
2008
Creative Manager Pro changes its name to Workamajig
Workamajig holds its first user conference, Workology 1.0
2002
Creative Manager Inc. launches Creative Manager
Pro, a comprehensive management system for creative
 teams
2001
Creative Manager, Inc. founded
1986
a La Carte Systems launches
 as a consultancy firm for the creative industry
WORKAMAJIG, THE POWER BEHIND YOUR CREATIVITY