WORKAMAJIG'S SCHOLARSHIP FOR EDUCATION
Workamajig is proud to present a scholarship program dedicated to those embarking on a career in the exciting field of marketing. At Workamajig we recognize and support those entering the ever-evolving world of modern marketing and creative project management.
How it works:
The scholarship program is open to all students studying for a business degree in the field of marketing or creative project management. A $1,000 scholarship will be awarded biannually to the winning submission of an essay describing how you plan on using your creative talents to make the world a better place. A team of Workamajig judges will determine the winner.


Eligibility Criteria:
- 18 years or older
- Citizen or legal resident of the United States
- High school senior or enrolled in an accredited US university or college
- Minimum cumulative GPA of 3.0
- Pursuing a degree in business studies with a focus on marketing
Your essay should describe how you plan on using your creative talents to make the world a better place. All submissions must be your own original work and cannot be published anywhere else. Workamajig reserves the right to publish any submissions, not limited to winning submissions, on our website, social media channels, or other marketing mediums, with the author's name & place of education.
- Content: Submissions containing spelling or grammatical errors, as well as inappropriate content, will not be considered
- Length: Written essay with a maximum of 500 words with relevant images included
Please include the following when submitting your essay:
- Your full name
- Date of birth
- Your email address
- Marketing field that you are pursuing
- Proof of Acceptance to an accredited US College or University
- Essay Submission
Once the deadline has passed, the winner will be chosen by the Workamajig scholarship judges and notified via email.
Winner (January 2023)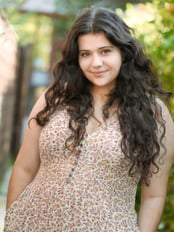 Isabella Moll
California State University, Fullerton
Specialized Theater and Digital Marketing
View Isabella's submission here