Accounting software for marketing agencies that actually makes your job easier.


Workamajig is the nerve center of your agency's financial health & performance, with key reports at your fingertips.
A full accounting package keeps you on track & gives you the business insight you need to grow a profitable agency.
Easily see which clients are your most profitable & where you can improve your margins with flexible financial reports

Efficient invoicing & integrated billing features are the keys to a healthy cashflow

Budgeting & chargebacks establish clear timelines & transparent costs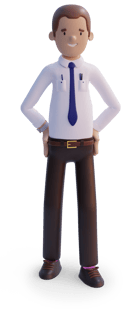 Financial reporting that gets it right
Get all the standard corporate P&L statements you'd expect, plus additional client - and project - P&Ls ready to go. Oh, and a full suite of standard and custom report options.
Easily allocate overhead b

y hours, labor costs, or total bill to see true client profitability

Find your profitable services with the strongest margins & double down on them

Spot superstar account managers & your best (& most profitable) performers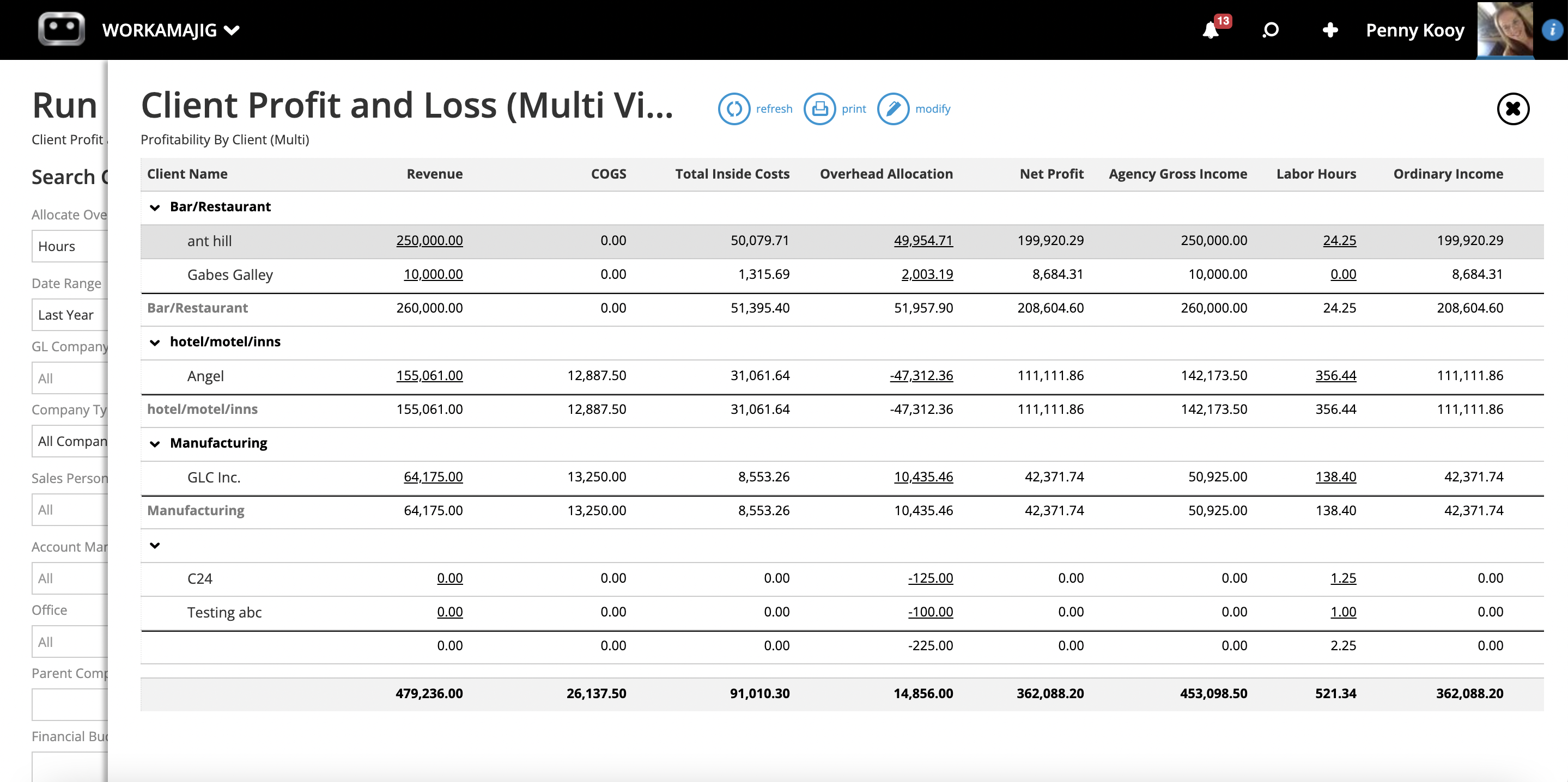 Billing, streamlined.
Efficient invoicing is the key to healthy cash flow and Workamajig makes it a snap.
Generate invoices automatically with details like time, materials, specific rates, and markups.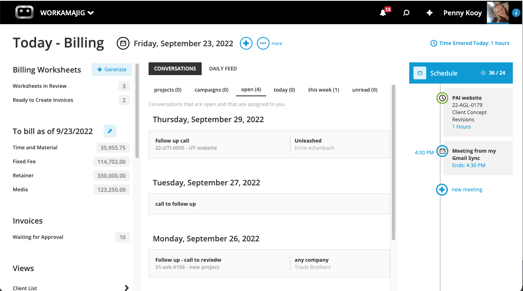 Flexible billing options let you see work ready to be billed by time & materials, fixed fee, retainer or media
Drill down by project to see time entries for billable work and then review, adjust, transfer or write-off
Prevent overstated revenue with advanced billings that are automatically deferred
Plus-even more, finance features that save you time - and headaches
Create entries that you can return to and edit without having to immediately balance
Reconcile your G/L accounts in Workamajig with our seamless banking integration
Track, review, approve and reimburse expenses by client & project, all in one place
Excel & Google integration
Pull financial data into Excel or Google spreadsheets with Workamajig's financial interface
Use the credit card connector to sync charges, tag to projects, and mark as billable
Slice & dice your data any way you need with Workamajig's robust custom reporting
How do I log in to my Workamajig account?

Each of our clients receives their own unique and secure login URL. If you can't find yours, contact Workamajig support and we'll give you a hand.
Do I need to use browser or flash plugins?

Nope, you're good! Workamajig Platinum is build completely in HTML5.
Workamajig is web-based. Are there other ways to access the system?

Yes. You can host the software on your own internal server or Workamajig® can host it for you.
What are the minimum system requirements for computers running this software?

Workamajig is designed to work with the latest Operating Systems and Browsers. This includes the current versions of Chrome, Firefox, Safari and Edge for Mac and Windows. Note: Edge is Windows 10 only.
What is the recommended system configuration for servers?
Is Workamajig GDPR compliant?

Yes. Workamajig (and the company behind it, Creative Manager, Inc) are fully GDPR compliant.

Please [get in touch] if you have specific GDPR requirements you'd like to discuss.
Can I use Workamajig on my mobile device?

You sure can! Workamajig is accessible from any mobile device, although some of our platform's more advanced features do require desktop access.
How long does it take to implement Workamajig once purchased?

The Traditional Implementation time is 2-3 months. This allows you to complete the basic training sessions, input your information, customize the system, test your workflow, deploy training and go live.
What type of training is offered with Workamajig?

Traditional training sessions are conducted over the phone using a browser-based session and are included in your subscription for free. A dedicated account manager/trainer is assigned to your account and will manage your implementation and ongoing support for the life of your account. Your trainer walks your team through a proven process to set up and configure Workamajig to your specific needs.
Is browser-based training the only option for Workamajig?

No, consultants are available for on-site training at an additional expense. They provide you with industry experience on how to set the system specifically for your needs. This option is useful for companies who prefer their training in a condensed timeframe and are able to learn at a faster rate.
Once the program is installed and working, what type of support is available to me?

Every Workamajig account includes virtually unlimited email support, with additional phone support and ongoing training.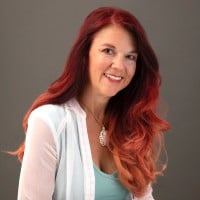 "It makes it easy to add charges to the appropriate project budget, pay vendors, and reconcile credit card statements. It shifts the burden off of accounting."
What happens when all your marketing project management tools are fully integrated?
More profit. Less stress.
Everything you need to know about Accounting & Finance Software for Marketing & Creative Agencies
Digital marketing agencies rely on accurate and up-to-date accounting and financial information in order to make sound business decisions. This allows creative teams and the rest of the company to effectively manage and optimize resources, track progress, and improve overall financial performance.
As a marketing or creative agency, you have unique needs when it comes to accounting and finance software. You likely have a lot of contractors on staff, which means you need a tool that can track billable hours and expenses easily. You also need a tool that integrates with your existing systems, like your project management software. And perhaps most importantly, you need a platform that is intuitive and easy to use, so you can focus on your work without worrying about complicated bookkeeping tasks.
Let's take a look at some of the key features to look for in accounting and finance software for agencies and how it can help your business thrive.
What's the Difference Between Agency Accounting Software & General Finance Tools?
When it comes to choosing accounting and finance software for your agency, it's important to select a tool that is specifically designed to meet the needs of businesses in the creative industries versus that of a general finance tool.
Here are a few key factors that set agency accounting software apart from general finance tools:
The high volume of invoices
Marketing and creative agencies typically deal with a high volume of invoices, both from clients and contractors. As a result, it's important to find an accounting solution that can accommodate a large number of invoices and make it easy to keep track of payments.
A large team of contractors
Many agencies rely heavily on contractors to get work done. This means that there are often a lot of people working on various projects at any given time. It's important to find an accounting solution that makes it easy to track hours worked, expenses incurred, utilization rates, and payments made.
Unique billing requirements
The way that marketing and creative agencies bill their clients is often different from other businesses. For example, many agencies bill their clients based on hourly rates, project milestones, or retainer fees. As a result, it's important to find an accounting solution that offers flexibility in terms of billing options.
Whereas other industries may need general accounting tools that provide basic functionality, marketing and agencies require specialized software solutions to meet their unique needs. With the right accounting and finance tools in place, you can focus on your creative work without worrying about bookkeeping tasks and financial operations.
What Features to Look for In Accounting and Finance Software for Agencies
Marketing accounting software should have a number of key features that allow you to easily manage your agency's finances. While you're evaluating potential solutions, consider what's important for your business, and how your agency accounting software will add value for your team.
Here are some key features to look for in agency accounting software:
Project Management
One of the most important features to look for in accounting and finance software for agencies is project management. This feature will allow you to keep track of all your projects in one place. You will be able to see which projects are on budget, which ones are over budget, and which ones are behind schedule. This information will be vital in keeping your agency on track.
User Access Controls
Access controls are an important feature to look for when choosing accounting software for your agency. This will allow you to customize the level of access that different users have, so they only see the information they need. For example, if your finance team needs more detailed project budget data, you can grant them access to that information while keeping it hidden from other users who don't need to see those details.
Payroll Management
Another essential component of good agency accounting software is the ability to manage payroll. This will allow you to quickly manage your employees' hours and expenses, track vacation time and sick days, and create accurate invoices for your clients. When evaluating potential solutions, make sure that it offers all the features you need to handle your payroll efficiently and accurately.
Invoice Management
Importance should also be placed on invoice management. This feature will allow you to create and send invoices from one place. You will be able to keep track of who has paid and who has not paid. This information will be vital in keeping your cash flow positive.
Budgeting
Another important feature to look for is budgeting. This feature will allow you to create a budget for your agency. You will be able to track your income and expenses so that you can stay on course with your financial goals. This information will be vital in keeping your projects on track, which in turn, should result in your agency being financially healthy.
Reporting
A comprehensive reporting feature is also important when choosing agency accounting software. This feature will allow you to easily generate reports on your company's performance and financial health. You will be able to see where your money is being spent and where you may be able to cut costs. With this information, you can make data-driven decisions that help your business succeed.
Ease of Use
It's important to look for a finance and accounting solution that is easy to use. This will make it much easier to manage your finances on a day-to-day basis, so you can focus on what you do best: delivering great creative work to your clients. Things like automated workflows, intuitive user interfaces, and helpful customer support can help make your software experience smooth and hassle-free while preventing your team members from becoming overwhelmed and burnt out from dealing with financial details.
Customization
Finally, it's important to look for agency accounting software that is customizable and flexible. This will allow you to tailor the software to your specific needs and preferences, so you can get the most out of your investment in technology. With a customizable solution, you can be confident that your accounting software will grow and evolve as your business does.
With the right agency accounting software in place, you can focus on your creative work without worrying about the complexities of managing your finances.
Why Workamajig is the Best Accounting and Finance Management Software for Agencies
In the world of finance and agency accounting software, there are a lot of options. So, how do you know which one is the best for your agency? You could spend days (or even weeks) researching every single software out there. No matter where you might be in your search for the right solution, be sure to consider Workamajig.
Workamajig is a one-stop shop accounting solution that's specifically designed for agencies. With Workamajig, you can easily keep track of client invoices, employee expenses, and agency finances all in one place. And because it's cloud-based, you can access your Workamajig account from anywhere, at any time.
One of the best things about Workamajig is that it's designed with simplicity in mind. We understand that most agency owners and employees are not accountants or finance experts. That's why we've made our software easy to use, even if you have no prior experience with accounting or finance management. With Workamajig, you can quickly and easily track your income and expenses, create invoices, manage projects, and more.
Time is money, as they say. And when you're running an agency, there's never enough time in the day to get everything done. That's why we've designed Workamajig to save you time on accounting and finance tasks. With our software, you can automate repetitive tasks such as invoicing and payments so you can focus on running your business. We've also included helpful time-saving features such as real-time reporting and budgetary analysis tools.
And, of course, Workamajig can be built around your business needs. With our customizable platform, you can tailor Workamajig to your agency's unique needs and preferences. Whether you need advanced reporting tools, integrations with other software solutions, or anything else, we make it easy for you to find the right mix of features for your business.
Finance and accounting don't need to be a burden for your agency. With Workamajig, you can focus on what really matters, like delivering your amazing creative work to your clients. Contact us today to learn more about our software and see how we can help your agency succeed.