STOP JUGGLING MULTIPLE TOOLS & START MANAGING PROJECTS LIKE A PRO
Get creative project management software built just for marketing agencies & creative teams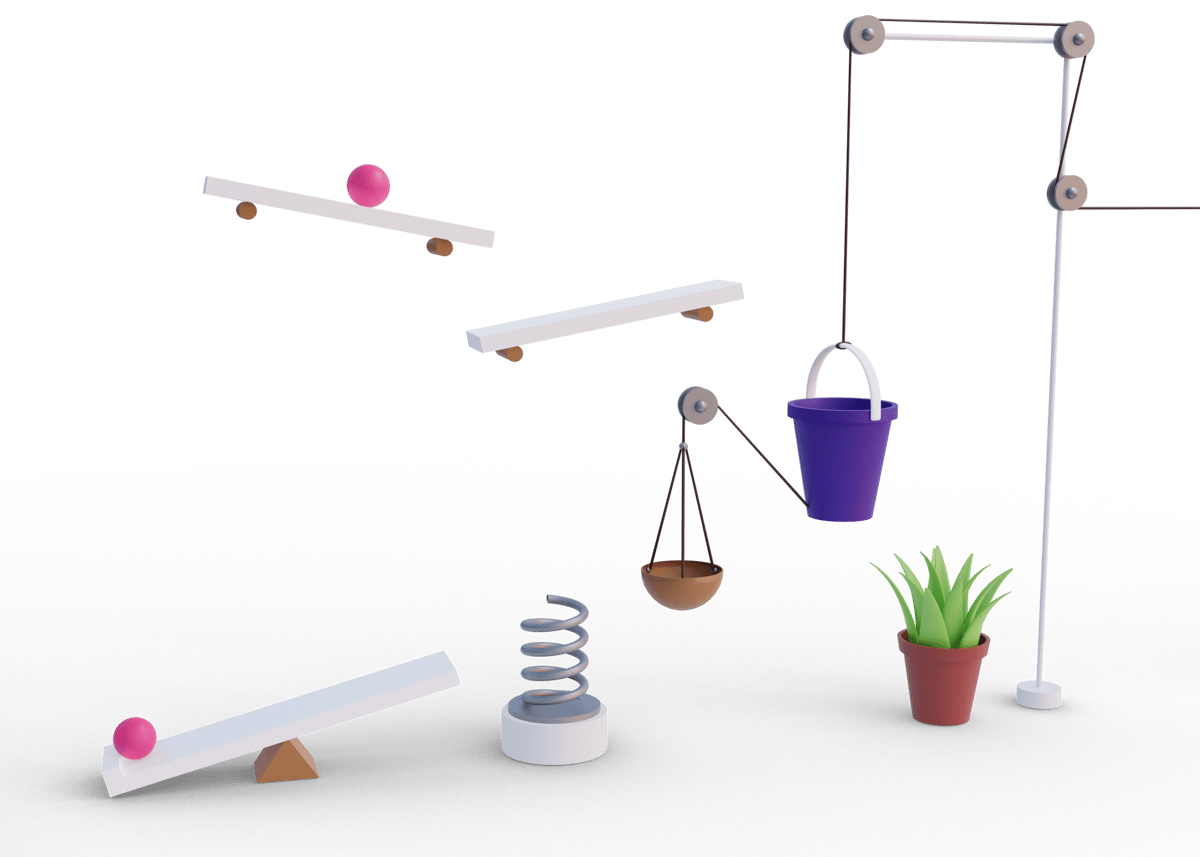 Forget about chasing down tasks in one tool while sifting through client emails in another.
Our all-in-one marketing project management software proactively brings everything together in one place — tasks, conversations, calendars, budgets, timelines, notifications, and more.
Know the full story with a real-time daily feed of all updates across projects
Budget or timeline at risk? See all items needing attention in one place with project warnings
Create, customize & export reports plus built-in gantt & burn charts for your visual learners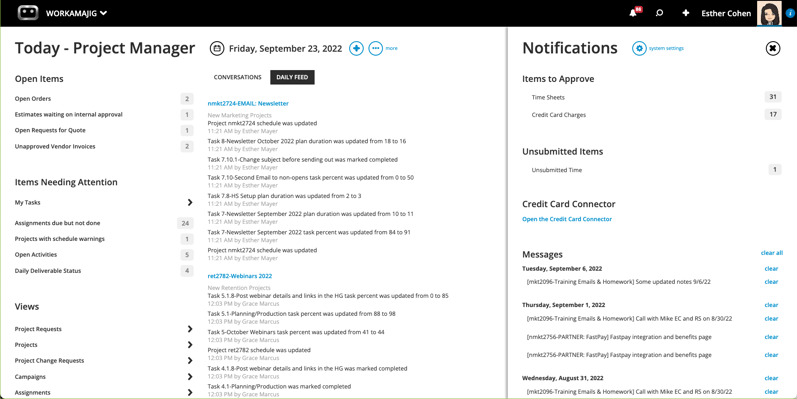 Make manual project setup (and finicky spreadsheets) a thing of the past & create fully-scheduled projects with just a few clicks
Workamajig's powerful project templates help you kick off your creative projects with ready-to-go schedules & resourcing needs.
The flexibility you need. Copy from a template & edit to match your new project's needs
Easily view and manage the exact resources, hours and budgets for new projects
Visualize project tasks, dependencies and complete timelines with built-in Gantt charts
Your current project intake process, streamlined
Get your marketing projects — and entire creative campaigns — in one place from the very first touch.
Kick off a project directly from a CRM opportunity or internal request.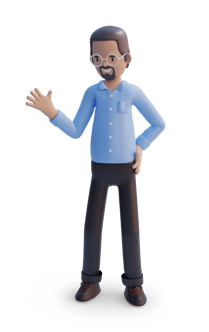 Take opportunities from your pipeline and through to production, all in one tool.
Streamline intake with the Client Portal and easily go from new request to project
Or, just jump right in & create projects or campaigns on demand.
Get approvals easily with detailed & accurate estimates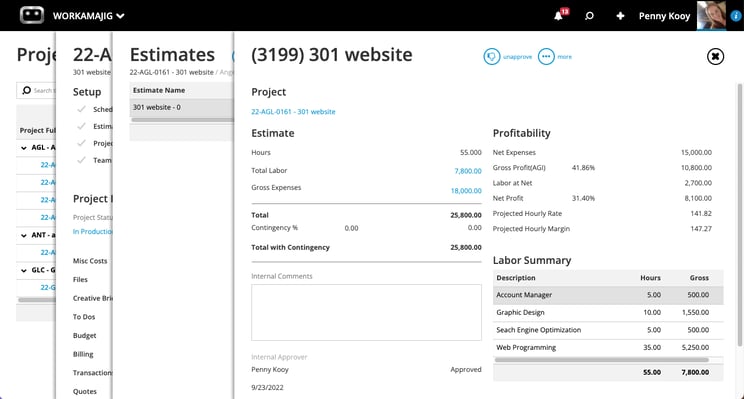 Build smarter estimates with labor & expenses, based on your workflows & resources, using client-specific rate sheets
Automatically track & include quotes from vendors. Plus, get custom-branded & beautiful estimate templates
Convert approved estimates to budgets, see estimated profits & track actuals against budgets in real-time
Painless vendor management
Communicate & collaborate with vendors, in one central tool.
Plus, vendor logins are always free.
Easily request quotes from multiple vendors simultaneously. Attach spec sheets & let vendors submit bids directly.
Choose your vendor & approve quotes to create purchase orders. Prebill purchase orders for optimized cash flow.
Get notified of budget issues related to vendor costs & reconcile vendor invoices to easily spot discrepancies & make informed decisions.
Better project budgets. Better project management.
Create & manage detailed, realistic budgets using a powerful creative project management tool, with real-time updates.
Know exactly where your project stands with budget breakdowns by item, type, task or person
See the big picture with view, filter & drill-down options across multiple project budgets
Stay ahead of the curve with customizable budget status notifications & health meters
Handle multiple rounds of review, easily.
Our approval routing and proofing workflow lets you view, discuss, annotate, assign edits & approve creative work, all from your project dashboard.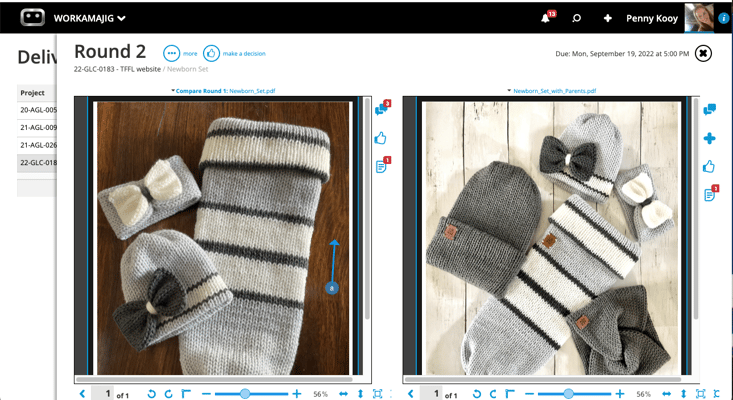 Seamlessly integrates with file servers behind the scenes so every file always stays linked to the right project.
Internal & external users can review files (login not required). And, of course, all internal comments stay internal.
Markup images, videos, or live web pages, & easily create new tasks or to-dos & monitor progress.
On-time invoices get paid faster
Efficient invoicing is the key to healthy cashflow and Workamajig makes it a snap.
Generate invoices automatically with details like time, materials, specific rates, & markups.
The billing process that's right for you - time& materials, fixed fee, retainer, or media
Easily review billable projects & document write-offs, transfers & comments as needed
Never enter an invoice manually again. Enough said.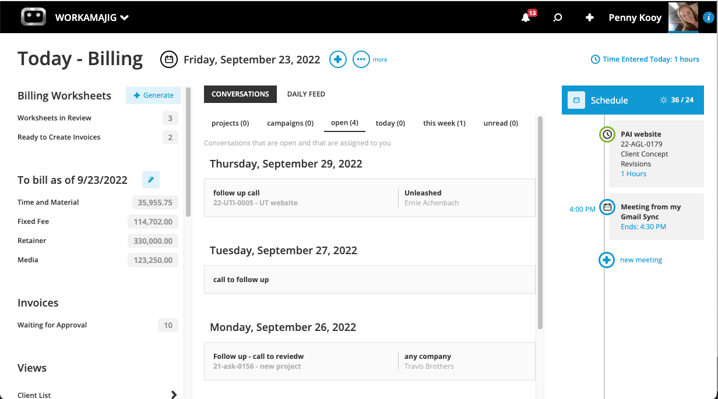 What happens when your marketing project management tools are fully integrated?
More profit. Less stress.
Project management is a necessary component for all types of projects, whether you're in marketing, business, engineering, architecture, software development, or construction.
In fact, any time a person or team works on a task that has a start and end date, project management should be employed.
But What is Project Management?
Project management is the process of planning, organizing, and managing resources to bring about the successful completion of specific project goals.
The number of project management core principles may differ from one organization to another, but there are some key concepts that are always present. These typically include:
Defining clear and attainable goals: Defining your goals is the first step in achieving them. Your goals should be specific, measurable, achievable, relevant, and time-bound (SMART). By setting SMART goals initially, you can increase your chances of achieving them later throughout the course of the project.
Creating a detailed plan of action: Once you have your goals defined, it's time to start planning how you'll achieve them. This includes creating a schedule, assigning tasks to team members, requesting and gathering any additional resources, and setting deadlines.
Tracking progress and milestones: An ever-evolving process, project management also involves tracking your progress along the way to ensure you're on track to meet your goals. This includes identifying, monitoring, and celebrating milestones, as well as identifying any risks or issues that could impact the project's success.
Communicating with stakeholders: Project management requires regular communication with all stakeholders involved in the project. This includes team members, clients, sponsors, and any other parties who have a vested interest in the project's success.
Adjusting the plan as needed to ensure success: No matter how well you plan, there will almost always be unforeseen circumstances that can impact your project. Project management also involves being flexible and adaptable, so you can make changes to the plan as needed to ensure a successful outcome.
Of course, that's all easier said than done. In any given project, there can be a lot of moving parts, and it can be difficult to keep track of everything. It's important to have a clear understanding of what needs to be done, when it needs to be done, and who is responsible for doing it. That's where project management software comes in.
Project management software provides a framework for managing projects, as well as the tools and resources needed to complete the project successfully. Designed to help you plan, execute, and track projects from start to finish, PM software is an essential tool for any project manager or collaborative team.
In fact, there has been a lot of research conducted on the benefits of utilizing project management software, ranging in departments from sales and marketing to human resources and IT. Project management software has been shown to improve communication, increase productivity, and boost collaboration among team members while minimizing the risk of things falling through the cracks.
There are many benefits of using project management software, including:
Improved communication and collaboration among team members
Increased transparency and accountability
Better organization and tracking of tasks, deadlines, and progress
Reduced risks and costs associated with projects
Improved efficiency and productivity
In short, project management software helps you and your teams get things done.
Just think about the last time you were working on a project - whether as a stakeholder, resource, or project manager. How much easier would it have been if you had all of the project information in one place? If you could track deadlines, tasks, and progress? If you could communicate with your team members easily and efficiently? Project management software makes all of this possible.
Having everything laid out in a project management software solution helps eliminate misunderstandings and provides a clearer picture of everything that needs to be done for any given project. Project management software also helps you track progress and identify potential problems early on, so you can take corrective action before it's too late. This level of transparency and accountability is vital for any project manager or collaborative team - as poor project management can lead to wasted time, lost money, and even resignations of valued employees.
That's where Workamajig comes in. Workamajig is the leading project management software for marketing agencies and creative teams. Our versatile project management tool will allow you to keep track of all your tasks so that you can focus on completing them on time and on budget.
Why Workamajig is the Best Project Management Software for Agencies
Not all project management software is created equal. In reality, there are many different types of project management software, each with its own set of features and capabilities. So, how do you know which one is right for your agency?
When it comes time to choose a new project management tool for your agency, there are a few key factors you should keep in mind:
Ease of use: Project management software should be easy to use and intuitive. Otherwise, it will just add complexity to already hectic workdays.
Flexibility: Project management software should be flexible enough to accommodate the unique needs of your agency. It should be able to grow and change as your agency does.
Affordability: Project management software doesn't have to be expensive. Ultimately, your project management software solution should fit within your budget.
In addition, consider exactly what you're looking for in a project management tool. Do you need something that will help you with task management? Project scheduling? Estimating? Client communication? Utilization and resource management?
Vetting different project management software solutions will be easier and more streamlined if you have a clear idea of your team's needs. Spend some time evaluating your agency's processes and workflow to determine which features are most important.
Hopefully, after investing some time evaluating priority needs and doing research, you'll be able to find the perfect project management software solution for your agency. It may come in the form of a free project management software solution, such as Google Sheets. Maybe your project management office (PMO) requires an agile project management software option or some other online project management software that's packed to the brim with robust features.
Whatever the case, just keep in mind that the best project management software for your agency is the one that will ultimately help you work more efficiently and effectively - not the one with the most bells and whistles.
The bottom line is that there is no one-size-fits-all answer when it comes to choosing project management software. The best project management software is the one that meets the unique needs of your agency and helps you get the project done.
To that end, Workamajig is specifically designed as the best project management software for agencies. It offers a one-stop-shop solution with a wide array of features that are easy to use, saving you and your team time and money. Plus, its intuitive interface makes it simple to get up and running quickly.
One of the key benefits of Workamajig is its ability to manage multiple projects simultaneously. With its simple interface, customizable templates, and powerful features, you can easily keep track of all your projects and ensure that they are on track while preparing for future opportunities and upcoming tasks with forecasting tools.
Workamajig also offers a centralized CRM and database that allows you to store all your project-related information in one place. This includes files, notes, client communications, and more. Having everything in one central location ensures that everyone on your team is on the same page and reduces the risk of miscommunication.
Additionally, Workamajig offers a wide range of reporting options, so you can always stay on top of your projects' progress. And if you ever need help, the Workamajig support team is just a click or call away.
Whether you're managing a single project or a dozen, Workamajig is the best project management software solution for the job.