Stop juggling multiple tools & start managing projects like a pro
Get creative project management software built just for marketing agencies & creative teams
Forget about chasing down tasks in one tool while sifting through client emails in another.
Our all-in-one marketing project management software proactively brings everything together in one place — tasks, conversations, calendars, budgets, timelines, notifications, and more.
Know the full story with a real-time daily feed of all updates across projects

Budget or timeline at risk? See all items needing attention in one place with project warnings

Create, customize & export reports plus built-in Gantt & burn charts for your visual learners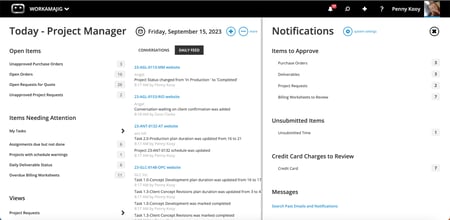 Make manual project setup (and finicky spreadsheets) a thing of the past & create fully scheduled projects with just a few clicks
Workamajig's powerful project templates help you kick off your creative projects with ready-to-go schedules & resourcing needs.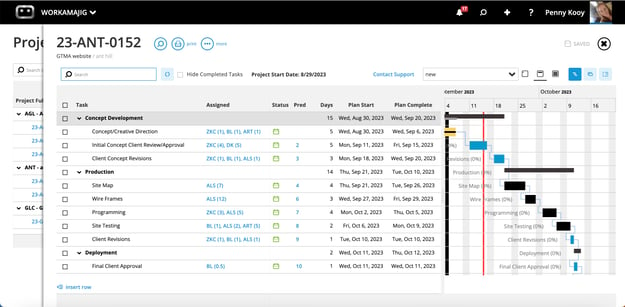 Visualize



Easily view & manage the exact resources, hours & budgets needed.

Just copy from a template & edit to match your project's needs.
Take opportunities from your pipeline and through to production, all in one tool.
Streamline intake with the Client Portal and easily go from new request to project
Or, just jump right in & create projects or campaigns on demand.
Get approvals easily with detailed & accurate estimates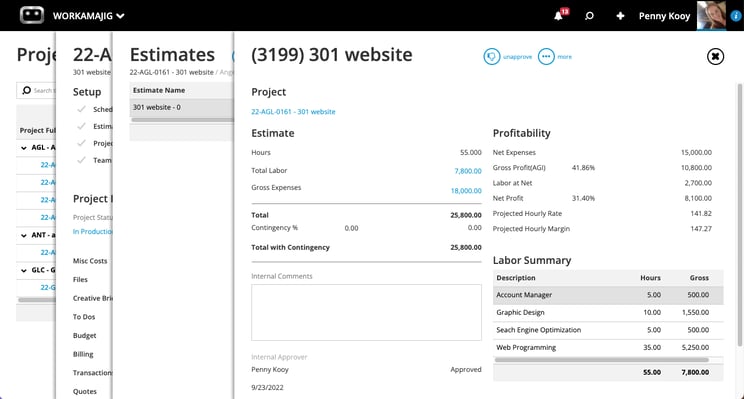 Build smarter estimates with labor & expenses, based on your workflows & resources, using client-specific rate sheets
Automatically track & include quotes from vendors. Plus, get custom-branded & beautiful estimate templates
Convert approved estimates to budgets, see estimated profits & track actuals against budgets in real-time
Painless vendor management
Communicate & collaborate with vendors, in one central tool. Plus, vendor logins are always free.
Easily request quotes from multiple vendors simultaneously. Attach spec sheets & let vendors submit bids directly.
Choose your vendor & approve quotes to create purchase orders. Prebill purchase orders for optimized cash flow.
Get notified of budget issues related to vendor costs & reconcile vendor invoices to easily spot discrepancies & make informed decisions.
Better project budgets.
Create & manage detailed, realistic budgets using a powerful creative project management tool, with real-time updates.
Know exactly where your project stands with budget breakdowns by item, type, task or person

See the big picture with view, filter & drill-down options across multiple project budgets

Stay ahead of the curve with customizable budget status notifications & health meters
Handle multiple rounds of review, easily.
Our approval routing and proofing workflow lets you view, discuss, annotate, assign edits & approve creative work, all from your project dashboard.
Seamlessly integrates with file servers behind the scenes so every file always stays linked to the right project.
Internal & external users can review files (login not required). And, of course, all internal comments stay internal.
Markup images, videos, or live web pages, & easily create new tasks or to-dos & monitor progress.
On-time invoices get paid faster
Efficient invoicing is the key to healthy cashflow and Workamajig makes it a snap.
Generate invoices automatically with details like time, materials, specific rates, & markups.
The billing process that's right for you - time & materials, fixed fee, retainer, or media

Easily review billable projects & document write-offs, transfers & comments as needed

Never enter an invoice manually again. Enough said.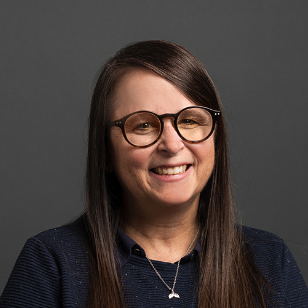 "When it comes to project management, there is no other resource we use. It keeps all of our files and assets organized. We also use it to communicate our company values, host stronger core meetings, and promote healthy lifestyles," Karen explains. "It's hard to pick out one particular game-changing feature because everything is interwoven. It's truly become our center for organization."
What happens when your marketing project management tools are fully integrated?
More profit. Less stress.