8 Key Competencies for Creative Marketing Managers (Updated)
Update: This article was orignally published on January 26, 2015 and was updated with new information on August 21, 2017
So you're a marketing manager in the creative management industry. You're in good company.
As of May 2015, the United States Bureau of Labor Statistics estimated that there are 192,890 marketing managers in the US. They work in a range of environments that include actual advertising agencies as well as in-house marketing departments for larger companies.
A marketing manager's role is to plan, direct, or coordinate marketing policies and programs.
So what skills do you need to be a marketing manager? How can you be more effective for your organization, to lead your team, and to successfully deliver on your projects for your clients or your own organization?
We'll share some of the key competencies for marketing managers in this post.
What Does a Marketing Manager Do?
To understand a marketing manager's key skills and competencies, it's important to first know what marketing managers actually do.
Marketing managers manage the marketing of a product or service. Depending on the business, they might be responsible for a single product or a range of products/product categories (usually in smaller companies and agencies).
If you're the marketing manager for a product, you are responsible for every marketing message - planned or unplanned - created and distributed for that product. If there is a TV ad, a press event, a public gaffe from the lead product engineer, it is your responsibility to approve and/or resolve it.
The best way to understand what this job involves is to check descriptions for open marketing manager jobs.
For example, here is the job description for a brand manager at Apple: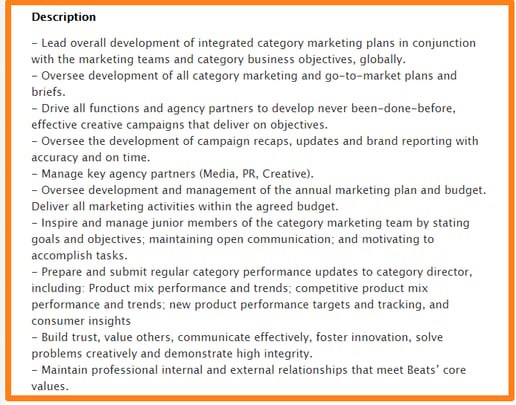 In short, a marketing manager has to:
Develop multi-channel marketing plans.

Measure the success of marketing initiatives.

Interface with multiple departments responsible for the product - engineering, operations, finance, sales etc.

Proactively assess and spot new marketing opportunities.

Manage long-term strategic goals.
In large companies, you might be solely responsible for multi-million dollar products. In agencies, a single marketing manager might handle the marketing for dozens of high-value brands.
You'll usually report to the marketing director, VP of marketing or the CMO, depending on the size of the company.
This is a complicated, senior-level role that requires years of experience. You'll need domain-specific knowledge, strong communication skills, and the ability to interface with multiple stakeholders effectively.
The pay for marketing managers is commensurate with the responsibilities. On average, marketing managers get paid $131,180, according to BLS.
Marketing Competencies Framework
In business parlance, competency describes a cluster of related skills and activities that allow someone to excel at their job.
Given the complex nature of their work, marketing managers are expected to have a number of complementary competencies.
These are usually described using a marketing competencies framework.
The UK-based Chartered Institute of Marketing (CIM) represents this framework visually as follows: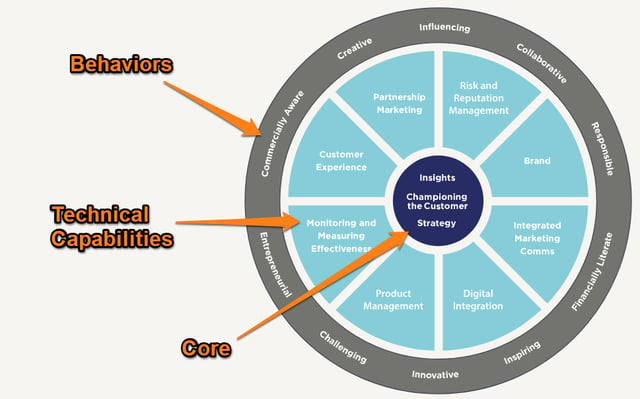 The three parts of this framework are:
Core:

The fundamental traits every marketer should have, regardless of their position or industry. Being able to think strategically, champion the cause of the customer and have marketing insight are vital for all marketers.
Technical:

This describes the domain-specific know-how marketers should have. Marketing managers in senior roles are expected to have technical capabilities across multiple domains such as digital marketing, brand positioning, product management, etc.
Behavior:

This describes the attitude and approach marketers should have. Effective marketers are

entrepreneurial

,

innovative

,

responsible

and like

challenges

.
The core and behavioral aspects of the framework are hard to define because of their subjective nature. However, these qualities would be visible in your work experience and accomplishments.
The technical capabilities are easier to understand. If you're working in a domain-specific managerial role (such as "brand manager"), you will be expected to have in-depth knowledge of the domain.
For general-purpose marketing roles, you'll be expected to have expertise in multiple marketing domains.
Competencies vs. Skills
Before we look at key marketing manager competencies, we need to address this oft-asked question first:
What's the difference between competencies and skills?
We often use the two terms interchangeably. However, there are a few differences between them:
Competencies

are a cluster of abilities, knowledge and skills that enable someone to be better at their work.
Skills

are abilities that come from someone's knowledge, practice and education.
Creating a marketing plan or writing a computer program in Java are skills. The analytical and logical know-how that enable someone to write a program or create a marketing plan, however, are competencies.
You might hear HR managers refer to competencies instead of skills (or vice-versa). However, you should know that skills are learned abilities while competencies are the abilities that allow you to learn a skill in the first place.
In the next section, we'll take a look at some of the key skills and competencies you need to be a marketing manager.
We make Workamajig, the all-in-one project management suite built for creative teams
Everything in one place
Project Management
Resourcing & Scheduling
Task Management & Time Tracking
Custom Dashboards
Business Insights
Key Marketing Manager Skills and Competencies
A marketing manager has to have a mix of qualitative and quantitative skills. He should be able to see the big picture without missing the minute details. The complex nature of a marketing manager's work demands that he be able to think laterally and broadly.
Regardless of your industry or focus, you should have the following skills and competencies to be a marketing manager:
1. Marketing managers need analytical skills
Writing in HBR, Adele Sweetwood notes:
"The most significant culture shift today for marketing teams is adopting an analytical marketing approach"
This shift from a qualitative to a quantitative approach to marketing has made analytical skills a must-have requirement for any marketing manager.
In fact, if you look through any marketing manager job description and you'll see words like "analyze", "measure" and "metrics" everywhere.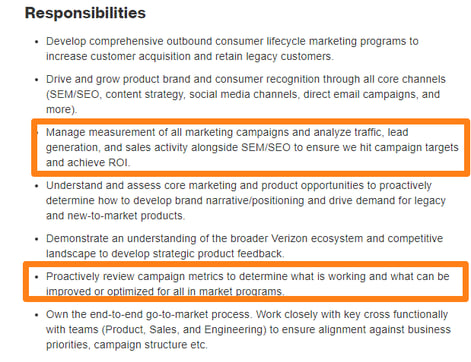 In our increasingly data-driven world, successful marketing managers usually have analytical minds. They know the value of the vast amount of data available today, and are highly interested in what that data can reveal about consumer behavior, efficacy of various marketing approaches and more.
The best managers also know how to look beyond the data and pick up on trends and patterns that can lead to better, more successful marketing efforts.
2. Marketing managers should be critical thinkers
Critical thinking, or the ability to analyze situations or statements and determine their validity, is the foundation on which management professionals build their careers.
Most executives these days see a real need to stock their organizations with employees who possess solid critical thinking skills. A 2010 survey of managers by the AMA even found that 72.4% of managers analyzed employee performance on critical thinking skills.
Critical thinking breeds creative thinking, which in turn solves problems. As Matt Umbro notes in MarketingLand:
"At its core, critical thinking comes down to questioning the source"
In a marketing context, this means questioning your assumptions and digging deeper to understand your findings at a fundamental level.
This is exactly what employers need from managers. If you're in the creative industry, it is particularly important for the marketing manager or director (or even Chief Marketing Officer – CMO – if applicable to the organization) to have this vital skill.
3. Marketing managers as project managers
In business today, you don't have to hold the title of Project Manager to essentially be one. Projects can be simple or complex; they can be short or long term. In the creative industry, such as with marketing, ad campaigns, design work etc., they are increasingly created in response to social media opportunities and client engagement.
There is significant overlap between the core competencies of marketing managers and project managers. Project managers are increasingly required to juggle managerial and leadership tasks, to influence team members, and of course, be strong communicators.
All of these skills are also applicable in a marketing manager role.
Future creative marketing managers will need to sharpen their project management skills in order to properly lead their teams and accomplish their objectives.
4. Marketing managers must be able to see the big picture
An organization's marketing manager should always be thinking in terms of integrated, interconnected systems, and how they interact with and affect each other. From trade show displays to Twitter feeds, it is vitally important to see how the relationships between all parts of the marketing plan work together, and to manage them effectively - as a whole.
This "big picture" thinking becomes even more important in creative industries. It's not unusual for a marketing manager at an advertising or marketing agency to juggle multiple projects at once. Being able to think laterally across projects and sectors is a vital skill in such situations.
Moreover, big picture thinking makes it possible to spot new trends and disruptions before they hit the mainstream. Given the pace of change in marketing methodologies today, it is particularly important to spot these opportunities.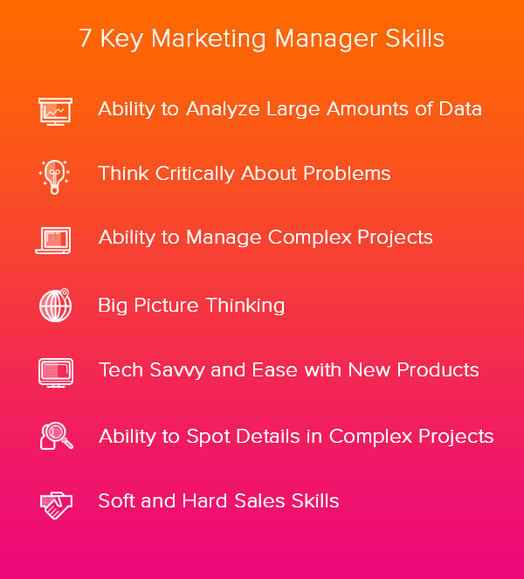 5. Marketing managers need to have some technical savvy
Because technology will continue to advance and closely influence how marketing is accomplished, I feel that it will always be important for marketing managers to be technologically savvy.
Client engagement will occur more and more online. Competing for their attention will mean delivering the services and information they want, using user-friendly apps and relationship-building tools.
So while marketing managers will depend on technology innovators to create the tools, they must be familiar with what clients want and how best to deliver it.
Further, technical competency comes in handy when you're trying to understand and analyze data. Being rooted in technology will also help you better interface with product/engineering divisions.
Finally, tech savvy will help you spot technological disruptions, especially as they relate to marketing. A prime example of this is Snapchat, a marketing powerhouse many marketers used too late because of its "deliberately confusing" design.
6. Marketing managers need to be detail-oriented
Marketing managers need to see the big picture, but the obverse is also true: they need to be resolutely, obsessively detail-oriented.
As the marketing manager, your job is to capture the project's vision and relate it to your team. Being able to capture the vision in detail can make the difference between a mediocre and a top performing project.
This skill will also come in handy when you're analyzing data or approving creatives before they go live. A detail-oriented marketing manager can spot errors others might have missed. They can also find elusive data points not visible at first glance.
Little wonder that most marketing manager job descriptions have "detail-oriented" as a key requirement, such as this one from Whole Foods:

7. Marketing managers need to have sales skills
One of the casualties of the shift to digital marketing has been the once clear divide between sales and marketing. More and more customers are making their purchase decisions entirely online. The rise of SaaS means that it is possible to go from awareness to decision without ever talking to a sales person.
With the gradual expansion of the marketing funnel, it is vital for future marketing managers to have some sales skills as well. This will help in creating marketing funnels and priming qualified leads for eventual sales takeover.
Beyond converting MQLs to wins, sales skills also help in persuading and influencing others. In a role where you have to interface with your reports as well as stakeholders across departments, interpersonal sales skills becoming even more important.
8. Handle all of the "External Noise"
A creative marketing manager handles many different tasks and responsibilities. With all of these comes the "external noise" from people inside and outside of the project.
Great managers knows how to handle through all of that noise (especially concerns) and keep the team aligned and focused on meeting their deadlines. They're able to sit down and focus on what needs to be done. More importantly, they're able to filter out the noise, get the team together, and deliver the project.
Over to You
The manager of today who doesn't possess all of these skills is not always doomed to fail. He will, however, find it increasingly hard to sustain performance and spot marketing opportunities.
The good news is that learning these skills is easy and accessible. Technical knowledge, sales skills, analytical abilities - there are plenty of educational resources to learn all of these, and more.
Chances are, marketing managers will have to do a good job of "Faking it till they make it". But as Yoda would say, learn these skills you must.
Here's what you can takeaway from this post:
Marketing managers control the entire marketing process for a product or project.

The marketing competencies framework describes the skills and abilities you need to be a successful marketer.

Hard skills - data analysis and technological know-how - are becoming increasingly important for marketing managers.

Successful marketing managers tend to be critical thinkers who can see the big picture, yet still spot the minute details.

About The Author