What Every Agency Needs to Know About Holiday Marketing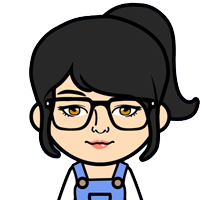 The holiday shopping season is upon us. This guide shares insight on how holiday marketing is changing and how to adapt to it.
The holiday season is a time to celebrate, take a step back, and reflect on the year that went by.
But not if you run a marketing agency.
The holidays are the busiest time for any agency, especially if it has B2C clients. While everyone else is planning vacations setting up "out of office" emails, you have to roll-up your sleeves and set up new campaigns.
For most of your clients, this two month period will make or break their business for the year. The pressure on agency-side marketers, understandably, is immense.
So in this post, we'll do a deep dive into holiday marketing. We'll share what works, what doesn't, and what you can do to ensure a smashing holiday season for your clients.
How Holiday Marketing is Changing
All marketing changes rapidly, but holiday marketing changes more than most.
Blame it on the immense competition for customer attention this time of the year, or the money brands are willing to shell out for innovative campaigns, but a successful holiday marketing campaign in 2019 looks very different from one in 2015.
This is particularly true in the digital medium where new trends can emerge out of nowhere. Snapchat would be the main course on your menu in 2015 if you wanted to be hip and relevant, but in 2019, you'd have to switch to TikTok.
Let's look at some of the biggest changes in holiday marketing right now:
1. Black Friday is Now a Global Phenomenon
Black Friday is still the most important shopping day of the year (unless you're in China - more on this later), but it is far from a US-only affair in 2019.
As Hult University points out, global interest in Black Friday has witnessed an average growth of 117% over the last five years. There is a surge in traffic and sales across Europe on Black Friday, as Criteo's research shows.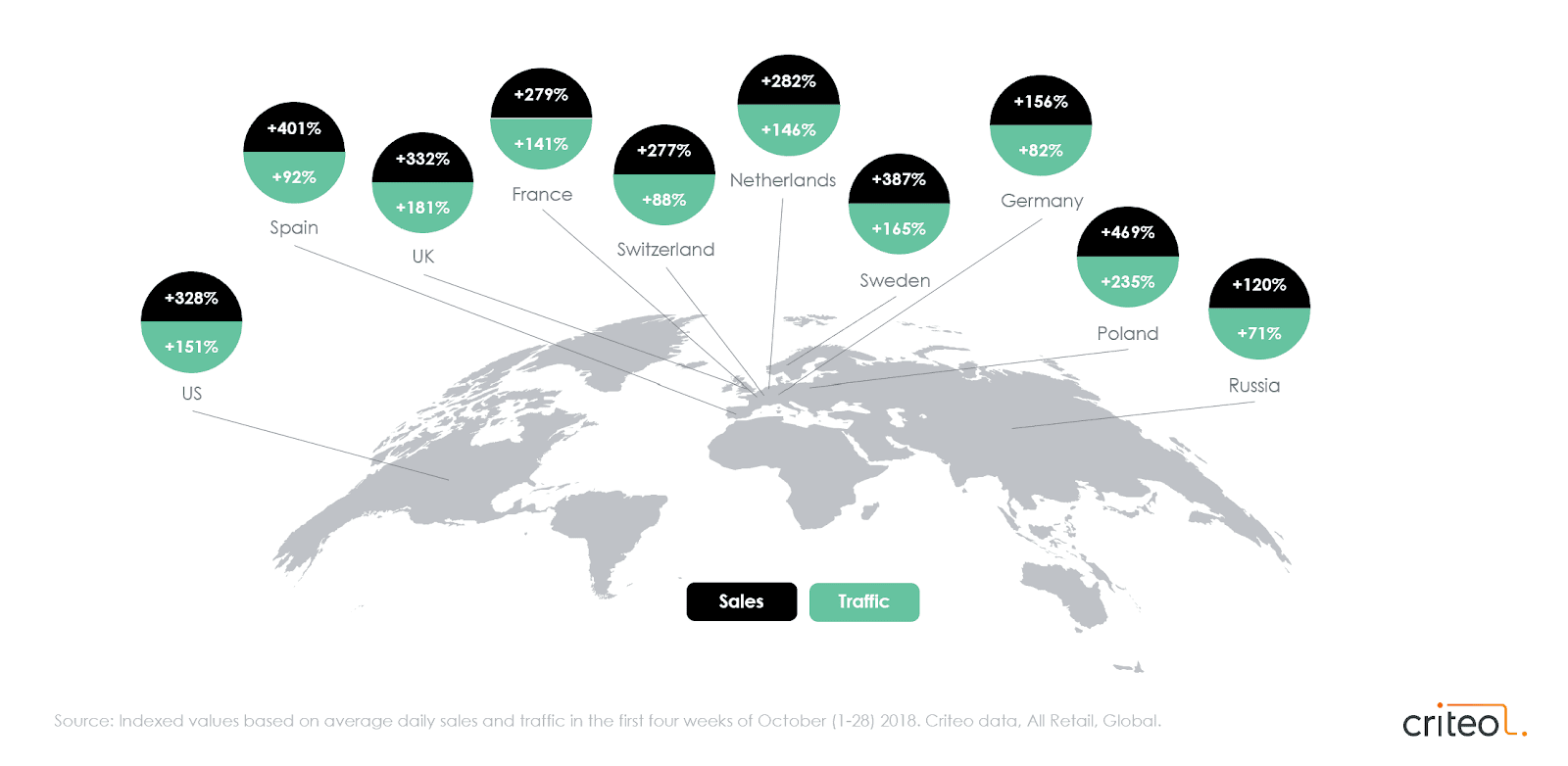 What's leading this change? The increasingly global nature of retailers, for one. Amazon now has a presence in most major European markets. Walmart owns a majority share in India's larger e-commerce company, Flipkart.
As retailers - and the customers they serve - become more global, expect US-based shopping days, like Black Friday, to continue to grow.
Which also means that…
2. Black Friday is Becoming Increasingly Irrelevant
The reason why Black Friday became such a massive phenomenon in the first place was because it was a singular event. You could always be sure to get the best possible deals on this day, no matter what part of America you were located in.
But with month-long sales preceding Black Friday, and mega discounts on Cyber Monday, Black Friday isn't that unique event anymore.
In 2017, for instance, shoppers spent $3.5B online on Black Friday. But they also spent $2.9B on Thanksgiving, thanks to the steep discounts on offer.
As Josh Elman, a retail analyst at Nasdaq points out:
"The whole idea of Black Friday and Cyber Monday...is becoming less relevant as the consumer is generally accustomed to getting great deals."
Effectively, instead of a single day, Black Friday is morphing into a month-long sales event leading up to Christmas. You'll have to modify your ad budgets accordingly.
3. Don't Forget About Singles Day
If Black Friday is going global, the reverse is happening as well: international shopping festivals are coming to America.
Take China's massively popular Singles Day (November 11, or 11/11) as an example. This day celebrating single people has already eclipsed Black Friday as the single largest shopping event in the world (in GMV - Gross Merchandise Value).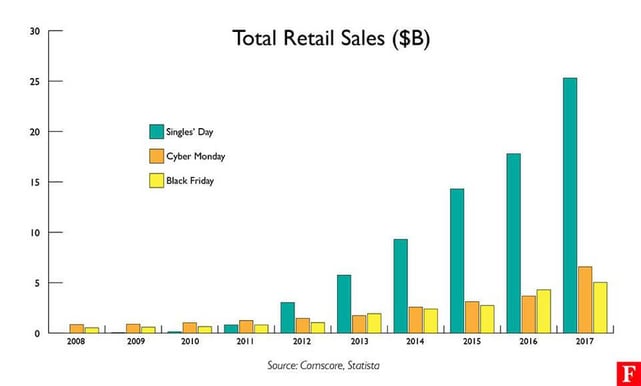 Total retail sales for China's Singles Day have eclipsed Black Friday and Cyber Monay combined (Image source: Forbes)


This growth has been spurred, in part, by American consumers. In 2018, they spent $1.82B on Singles Day, some of it stateside, some on Chinese retailers.
American companies have jumped on the phenomenon as well. Brands as varied as L'Occitane and Kenneth Cole offer discounts, often in line with the event's theme (such as "11 percent off").
If you want to stay globally relevant, it might be time to consider adding the Singles Day to your marketing calendar.
4. Dropping Out of Holiday Sales Can be a Viable Alternative
It might have been sacrilegious a decade ago, but more and more businesses (and their customers) are asking: is the holiday rush, especially Black Friday, necessary?
Consider it from the customers' perspective. As I've already mentioned above, Black Friday discounts now stretch entire weeks and even months. There is no real reason to rush to the store to buy that latest TV; you can just as well get it a month later for nearly the same price.
The store experience around Black Friday itself leaves a sore taste in the mouth. Customers might walk away with a deal, but they also walk away with a poorer perception of the brand.
As Bain's research notes, brand Net Promoter Score (NPS) goes down in the holiday season rush, indicating that customers feel unhappy about the brand experience.
Given that millennial consumers care more about the experience than the product (3 out of 4 millennials prefer experiences over products), the damage to your brand experience can be irreversible.
The situation is far worse from a business perspective. The holiday rush plays havoc with supply chains and inventory management. When you have to process a month's worth of orders in a single day, it can leave your employees overworked and dissatisfied. The net impact on your company culture is entirely negative.
It doesn't help that non-price based promotions don't seem to be as effective anymore in the era of free shipping and Amazon Prime. You will have to take a financial hit if you want people to come to your store.
As Denise Lee Yohn points out in Harvard Business Review:
"By adjusting their marketing, sourcing, and inventory management, retailers can free themselves from the daunting task of fulfilling unpredictable demand during an intense period and instead provide a more customer-centered experience for their shoppers."
5. Customer Decision Making is Changing
You might have read countless articles talking about how customers now start their shopping research as early as September.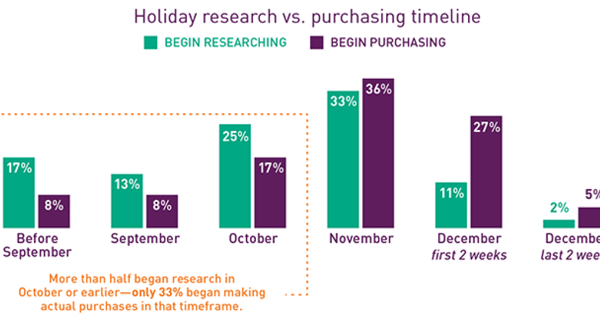 At the same time, some consumers are now shifting their purchase decisions to as late as January.
The catalyst behind this phenomenon is the internet. More specifically, how the internet has changed the way customers approach shopping.
Product discovery and analysis don't depend on store visits anymore. Customers can research products all through the year online. Their shopping decisions aren't influenced by a single campaign or store visit. Rather, it is influenced by the collective weight of their own self-controlled research.
In other words, customers are in a perpetual shopping mode. They indulge in "couch tracking" to check prices, especially for big purchases, jumping in as soon as there is a drop.
In this customer-controlled buyer's journey, one-off events like Black Friday don't have as big an impact. After all, if your customers are in a perpetual shopping mode, your marketing should be perpetually active as well.
As more and more customer dollars move online, this perpetual shopping experience will only become more dominant. If you want to win these customers, you have to retool your marketing approach.
Which is exactly what we'll cover in the next section.
We make Workamajig, the all-in-one project management suite built for creative teams
Everything in one place
Project Management
Resourcing & Scheduling


Custom Dashboards
Business Insights
Task Management & Time Tracking
5 Crucial Tips for Better Holiday Marketing Campaigns
As customer shopping behavior changes, so should your holiday marketing campaigns. In this section, I'll cover 5 critical tips for dealing with these changes.
1. Go Mobile, But Don't Forget About Desktop
If you've read any marketing articles in the last five years, you probably believe that in the near future, everything will be mobile, and desktop will cease to be important.
Early data from the mobile revolution certainly point in this direction. Take a look at this mobile vs desktop breakdown from 2016 and 2017.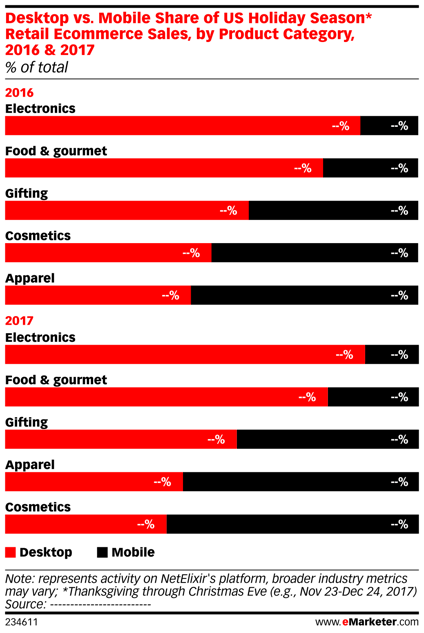 (Image source: eMarketer)


But an interesting thing has happened: consumers are moving back to the desktop. At least for the final purchase decision.
As this research shared by SmartInsights shows, mobile beats desktop in traffic, but desktop wallops mobile in total revenue.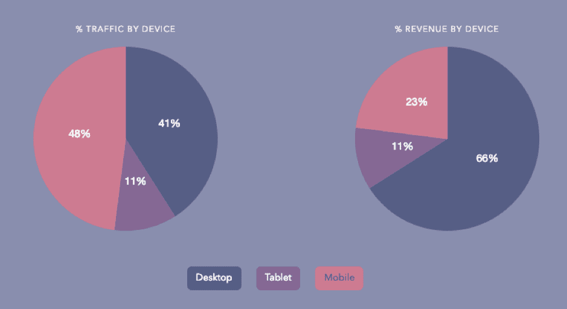 In other words, customers start their search on mobile but shift to desktop when it comes time to place the order.
Thus, you need to maintain a robust presence on both mobile and desktop channels. The former will form the bulk of your traffic, but to actually convert this traffic, you'll need a solid desktop experience as well.
2. Start Themed Campaigns
Remember how I talked about the lengthening of the holiday shopping season?
Take advantage of this phenomenon by starting themed campaigns for all the events leading up to Christmas and New Year's. Ideally, this should start with Columbus Day and include:
Halloween
Thanksgiving
Black Friday
Cyber Monday
Green Monday
Christmas
New Year
Themed campaigns have the dual benefits of building a brand presence while also presenting customers early in their buyer's journey an incentive to shop. They also create momentum for your holiday campaign by acting as "checkpoints" for the extended shopping season.
Here's a great example of a themed email marketing campaign for Halloween by Land's End: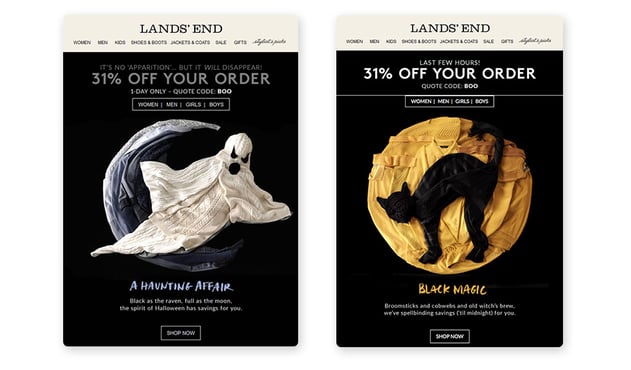 (Image source)
3. Invest in Content
As I mentioned above, customers today are in perpetual shopping mode. They actively research products that they want to buy and keep track of their prices.
One-off holiday sales events can't win over these customers.
Rather, you have to give them what they want: relevant, accurate, and timely information.
Think of a customer looking for a new pair of expensive headphones. Twenty years ago, this customer might have relied on an in-store expert to guide his purchase decision. But today, he'll refer to blogs, reviews, YouTube videos, and social media to figure out if it's worth his time.
In this context, a brand that has lots of positive reviews, how-to articles, guides, and strong content across search and social will win big.
Which is to say, you have to adopt the art of being "omnipresent". And that's only possible through investment in content.
4. Think Global
Black Friday sales are being adopted by European markets. And American shoppers are hunting for deals on AliExpress on Singles Day.
Brands that don't tap into the global nature of holiday sales stand to lose out. Your customers today are more aware than ever. They want deals on Singles Day when they're in the US. When they're outside, they want Black Friday discounts.
Take, for instance, the Google Trends data for the search term "Black Friday deals" in Germany. The interest has spiked regularly every year:
Stretch your holiday marketing calendar to include international festivals. At the same time, make sure to bring your promotions to international markets.
Not only can this help you stand out, but it can also add a small but significant bump to your bottom line.
5. Update Your Marketing Mix
One of the toughest parts of running any digital holiday marketing campaign is figuring out where you spend your money.
Digital trends change so fast that once-dominant platforms can become irrelevant within a year.
In 2015, for instance, Facebook would be a big chunk of your digital marketing pie. But while the platform still has a lot of users, it has lost relevance among younger users. Your Facebook marketing dollars would probably be better spent on Instagram today.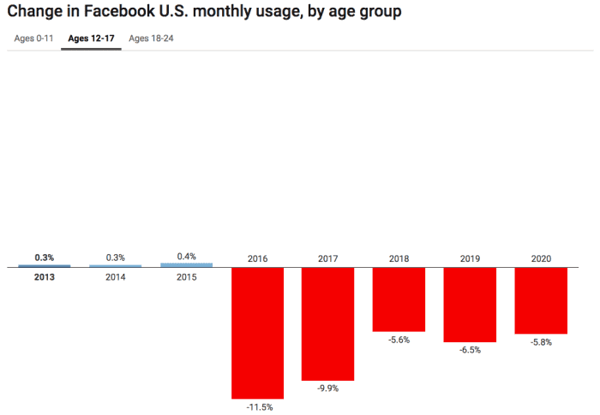 Facebook usage has dropped drastically among young users (Image source)


An objective analysis doesn't necessarily reveal these shifts. A platform's usage might remain stable or even grow marginally even as its social and commercial relevance fades.
You need to be in tune with the zeitgeist to spot these shifts. Know how your target audience tastes are changing.
Review your marketing mix before every holiday season. Ask: Are there any new platforms your audience is gravitating to? What marketing opportunities do these platforms offer? Should you include them in your marketing mix?
One bonus of jumping to an emerging platform early is the lower competition and advertising costs. In the competitive holiday marketing season, these lower costs can be a massive boon.
Over to You
Holiday marketing isn't what it used to be. An annual, one-day shopping event has morphed into a global phenomenon that lasts for weeks.
At the same time, consumer shopping behavior has changed as well. The internet has given shoppers more control and freedom over their buyer's journey.
To respond to these changes, your holiday marketing approach has to change as well. As a start, adopt the strategies I've shared above.
To truly compete in the tough holiday season, you need more streamlined operations. An agency management software like Workamajig can bring order to your agency and help you operate at peak efficiency.
Take Workamajig out for a spin below and see for yourself:
About The Author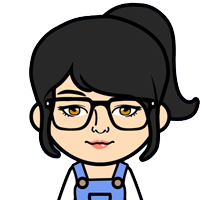 Hannah C recently joined the Workamajig Marketing Team. She enjoys a healthy lifestyle, loves all things furry and is always looking to learn something new. Send her your best recipe, a picture of your dog or your secret tip for marketing success at hannahc@workamajig.com.