Need Office Design Ideas? Get Inspired by These Agency Offices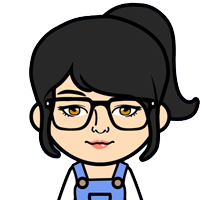 What does it take to create a great office space? These creative agency offices will give you tons of office design ideas.
Would you really want to work in a cold, gray, lifeless office?
Of course not. And neither do your employees.
Agencies, more than most businesses, need inspirational workspaces. When the very product you sell is creativity, you can't be stuck inside gray walls and beige carpeting.
There's a functional aspect too: well-designed workspaces facilitate collaboration. Your employees can't work well together if they're all stuck inside cubicles and glass boxes.
A great office is also a powerful recruitment tool. People like to work in pleasing, well-designed environments. Splash your beautiful workspace on your 'Careers' page and you'll see an uptick in applicants.
The question now is: what does a great agency workspace look like? And how can you create your own inspirational office?
We'll share some answers in this article. For your benefit, we've divided it into two sections. In the first section, we'll look at a few stunning agency offices. Next, we'll share some tips to help you design your own office space.

Section I: 24 Inspirational Agency Offices
Stunning agency offices come in all shapes and sizes. A 2,500 sqft workspace can be every bit as inspiring as a 50,000 sqft one.
Need more proof? Then check out our collection of 25 stunning agency offices. From local arms of Big Four agencies to 20-person regional agencies there is something here that would inspire you:
Location: Beijing, China
Elephant Parade, a Beijing based communications company, blends clean, modern lines with natural contours and materials. The hallmark of this office nearly 45,000 sqft office is the contoured tree-like bamboo arch above the entrance stairs.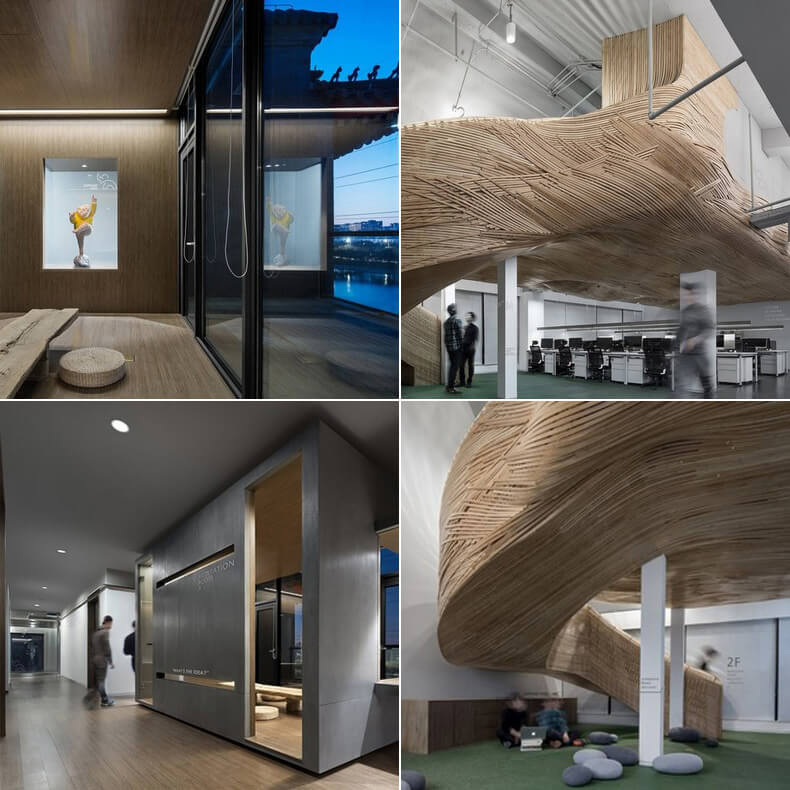 Location: Plano, Texas
Czarnowski's Plano, Texas based office is a testament to the impact of open architecture. Marrying wide open spaces with a clean, modern aesthetic. The highlight? "Club Czar", a lounge area hidden away behind the kitchen for employees and clients alike.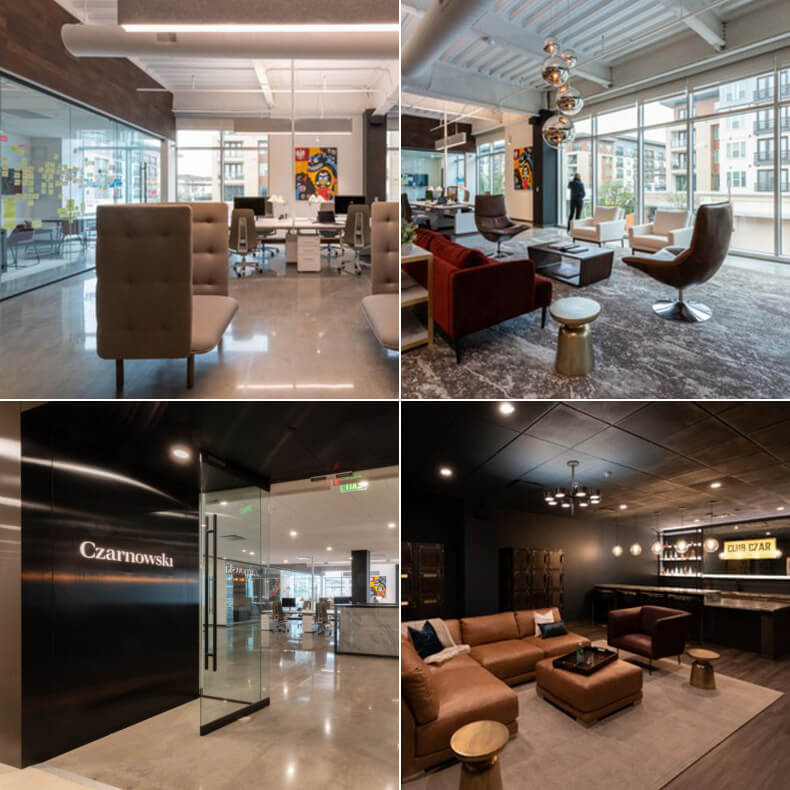 Location: Sydney, Australia
Sydney-based MullenLowe Profero's office occupies a 1930s-era building and features plenty of natural light and natural materials. The clean, modern aesthetic features Art Deco elements for a cheeky touch. Open spaces that facilitate collaboration abound.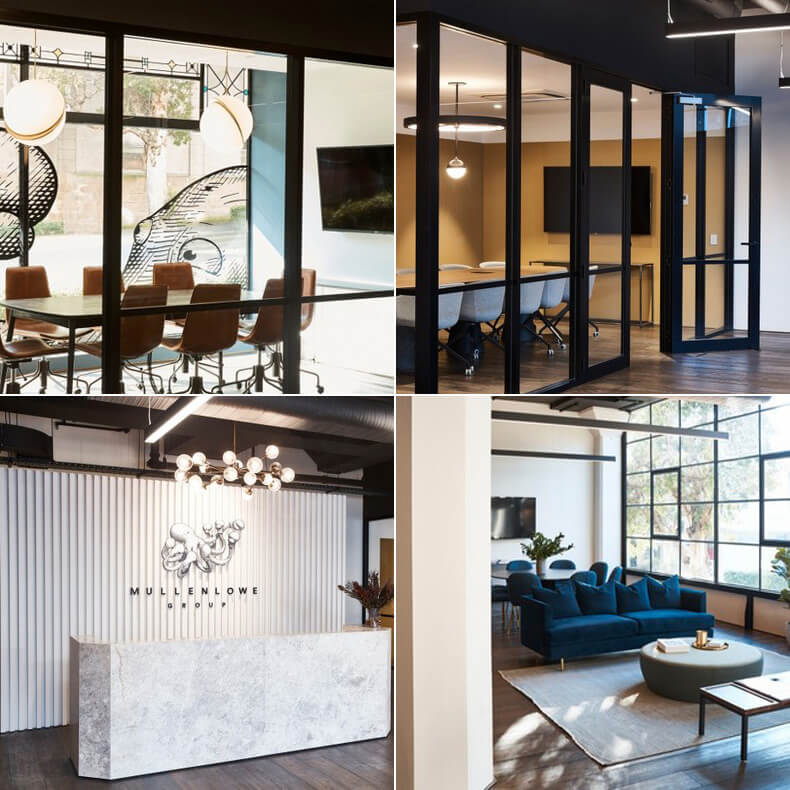 Location: San Francisco, California
Warehouse office spaces abound in San Francisco, but few have done as good a job of retaining the original rustic touch than Tolleson. The large, well-lit shoebox-shaped workspace has a conference room at its helm flanked by a library and sitting area. The entire space prioritizes easy circulation without compromising privacy.
Our favorite feature: the exposed wooden beams, retained from the original unit.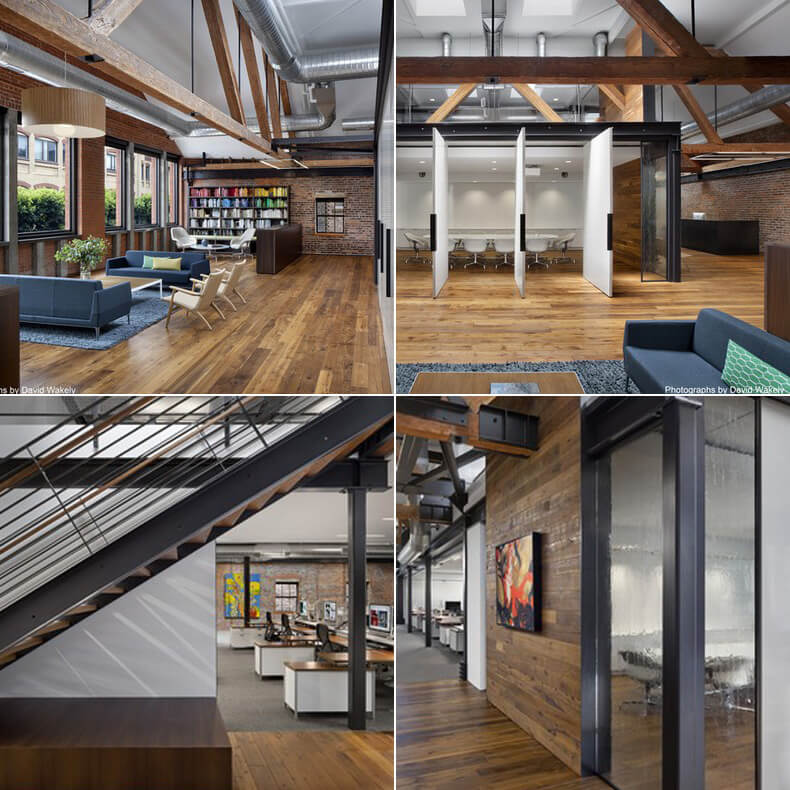 Location: Paris, France
JWT, as one of the world's largest agencies, is expected to have innovative offices, especially in major markets like Paris. And this office doesn't disappoint.
Featuring a meeting area built entirely from recycled paper fibers (of the company's own use, no less), this office space is as innovative as it is sustainable. By placing the director on the ground floor close to the reception, the office also reverses the usual hierarchy in a bid to facilitate collaboration.
Proof that innovative workspaces aren't just about throwing a splash of color on a wall, but also adopting new thinking and sustainable materials.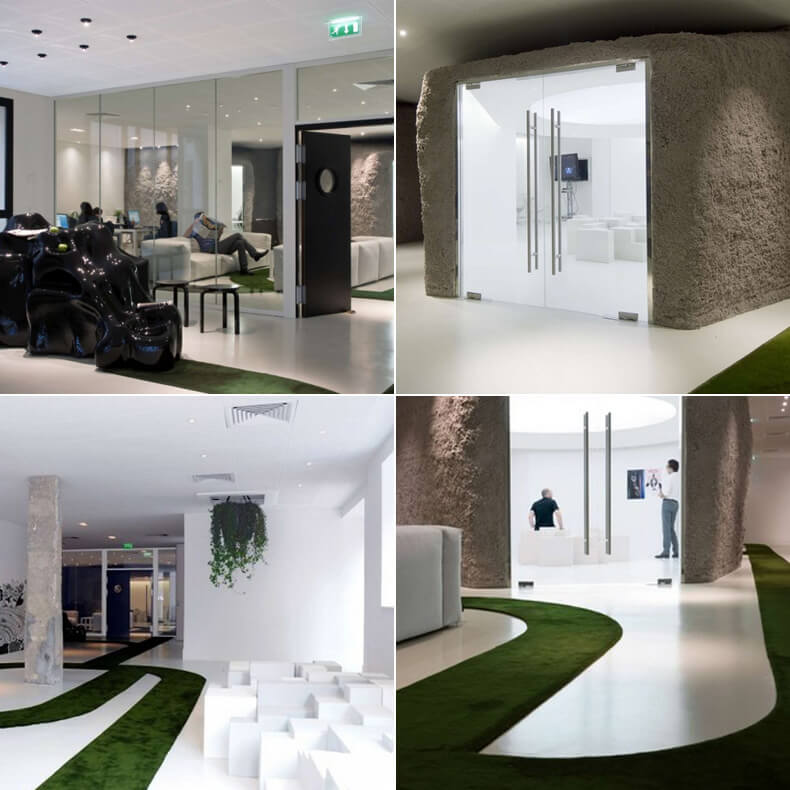 Location: New York City, New York
BGB Group, a New York-based medical advertising agency, prioritizes open spaces and collaboration in its Broadway office. Featuring tons of flexible spaces that can accommodate everything from marathon brainstorming sessions to short, informal meetings, this color-filled workspace is designed to facilitate coworking.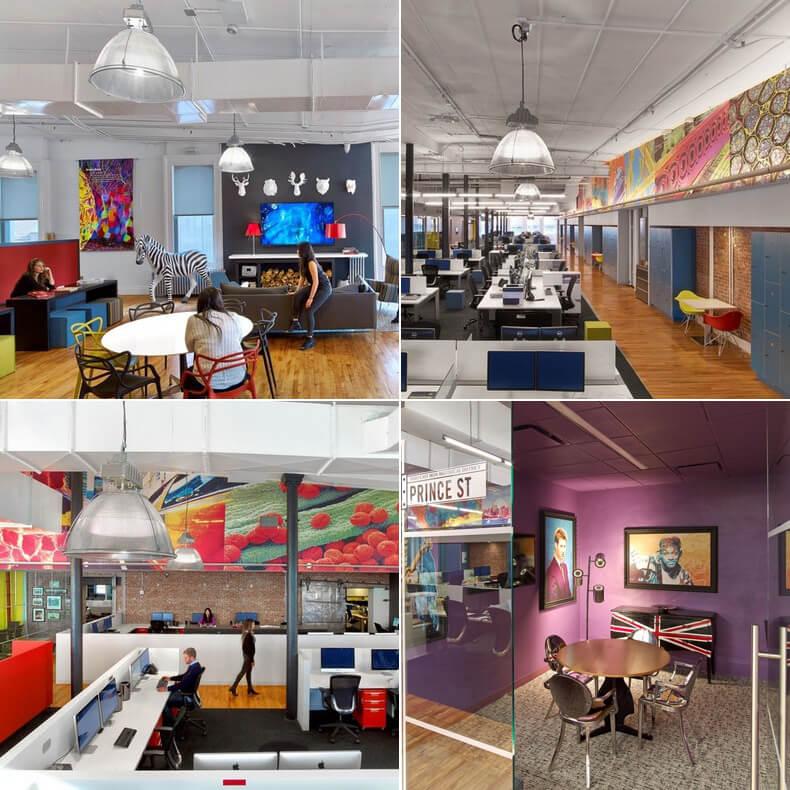 Location: Santa Monica, California
Crispin Porter Bogusky's large Santa Monica workspace blends privacy with openness, color with monochrome. Gray and white dominate the interior space, but splashes of orange and natural wood even things out. Open spaces sit next to private offices to help people work however, wherever they like.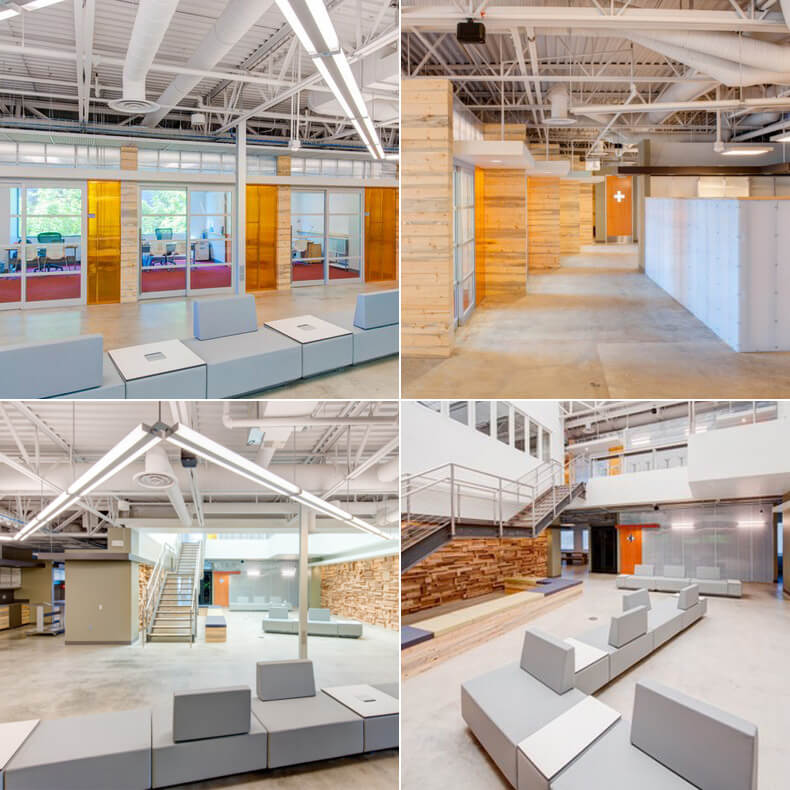 Location: New York City, New York
Wieden + Kennedy is one of the largest independent advertising agencies around. Their New York office shows the innovative streak that has led to their success.
WK's work depends on collaboration. The office, thus, has multiple meeting spaces - large and formal conference rooms as well as small and cozy nooks. The highlight of the space is the hemispherical wood and glass staircase that looks straight out of a sci-fi movie.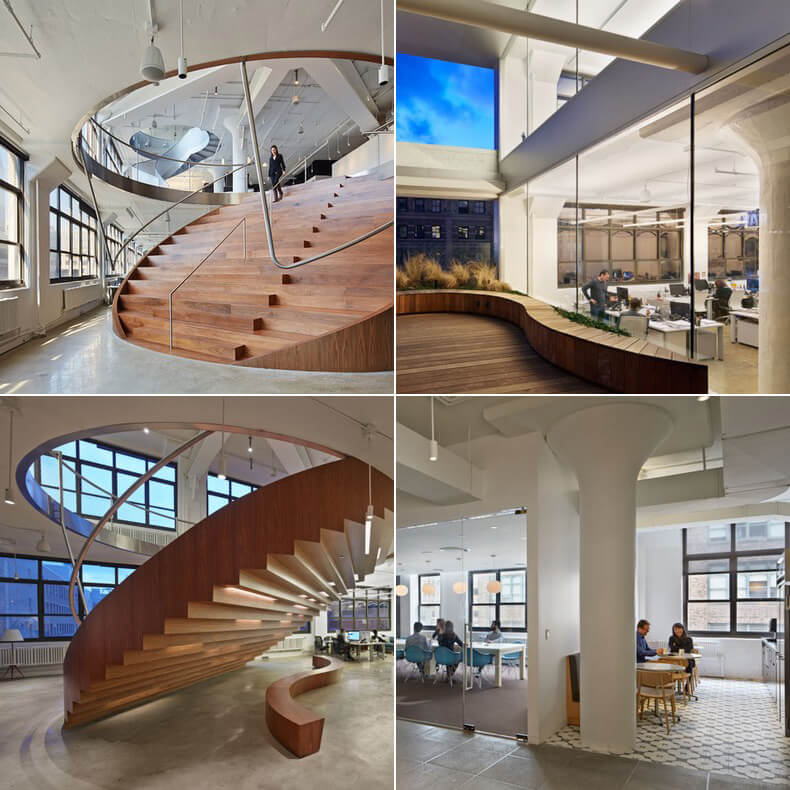 Location: Seattle, Washington
Seattle-based digital product studio Substantial's office space is, well, substantial. Wood, steel and glass are the dominant materials and the color palette is Scandinavian-modern, but with splashes of bright hues thrown in. Closed formal meeting spaces abut open plan workspaces to facilitate every kind of work.
Our favorite feature: a massive skylight that bathes the entire space in natural light.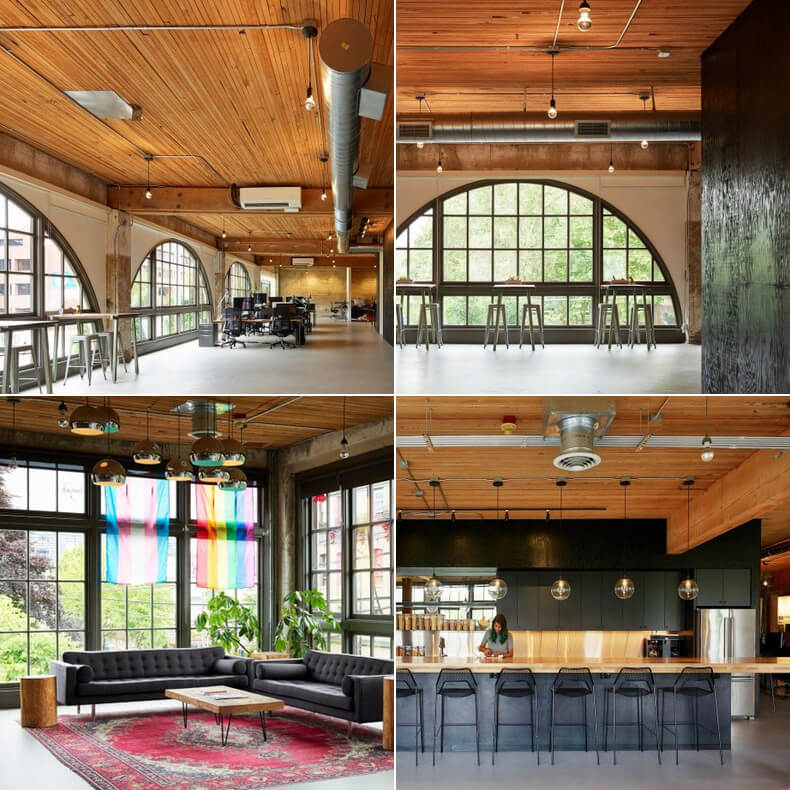 Location: London, UK
London-based communications consultancy Finsbury's nearly 13,000 sqft office space offers breathtaking panoramic views of London. It also features an imposing sculpted wooden ceiling that is nothing less than a work of art itself.
Monochromatic hues are tempered by dashes of color throughout the workspace. A central open area facilitates collaboration, while plenty of private offices and meeting rooms offer privacy.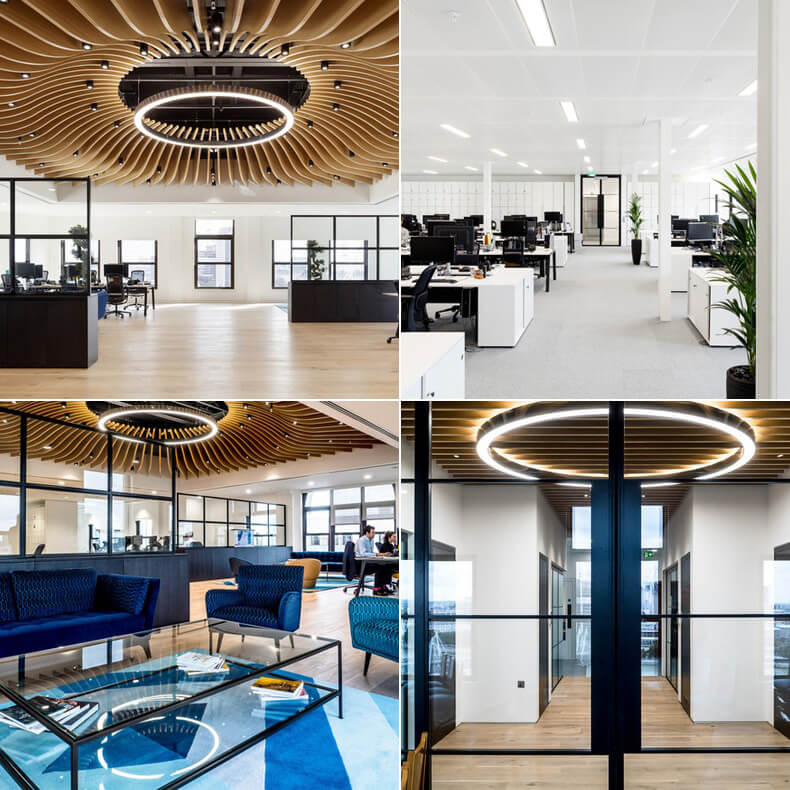 Location: London, UK
Tons of natural light and liberal use of glass mark this London-based office space of Beyond Collective, a self-described "micro network of specialist companies". This space serves as the home of all of Beyond's companies, including its ad agency (Above & Beyond) and media agency (Yonder).
Since Beyond Collective's success depends so heavily on collaboration within and across its companies, the workspace features large, open areas and plenty of meeting rooms. The entire environment is designed for hotdesking so that people can drop in any work anytime, anywhere.
The end result is a collaborative yet privacy-friendly office space that can accommodate multiple specialities under the same roof.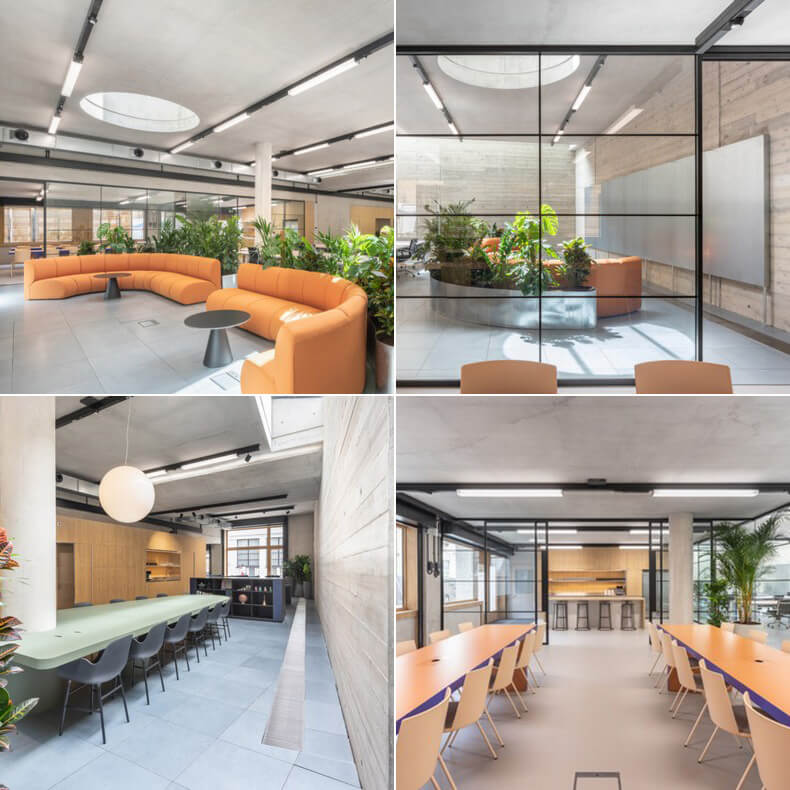 Location: Porto Alegre, Brazil
Do you need tens of thousands of square feet of space to be creative?
As Brazil-based Miagui advertising's 2,442 sqft office space shows, not really. As a creative agency, Miagui thrives in a casual, open setting. The entire three story space has been transformed into an "anti-office" with plenty of casual workspaces.
The highlight is the netted lounge area that offers a creative way to relax without being cut off from the rest of the workspace.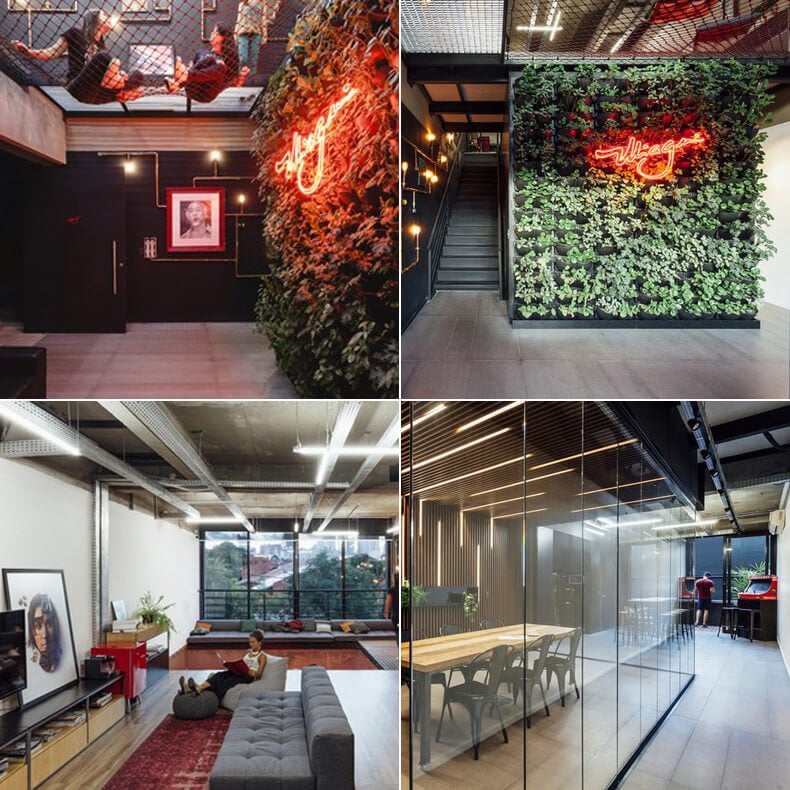 Location: Curitiba, Brazil
Master and So What are two separate creative agencies that share this stunning office space in Curitiba, Brazil. Liberal use of steel creates the illusion of a 3D wireframe overlaying the entire workspace. A colorful floor breaks the monotony of the otherwise monochromatic furniture.
But aesthetics aren't the only innovation. The entire office is laid out in a manner to facilitate interaction. Enclosed rooms occupy the center of the space while the perimeter is has open work areas. All furniture has also been custom designed to make casual conversations easier.
For instance, filing cabinets have a soft top that allows them to be used as seating. Stools can be merged with cabinets to create impromptu presentation stands.
A stunning example of an office that is as functional as it is beautiful.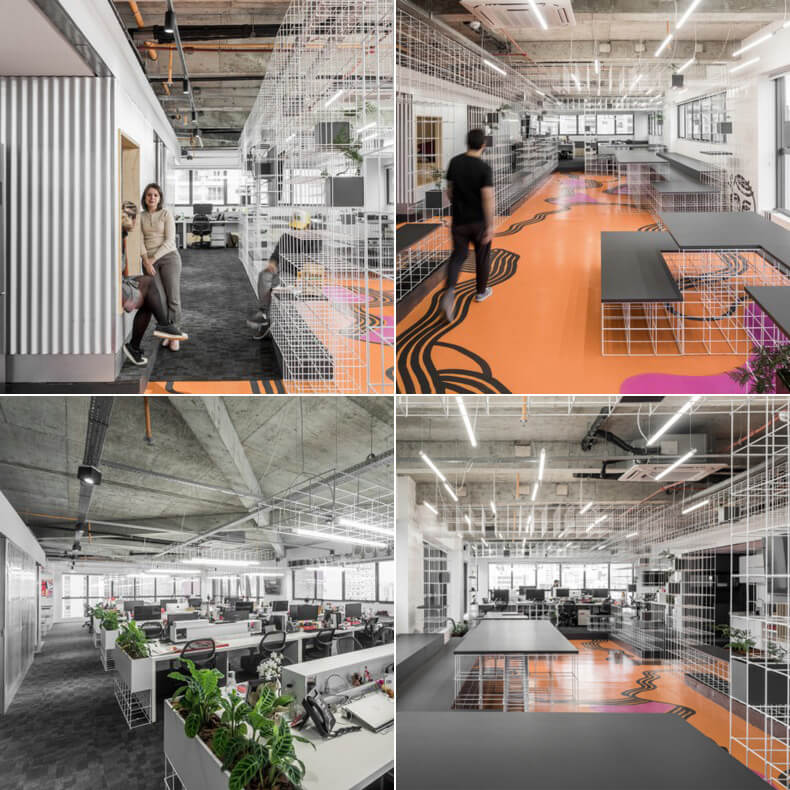 Location: Richmond, Virginia
Great office design is more about function than it is about aesthetics. Prime example: The Martin agency office in Richmond.
While the office space is undoubtedly gorgeous with its clean, modern lines, it is the innovation in functional design that stands out.
Take the reception area. Instead of the traditional cold and bunker-like reception, this office uses a long casual desk that can double as a coworking spot. The entrance lobby has been transformed into an art gallery with plenty of seating for visitors and employees alike. Beer taps and casual seating have transformed this underused space into the heart of the office where people can mingle and collaborate freely.
See the pictures below for a better look: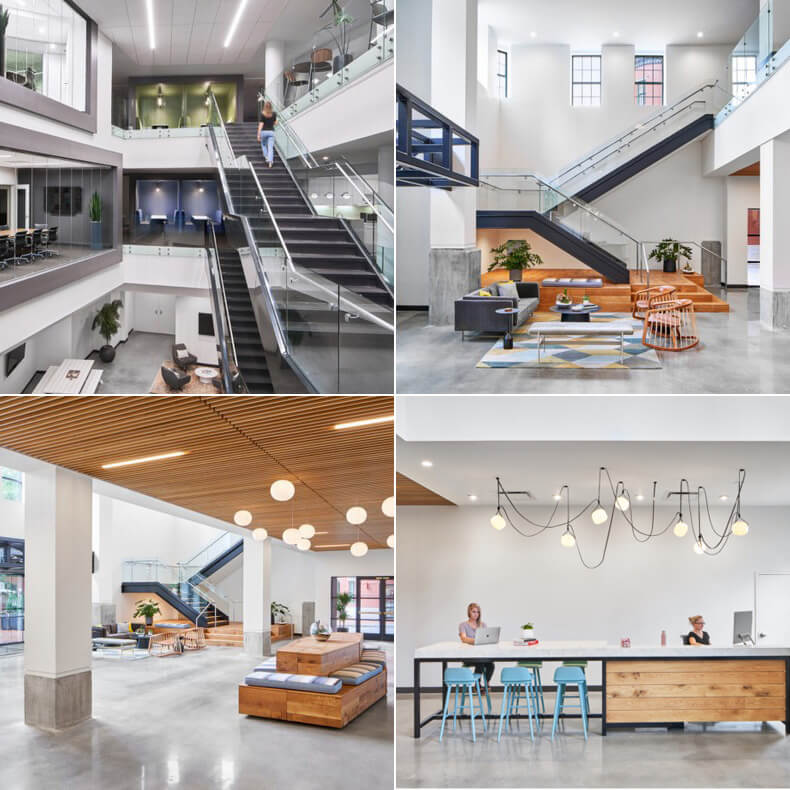 Location: New York City, New York
Archetype's redesigned NYC office is a study in how adopting modern work practices can help you better utilize office space.
The agency's previous office featured traditional designated desks and walled-off work areas. This not only limited casual interaction, but also forced everyone to work from the same space, whether they liked it or not.
The redesigned office ditches that for an "Agile" model where staff can sit wherever they like. Not only did this boost collaboration, it also helped the agency save 1,500 sqft of space which was summarily used for casual meeting areas.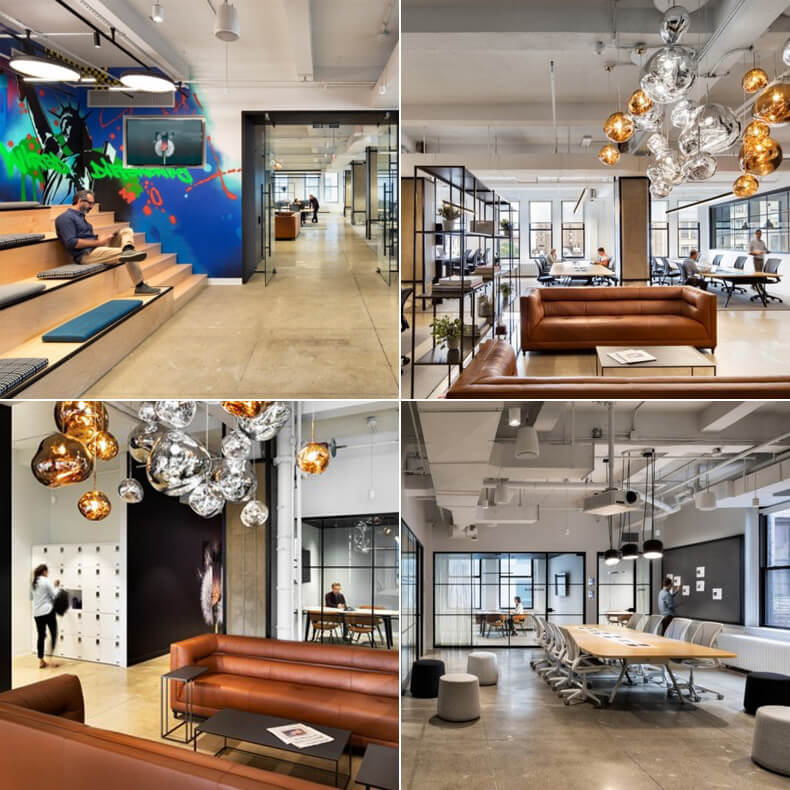 Location: Vancouver, Canada
It doesn't really take much to create an inviting office space. Plenty of light, lots of open space, and just the right amount of color can bring any workspace to life.
Take Modern Craft's Vancouver office as an example. Instead of wild experimentation, it takes advantage of the office's location. Large windows offer stunning views of Vancouver and let in plenty of natural light. Lots of free open space promote milling about (and the casual collaboration it can spark). And colorful doors add a pop of brightness to break the monotony of the gray-white palette.
See for yourself: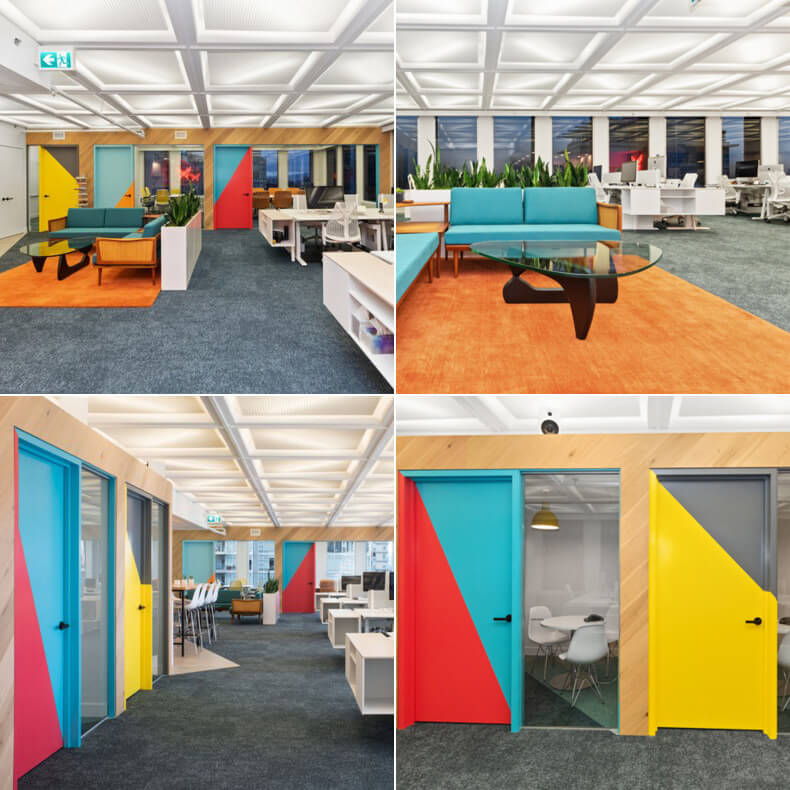 Location: Atlanta, Georgia
This large 50,000+ sqft office space is shared by three agencies - Fitzco, Momentum, and Weber Shadwick. The agencies are a part of the same parent company but used to have separate offices. The shared office lets them work better together - within and across the agencies.
The dominant feature of the space is the massive skylight that bathes the entire office in natural light. It also overlooks the atrium and serves as the hub of all activity across the three agencies.
Innovative furniture design adds to the collaborative nature of the workspace. Height-adjustable seating, pull-out stools, impromptu presentation areas facilitate casual interaction.
Adding to that is a massive lounge area - complete with a balcony - that serves as a space to entertain clients and host casual meetings.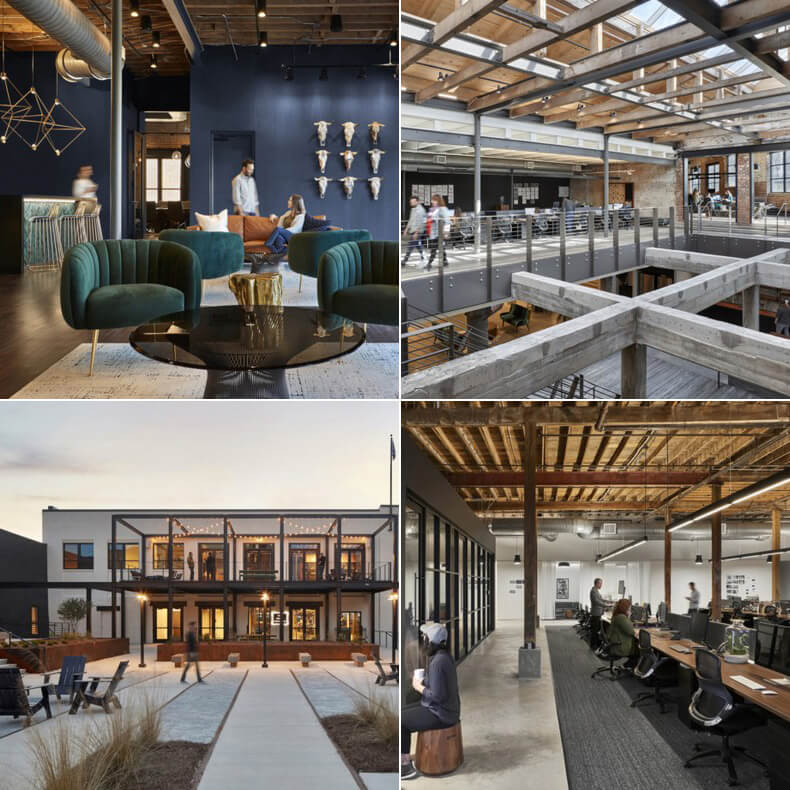 Location: Playa Vista, California
Canvas Worldwide's Playa Vista office is built on the principles of transparency and openness. The entrance to the office opens right into a massive open space that serves as an all-hands meeting space and events area.
True to the principle of transparency, glass walled offices spread out from this heart of the workspace. Colored glass maintains the sense of openness while adding a dash of vibrancy. A massive double height ceiling and plenty of natural light further add to the open nature of the workspace.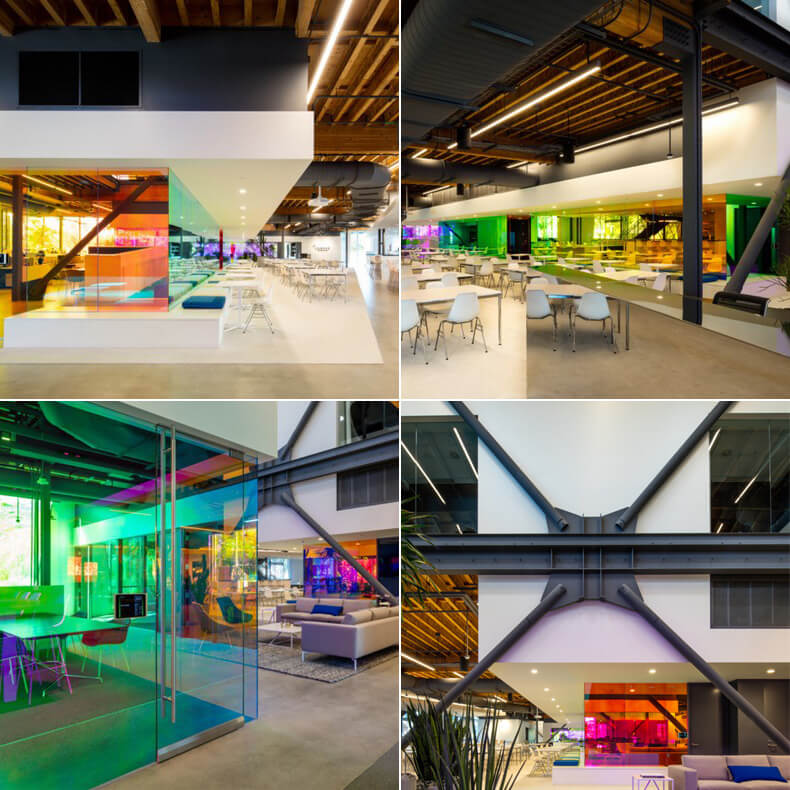 Location: Phoenix, Arizona
Zion and Zion's award winning Phoenix office marries form with function.
Private offices flanked by open work areas facilitate collaboration. Liberal use of glass and large windows create a sense of space. Casual seating peppered throughout the office promote impromptu conversations. Splashes of color throughout the office, dominated by Zion's signature pink, add visual interest to the workspace.
The end result is a creative agency office that is not only beautiful but also highly usable.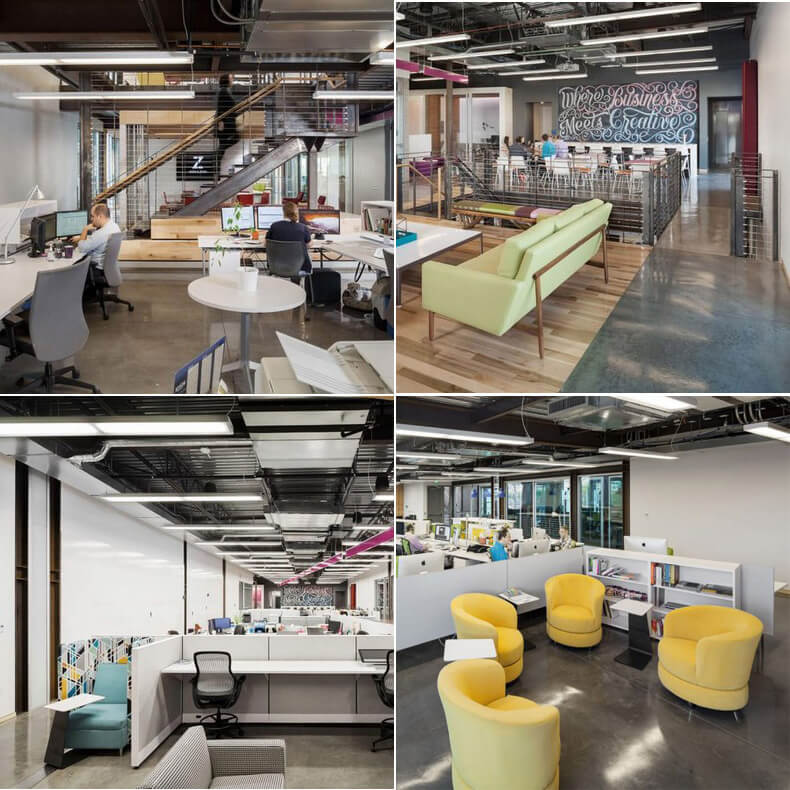 Location: Minneapolis, Minnesota
Martin Williams' office in Minneapolis uses warm, earthy tones to offset the often harsh Minnesota weather. Brown, copper and gray hues abound, adding a sense of rusticity not often seen in creative agency offices.
The perimeter of the office has open work areas that overlook the Minneapolis cityscape and let in plenty of light. The interior, however, has closed-off meeting rooms and collaborative work spaces. This is great for brainstorming and deep, focused work.
The result is an office space that gives people the chance to work the way they want - closed-off and inside, or open and outside.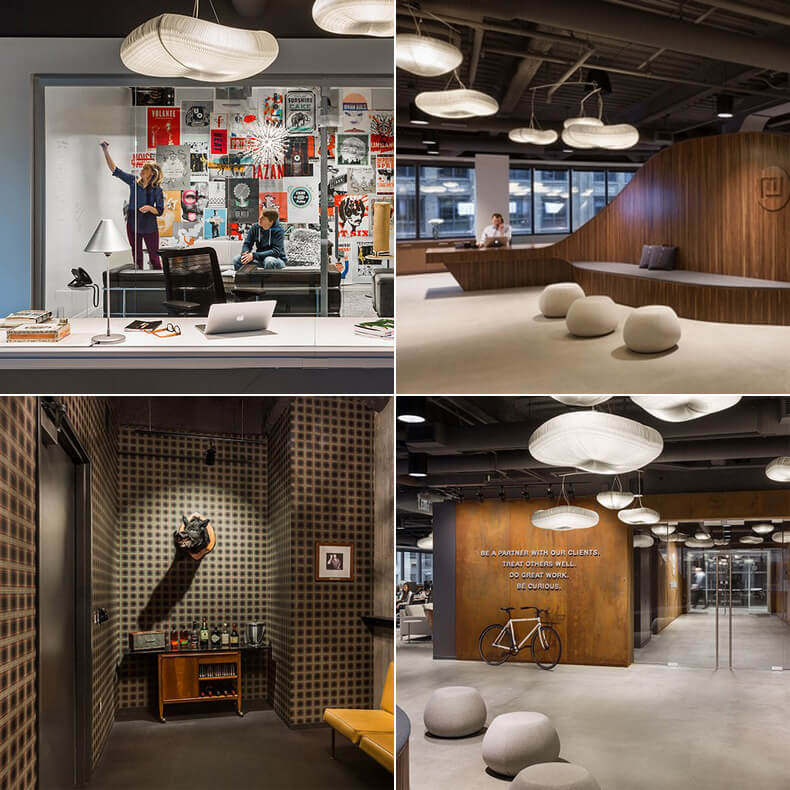 Location: Boulder, Colorado
Innovative agency offices don't have to be radically designed; clever use of available space and functional design is often more than enough to create a beautiful office.
Take IMM's Boulder office as an example. The entire office is built around giving people the freedom to work how they want instead of forcing them into open or closed workspaces.
Glass-walled closed offices sit next to open work areas. Casual seating spread liberally throughout the office makes it possible to work from anywhere. Massive windows flood the space with natural light. And a central hemispherical lounge area serves as a space for chance encounters.
See for yourself: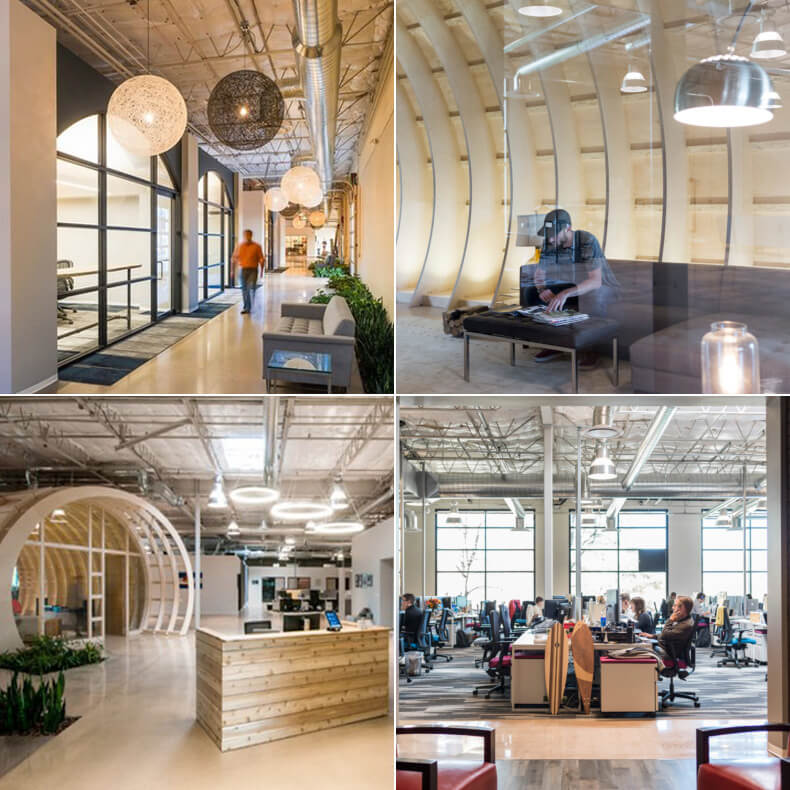 Location: Tokyo, Japan
Dentsu is one of the world's largest agencies with thousands of employees across the world. Its Japanese HQ in Tokyo accommodates hundreds of people and even more visitors every month.
Accommodating all these people means making innovative use of floor space in crowded Tokyo. A bright color palette dominated by yellow creates a sense of inviting warmth and space. Casual work spaces that can be used for everything from lunch meetings to coworking abound. Effective use of stairs and levels creates a sense of hierarchy-free, yet staggered work area.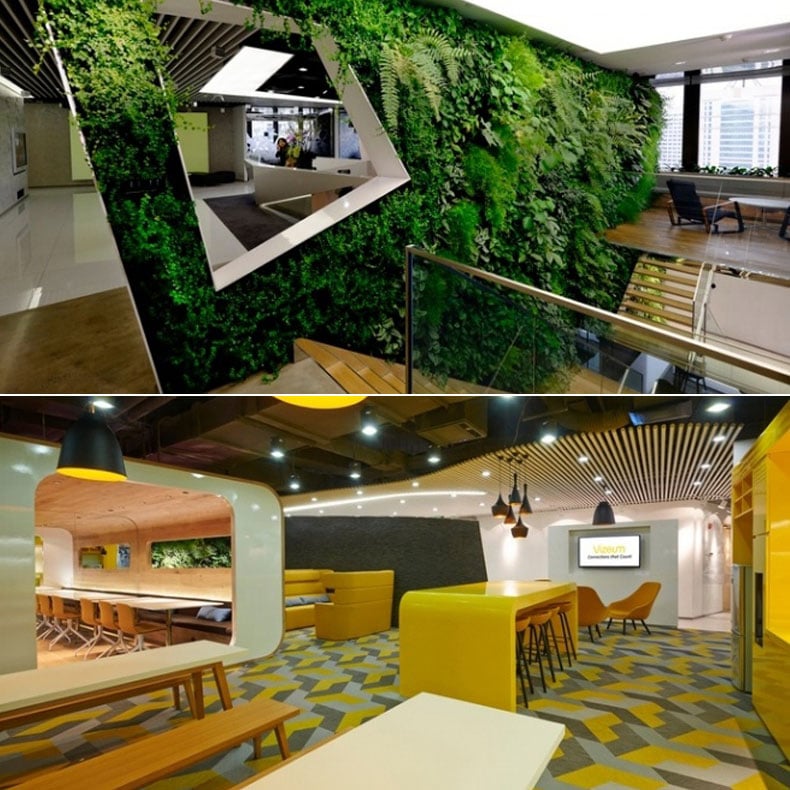 23. 360i London
Location: London, UK
One of the toughest jobs in creative agency office design is balancing closed, focused work areas with open, collaborative spaces. Some jobs in agencies requires you to be glued to the screen for hours without distraction. Some need free-ranging discussions and brainstorming.
360i's London office finds an effortless balance between the two. While there are plenty of open work areas and private offices, there are also "pop-up" private spaces in the form of enclosed privacy chambers (see pic below).
Such innovations are necessary for balancing the twin requirements of agencies: focus and collaboration.
See more pictures below: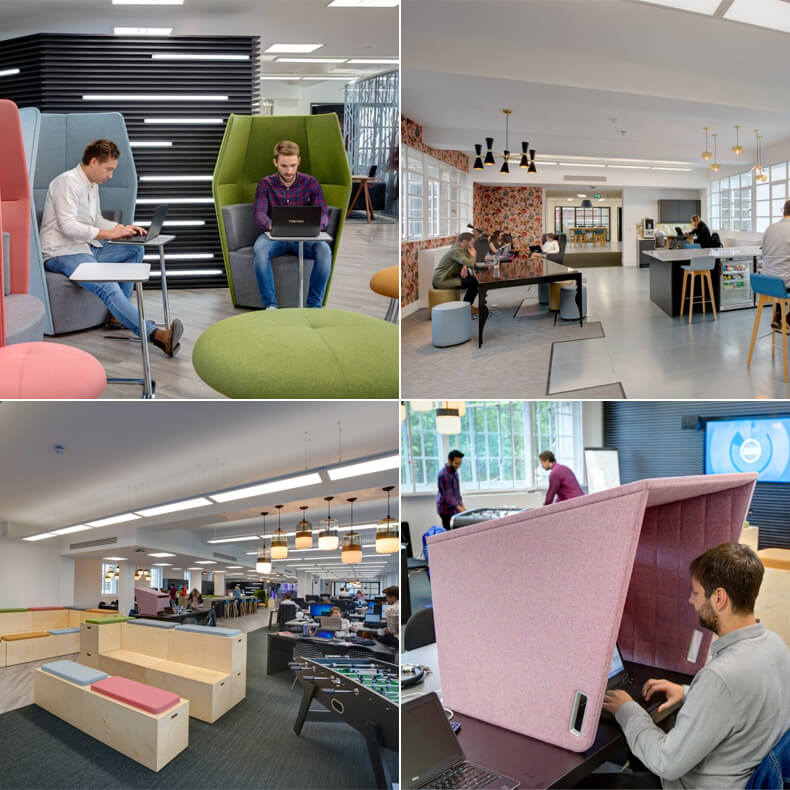 Location: Tokyo, Japan
beBit, a Tokoy-based digital marketing company, works out of a building that is required to have an earthquake-protection brace. Rather than hiding this behind a faux ceiling, beBit uses the exposed steel to create an open, innovative space.
A large reception area that also doubles as a lounge greets visitors. Closed meeting rooms and private offices flank the reception, giving visitors a glimpse into the agency's life.
The exposed ceiling runs throughout the space, including a large open work area. The result is an office that feels decidedly raw, yet natural and open.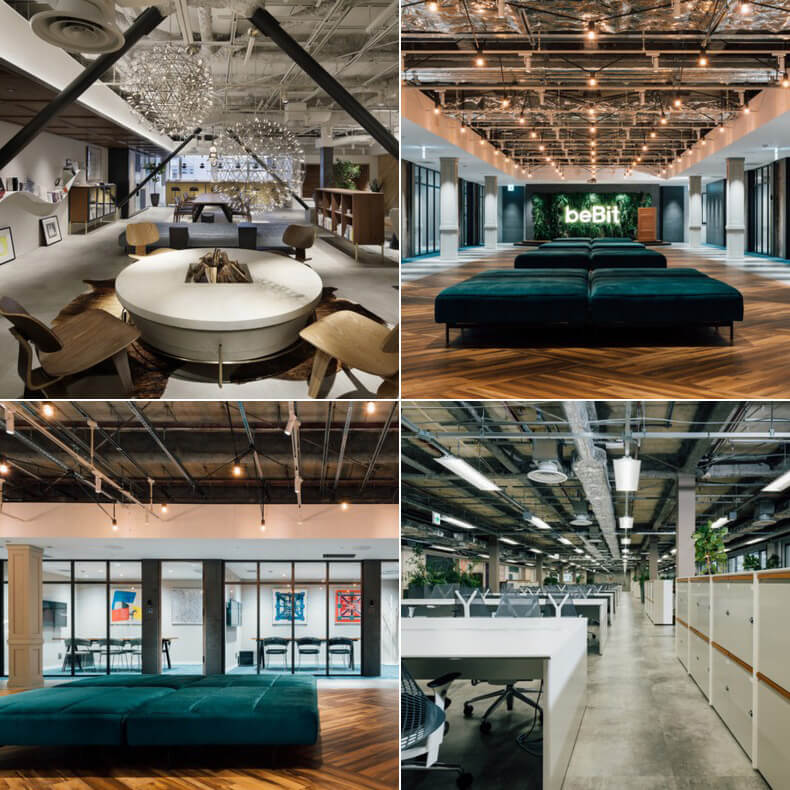 While these creative agency offices are certainly inspiring, the question now is: how can you create an exciting workspace of your own?
We'll share some answers below.

Section II: How to Create an Inspirational Workspace
What does it really take to create an innovative yet functional agency office?
While we're no architects, we can share the latest thinking in creative agency office design. Use these tips to guide your own approach when designing your workspace.
1. Office design matters more than you think
Good office design matters for every business, but for agencies, it matters more than most.
Partly, this is due to the nature of the agency business itself. When you're selling creativity, you can't really expect to perform at your best in an uninspiring physical space.
The bigger reason is the stiff competition agencies face in recruiting and retaining talent.
We don't have to tell you that agency attrition rates are among the highest in the world. We also don't have to tell you that agencies have to fight off cash-rich tech startups and massive global consultancies to keep their talent.
Given such competition, a beautiful, inspiring office becomes a powerful recruiting tool.
Two studies stand out:
When you're competing against Google and Deloitte Digital for talent, you can't really compromise on your office space.
2. Don't sacrifice privacy for collaboration
Collaboration is understandably crucial for creative agencies. We've written about it extensively on this blog as well.
Collaboration has become synonymous with open office spaces. The idea is simple enough: an open area facilitates the casual conversations and chance encounters that are so crucial for agency-wide collaboration.
But a growing body of research now shows that open offices can hamper productivity. One study published in the Royal Society B journal found that open offices at two Fortune 500 companies led to a 70% reduction in face-to-face interactions.
When confronted by wide open spaces, people tend to withdraw inwards and turn to electronic communication.
Another study at Rivier University found that large open offices create noise and privacy issues. The more "open" the office, the higher the employee dissatisfaction.
This is an acute problem for agencies. You need your people to collaborate, but you also need to give them space for deep, focused work.
Consequently, most successful creative agency offices seek to find a balance between privacy and openness. Instead of a single large open office, they create enclosed spaces, private rooms, and "deep work" areas.
Adopt this approach when designing your own workspace. Don't just focus on openness and collaboration; offer employees privacy and focus as well.
3. Give employees control over their work environment
No two employees work in the same way. Some might prefer closed spaces with minimal distractions. Others might feed off the energy of an open, social space.
The key to employee satisfaction is giving them control over their workspace. Don't just herd them in closed cubicles or open desks. Rather, offer them the option to choose where they want to work and how.
A 2013 Gensler study published in Harvard Business Review found as much. Workplace satisfaction is directly tied to the amount of control employees have over their spaces.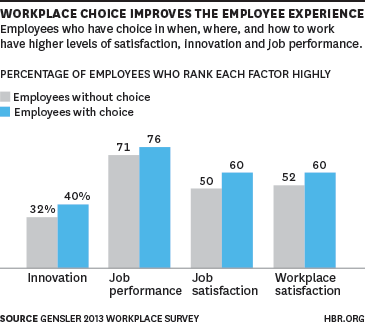 One way to accomplish this is to create multiple work areas with different privacy levels. Consider creating spaces with high, medium, low, and no privacy panels. Give employees the freedom to choose the kind of privacy option they prefer.
This is particularly important for knowledge and IT workers. In the above study, IT office spaces had a balanced mix of different privacy levels. IT workers also reported an above average satisfaction with their work spaces.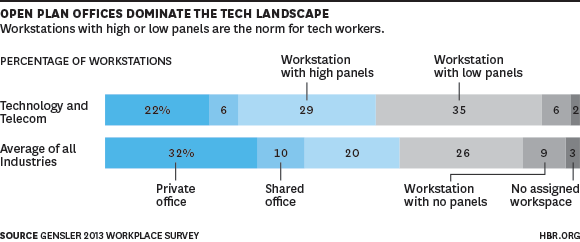 Conclusion: if you want to help your people thrive, give them control over how they work.
4. Adopt a modular approach to work
It's no secret that the way we work is changing. Dedicated desks where employees sit five days a week are a thing of the past. Remote work is common, especially among creative agencies.
In this situation, does it really make sense to create offices with fixed layouts and seating? If your people are going to work from home 50% of the time, should you really invest in dedicated spaces for all of them?
The need of the hour is a modular approach to workspace planning. Design office spaces for the real way we work today: from our homes, coffee shops, and of course, the office.
For example, Archetype, a NYC-based agency, saved 1,500 sqft of space by removing dedicated seating from its office. Instead, its employees can work from any space they want. Since at any given time, a large percentage are working from home, this frees up a lot of space.
In addition, this modular approach gives employees greater control over their workspaces. They don't have to be limited to a single dedicated desk; they can work from anywhere they want.
Ask yourself the following questions:
What is your current average occupancy rate?
What are your current and future remote work policies? Do you see yourself investing more in remote work in the future?
How do your employees like to work?
Do you need any specific equipment to get your work done (such as dedicated workstations)?
What are your data and device policies? Do you have a BYOD (Bring Your Own Device) policy or are employees expected to use specific devices? The former is particularly conducive for modular work.
5. Think about clients
An innovative office space is a powerful tool for recruiting and retaining employees.
But another use of good office space is to entertain and acquire clients. If you're operating in a local market, you'll undoubtedly have clients dropping in for meetings. Setting up a space that can showcase your capabilities and culture can have an impact on your client relationships.
For instance, Fiztco, Weber Shadwick, and Momentum's Atlanta space (see above) has a large area for entertaining clients. This ties into their shared philosophy of Southern hospitality.
Similarly, Czarnowski has a dedicated lounge area ("Club Czar") that serves to entertain clients and host casual employee meetings.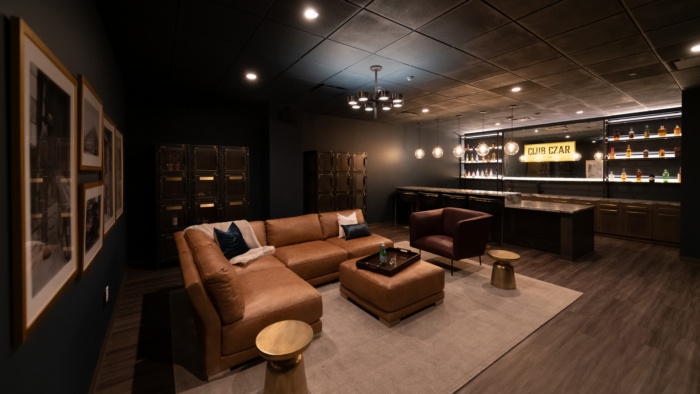 Client-focused spaces like these have to be created differently than your work areas. They need to be isolated enough so that clients don't get in the way of employees (and vice-versa). At the same time, they have to offer clients a glimpse into your agency culture.
6. Focus on the right perks
What do people really want from their workspaces?
A survey of workers published in HBR found some surprising answers. While most would consider fitness rooms and natural light to be obvious perks, the most in-demand was rather simple: air quality.
Comfortable temperature, water quality, and good acoustics take precedence over food and fitness.
Keep this in mind when you're creating your office space. Adding a few air filters and offering temperature control can win more favor with employees over expensive fitness gadgets and yoga rooms.
Over to You
Creating an inspiring office is not an overnight exercise. Besides the obvious architectural challenges, you also have to consider your culture, needs, and wants.
Hopefully, these offices would inspire some ideas for your workspace.
A beautiful office is only half the battle; you also need effective software to complement it. Try Workamajig's powerful agency management solution to see how it can transform your agency's work.
Click below to get a free demo today:
About The Author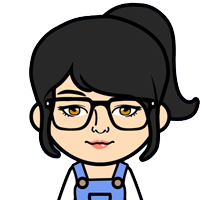 Hannah C recently joined the Workamajig Marketing Team. She enjoys a healthy lifestyle, loves all things furry and is always looking to learn something new. Send her your best recipe, a picture of your dog or your secret tip for marketing success at hannahc@workamajig.com.