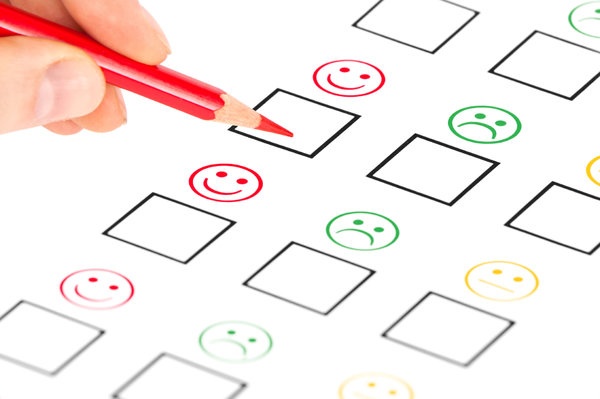 Invest too many resources into client outreach and you're risking profitability; invest too few and clients leave. That's why it's essential to balance client satisfaction with your creative firm's profitability.
Consider the following five ways to incorporate client satisfaction into your firm's success:
1. Measure Client Satisfaction
No two clients have the same needs—and targeting metrics around individual clients is the only way to produce reliable numbers. Focus on measuring client satisfaction, and how it pertains to your individual clients.
Below are some metrics you should be tracking:
Expectations vs. Perception
Probability of Recommending to Friends
Actual Experience vs. Ideal Experience
Affective and Cognitive Approval
Repeat Purchase Intent
Overall Satisfaction
Implementing a means of answering these questions—whether through email, online surveys, or direct calls—should be a primary concern for your firm.
2. Establish Realistic Expectations
Setting expectations too high is a common mistake for many agencies; after all, it can be tough to undersell a client on your firm. While eager salespeople may mean well, how many times have you been in a situation where unrealistic promises were made in hopes of reaching an agreement?
As the old business adage goes, it's best to under-promise and over-deliver. While this may seem like a shifty way to do business, it's actually incredibly honest. Plus, you'll be able to actually deliver on your promises, providing the client with value and your firm with chances for increased revenue.
3. Utilize Social Media
Social media will only continue to influence client satisfaction, as more and more clients turn to various platforms to interact with brands. It's important for your firm to not only maintain brand consistency on social media, but also monitor your networks to keep track of feedback and resolve it accordingly.
Social media can be used as a viable client support channel—and an affordable way to generate leads, build brand awareness and drive profit.
4. Build Client Loyalty
As a quantitative metric, satisfaction can be tough to measure. That's why it's just as important for firms to focus on loyalty. According to FiveStars, a client loyalty network, loyal clients spend over 10x over a lifetime. These clients have a greater lifetime value for your firm: they spend more over time, generate revenue, and may even emerge as trusty brand advocates.
Here are some affordable ways to increase loyalty:
Help Celebrate Special Occasions
Empower and Educate Clients
Invest in Client Support
Engage With Your Clients and Tap Into What They Want
Involve Top-Level Management in Client Service
5. Identify What Works
Getting the information needed to implement smart changes to optimize client satisfaction can save your firm time and money—and more importantly, retain clients. By combining client feedback (see above) with precision cause-and-effect modeling, PMs can identify exactly where to spend their next dollar. Identifying what works for each client can help your firm best serve a multitude of clients across a variety of projects.
Understanding the impact of your action plans before implementing them can help retain clients and sustain growth. Thanks to an influx of project management software and tools in the past decade, true client satisfaction assessment is now feasible for any agency. Discovering what works for your firm and outlining trackable metrics can help nourish client satisfaction and increase revenue.
What ways have you tied client satisfaction to your firm's revenue?