Agencies depend on their portfolios to win new clients. But how do you decide which portfolio pieces to focus on? This guest post sheds some light on this crucial issue.
This is a guest post by Gabriela Julia of TechnologyAdvice.com. You can connect with her on LinkedIn. To contribute to the Workamajig blog, follow our guidelines here.
A product portfolio shows customers a list of the company's products or services and helps the product team understand their roadmap. When portfolio prioritization is done right, it can help the company understand what will drive sales and improve the customer's experience. Good portfolio prioritization takes stock of the full scope of projects and analyzes what's most important to the company in terms of revenue growth and ROI.
The best way to start planning is to carefully organize products and services through product lines, while making sure it clearly reflects your brand.
Implementing Product Lines
When you think about Apple, your mind may not go to one specific product. There are iPhones, Macbooks, iPads, and multiple versions of each device.
Apple, however, doesn't display or manage these products individually, but instead groups them together by device. These products are organized on a product line.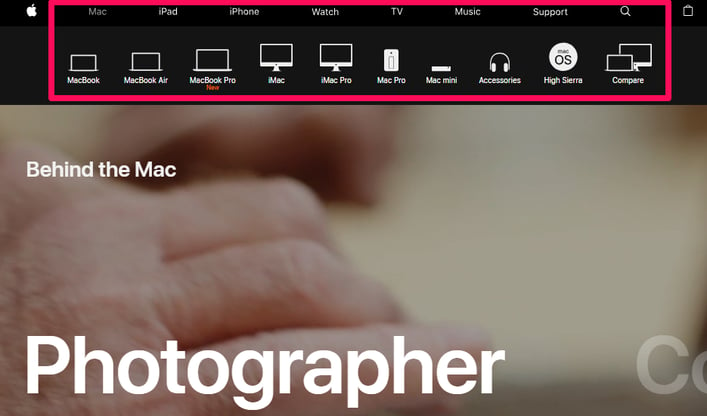 Apple organizes its product into six categories
When you organize your projects based on a product line, you start to think about which products or services share similar characteristics or experiences. Once you've grouped them by these characteristics, you'll also see that you can group them by customer.
Using Apple as an example, when they group the Macbooks and iPads, they can easily market those groups to a university. Whereas grouping the iPhones and iPads, they can market to a cell phone provider.
Once you've started to organize based on product lines, you can take it a step further by creating sub lines based on extensions of the same product.
Create a Portfolio Roadmap
To help your company visualize the products' relationships across each line, create a portfolio roadmap. This will help you lay out your strategies and goals for each product, and you'll be able to see if it's worth expanding certain lines.
To help you get a better understanding of how to start a roadmap, here are four things you should pay attention to.
Identify goals and strategies: You first want to make note of your goals at the top level of the portfolio. You can list new initiatives, anticipated revenue, or any other goals for the products or company as a whole.
Prioritize key initiatives: It's easy to get excited and list all of your goals, but it's important to recognize which with have the greatest impact on your organization. One way is to create a scorecard that ranks each of the initiatives, and after ranking each of them, you'll be able to see which initiative is worth investing more time and effort into.
Link tactical work with strategic initiatives: Once you've made each initiative clear, you'll then have to think about the steps to make it happen while making sure it all links back to the overall goal.
Visualize roadmap: A portfolio roadmap template will include the product lines and sub lines, strategic initiatives and releases. In the end, it will help everyone understand what needs to be completed over a set amount of time.
Analyze Revenue Growth
So what's the point of creating a portfolio and product lines? The answer is the numbers you get as a result. You want to make sure that the money you make is in line with what you invest.
The growth-share matrix will help you prioritize by looking at your company's growth potential. This matrix puts your business into one of four categories:
High growth potential and high market share
High growth potential and low market share
Low growth potential and high market share
Low growth potential and low market share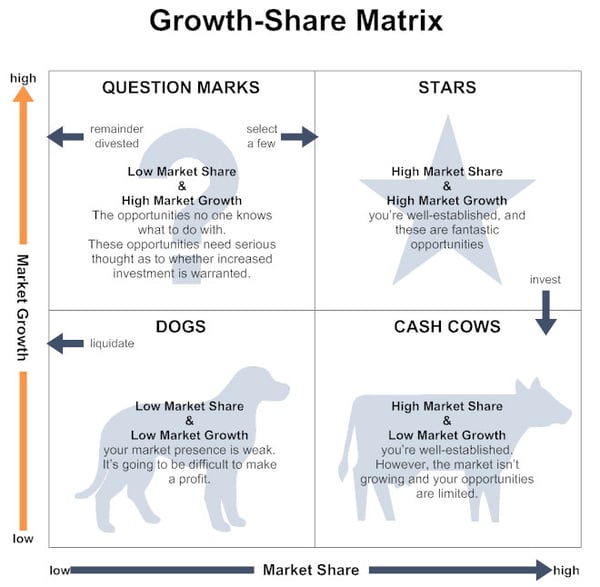 The growth-share matrix as explained by BCG (Image credit: SmartDraw)

The diagram also demonstrates total sales and will tell you if you're benefiting from growth and shares. Once you get these financial results, you'll see which department or product line is generating growth. That way, you can decide if you will invest the same number in each product line.
Modify Products Based on Revenue
By prioritizing and analyzing growth, you can follow product success and failures.
When Apple releases a new iPad, it either exceeds or fails to meet creators' expectations. They look at the numbers and enhance the current iPad to get it ready for a brand new launch.
This is where line-extension comes in. While some people loved the original iPads, Apple knew the iPad minis could appeal to someone who didn't buy the original because they wanted a smaller screen or didn't wanted the pay as much. You can also think about line-filling, where you increase the number of products or services in a line if the revenue numbers are where you'd hope.
At this point you may want to take a hard look at the customer types you have in your customer relationship management (CRM) system (if you don't have one already, you can get recommendations here). Segment your customer sets based on demographics, interests, and potential lifetime value, and use that to help you understand what parts of your portfolio could be expanded to improve the value of those segments.
Incorporating project portfolio management has many benefits, but the main outcome will be a clear vision of the company's product goals. All products are influenced by the rest of the organization, so it's important to examine these relationships and think about where you can make improvements. By clearly listing out goals and anticipated outcomes, you'll be able to make cuts or put more efforts and funds into the initiatives that are doing well.
Overall, better organization will help your company as a whole while also helping the customer make better purchase decisions.