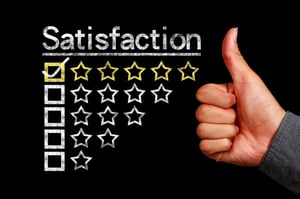 Measuring client satisfaction is paramount for both product development and gauging your agency's account services. A satisfied client will continue to purchase your services, refer other clients and may even be a vocal advocate for your agency. And understanding your business through your client's eyes can help outline common experiences and expectations.

However, tracking satisfaction can be difficult. To help measure your overall custom experience process, consider the following advice.
Quality
Generally, satisfaction is linked to positive experiences—especially as it relates to the direct value received from a purchase. And in order to accurately measure your client's perceived quality of service, you must first have an understanding of how your services pertain to your clients' needs.
Clients link quality to value. And sentiments such as 'this was a good choice' or 'I am glad I bought this service' are good indicators of satisfaction. Are you fulfilling your client's needs on a regular basis? Has your company been reliable?
An easy way to gauge the quality of your work is through direct surveying—whether through email or client service calls. Create a short survey containing no more than three to four questions. Your clients are pressed for time, so be sure to ask only the most pertinent questions.
There are numerous survey tools on the market today; and no matter your method, your approach should be the same. A broad assessment of your client's satisfaction is essential to evaluate the services you deliver.

Loyalty
One of the easiest ways to gauge satisfaction is by asking your clients the following question: How likely is it that you would recommend our company to a friend or colleague? If this query seems familiar, it's because it's the foundation of the Net Promoter Score (NPS), a popular concept first outlined in a 2003 Harvard Business Review article by Fred Reichheld.
While NPS is a purely qualitative metric, it is an effective way to measure loyalty. Simply ask your participants to rank how likely they are to recommend you, using a 1-10 scale. Once you have their responses, you can classify people into the following categories: "promoters" (those who responded with a 9 or 10), "passive" (those who responded with a 7 or 8), and "detractors" (the remaining respondents).
To calculate your NPS, compare the percentage of promoters with the percentage of detractors. Your NPS score is highly correlated to how likely a client is to continue to purchase from you—and how likely it is that you will receive new leads.
Attribution
One of the most effective ways to measure satisfaction is to frame questions in the context of a specific attribute. First, it's important to define and develop measures for each attribute that directly pertain to your client's success.
Typically, this can be done by asking your team questions similar to the following:
Was our account/client services team friendly?
Did our client feel pressured or rushed in any way?
How useful was our support team?
Did our service exceed—or meet—expectations?
Attributional questions can address specific successes or problems that may be overlooked in a general overview. Furthermore, posing these questions can help pinpoint the root of your client satisfaction—and how it directly relates to your specific offering of services.