The Great Resignation Statistics: Where, Who & Why
All the information & data you need.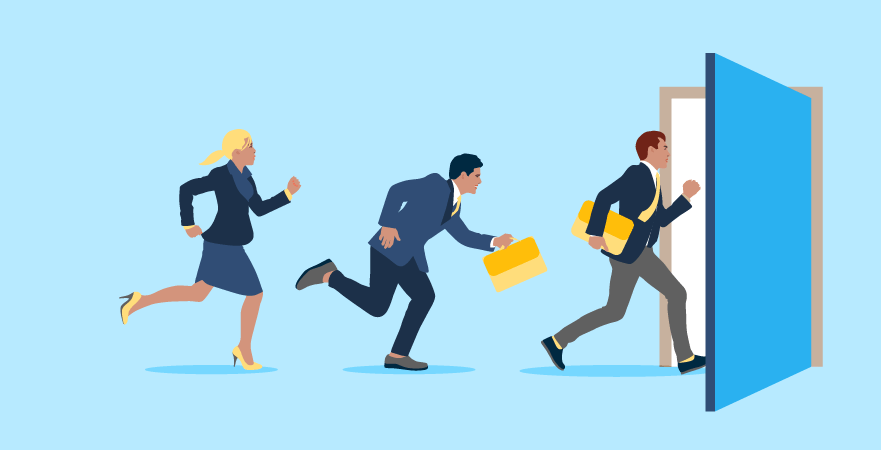 You've heard it talked about in the media and you may have even seen it play out in your own life - whether it be with your friends, family, coworkers, or even yourself. An unprecedented number of Americans are resigning from their jobs in a phenomenon referred to as "The Great Resignation."

The year-over-year quitting rate in the United States is at its highest since 2017, increasing by nearly a whopping 27% since then. What's more, is that in just the past year there has been a 33% increase in people who have voluntarily left their jobs. Reasons for doing so range in everything from compensation and benefits to company culture and a lack of opportunity for growth.

But, who exactly is resigning? Where? And why? In this article, we take a closer look at the data to reveal some interesting insights and statistics of The Great Resignation, the major players and causes, and where people are resigning the most.

U.S. City Breakdown - Which cities have seen the most and least resignations?

The Great Resignation has not been limited to any one region of the United States, with resignations taking place in cities big and small. At the state level, California (106%), Texas (102%), Florida (81%), Pennsylvania (49%), and Georgia (48%) are the top five states with the highest change in quit rates between May 2021 and May 20224.

When we look at it at the metro level, the metros that had the most resignations were:
Atlantic City-Hammonton, NJ (12.5%)
Las Vegas-Henderson-Paradise, NV (9%)
Dallas-Fort Worth-Arlington, TX (7.7%)
Odessa, TX (7.6%)
Orlando-Kissimmee-Sanford, FL (7.3%)
North Port-Sarasota-Bradenton, FL (6.8%)
Nashville-Davidson-Murfreesboro-Franklin, TN (6.7%)
Austin-Round Rock, TX (6.7%)
Athens-Clarke County, GA (6.5%)
Flagstaff, AZ (6.5%)
The metros with the least amount of resignations were:
Kokomo, IN (-3.2%)
Houma-Thibodaux, LA (2.5%)
Lawton, OK (-1.6%)
Sebring, FL(-1.2%)
Racine, WI (-0.8%)
Rocky Mount, NC (-0.7%)
Cedar Rapids, IA (-0.6%)
Sumter, SC (-0.5%)
California-Lexington Park, MD (-0.4%)
Enid, OK (-0.4%)
Of the 389 metros evaluated for this study, only 13 cities saw a negative change in resignations in the 12 months following May 2021. This could suggest, in contrast to the vast majority of states, the likes of towns like Racine, Sebring, and Lawton saw residents taking on more jobs. 199 of the cities managed to fall below the national quit rate average of 3%, but most still saw a rise in resignations.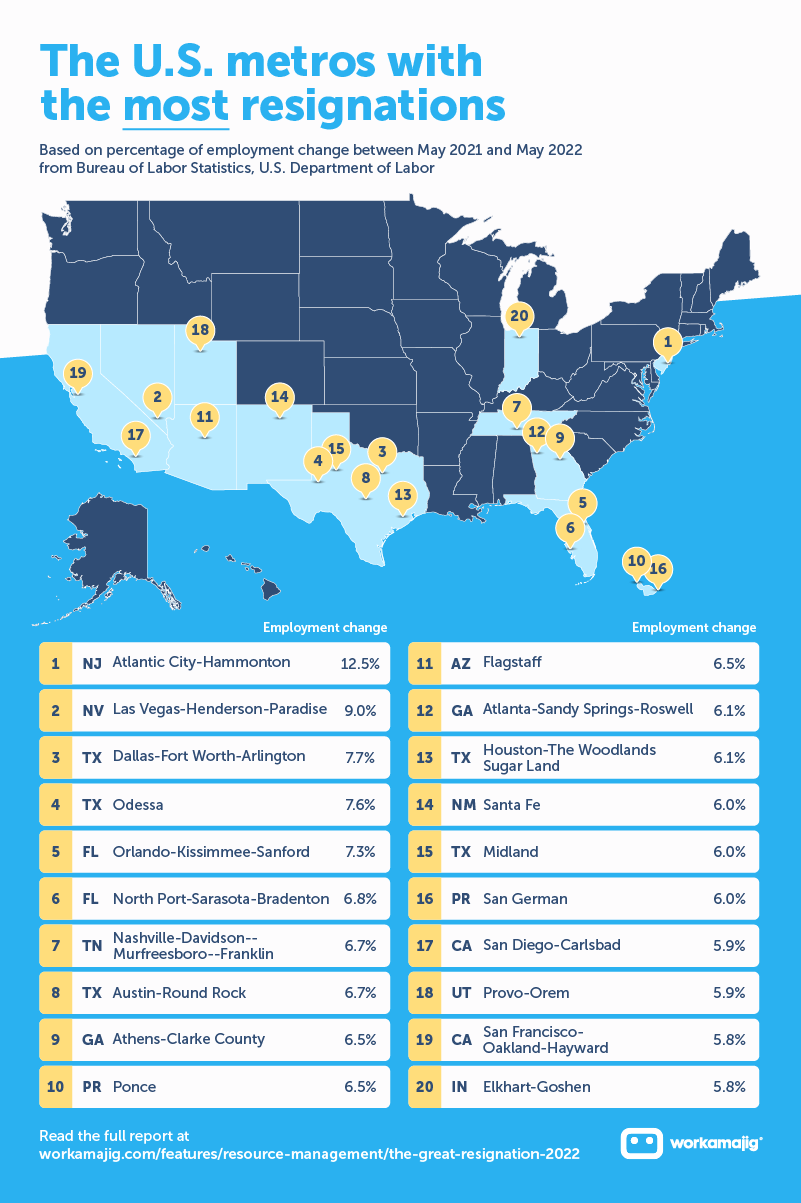 From a state perspective, the Great Resignation has affected every corner of the United States. Nevada, Texas, Florida, New York, and Georgia are the top five states with the greatest change in quit rates between May 2021 and May 2022.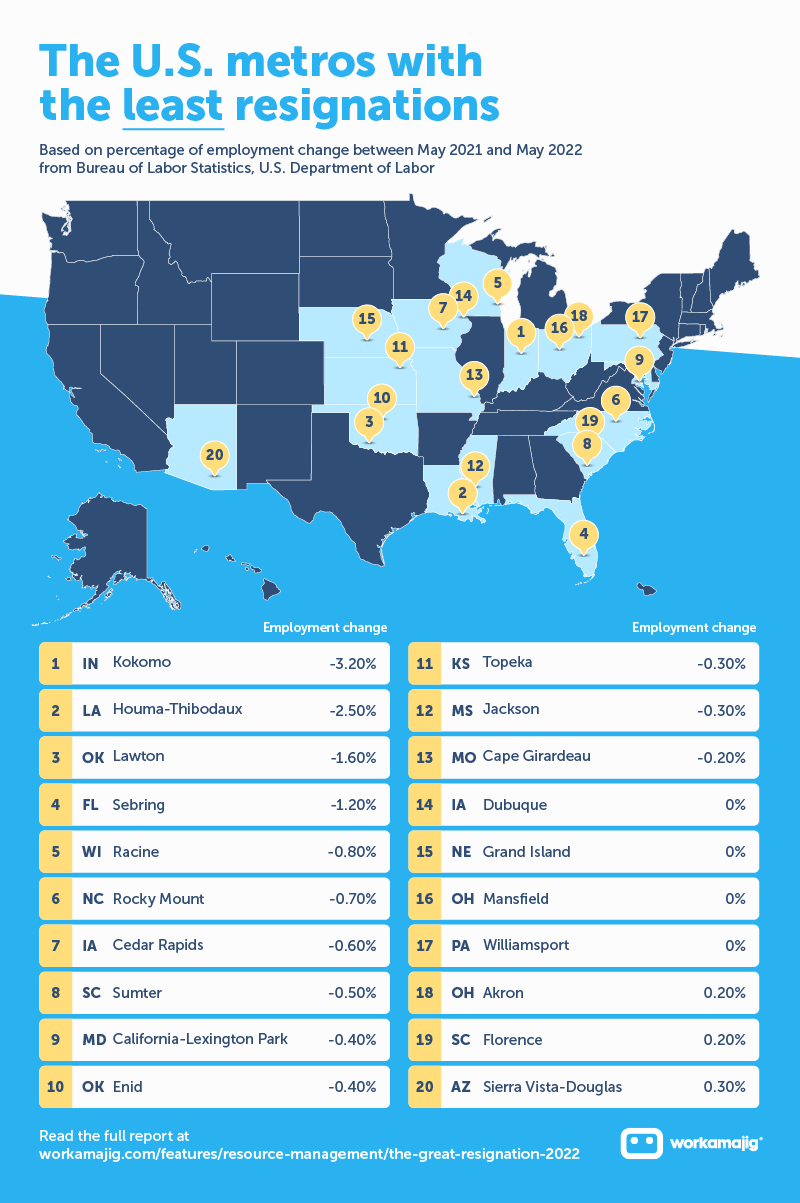 The lowest quit rates5, on the other hand, include cities that are almost exclusively found within the Midwestern or Eastern states. So, while the Great Resignation has been a nationwide phenomenon, it does seem to be affecting certain regions more than others, at least in the case of areas where employment change is minimal.

Who is resigning the most?

The average worker in the United States spends about 4.7 years at a job, according to data from the Bureau of Labor Statistics6. However, there is a significant age difference in resignation rates. The 18-29 age group, which crosses into both the Gen Z and Millennial generations, has the highest resignation rate, with about 37% of workers in that age group having resigned at some point in 2021. These percentage rates saw a huge decline for both Gen X and Baby Boomers - the percentage was cut in half for the 30-49 age group (17%) and continued to drop for those ages 50-64 (9%) and 65+ (5%).

Considering that some of the most popular reasons for resigning in 2021 included a lack of advancement opportunities, flexible hours and location, as well as the absence of child care options, it's not surprising that Gen Z and Millennials are resigning at a higher rate than older workers.

This group is typically just starting their careers and is still exploring what they want to do with their lives, which generally entails the freedom to work from anywhere while still advancing their career (a relatively new factor brought on by the 2020 COVID-19 pandemic). This age group is also more likely to have young children at home, which can make it difficult to find child care and juggle both work and family life - this has made starting up a small business or side hustle increasingly attractive to this generation. In fact, in 2021, a whopping 5.4 million new business applications were filed in 2021, surpassing the record set in 2020 of 4.4 million.3

If struggling to schedule and plan workload sounds all too familiar, check out our all-in-one marketing resource management tool here.

Which industries are losing the most staff?

One of the most surprising aspects of The Great Resignation is that it is not industry-specific. That is, people are resigning from jobs in all sectors of the economy, from entry-level to executive positions. However, some sectors are losing staff at a higher rate than others.

Here are some of the top industries that saw the most resignations between 2020-2021:
Arts, entertainment, and recreation (56.7%)
Durable goods (48%)
Leisure and hospitality (48%)
Manufacturing (47.3%)
Accommodation and food services (47.2%)
Nondurable goods (46.9%)
Information (41%)

Interestingly, education was the only industry to not see an increase, seeing an overall decrease in resignations by just over 15%. 1

Job openings, on the other hand, are not necessarily the same as the sectors with the highest quit rates. For instance, although the arts, entertainment, and recreation sector had one of the highest quit rates, it also had the lowest number of job openings.2

Between May 2020 and April 2021, some of the sectors that had the most job postings were:
Information (67%)
Construction (38%)
Mining and logging (37%)
Finance and insurance (27%)
Professional and business services (25%)

One interesting insight to make note of is that while the information sector had the most job postings during this timeframe, hiring also decreased in this sector by 7%.

So what does this mean? It means that although there are sectors with more job postings, it doesn't necessarily mean that these are the sectors people are resigning from the most. And, as we've seen, people are resigning from jobs in all sectors of the economy - it's not just one specific set of industries.

What Does The Great Resignation Mean for the Future of Work?

So far, it's been difficult to precisely gauge the long-term effects of The Great Resignation. However, this could be the beginning of a major shift in how we approach work and careers, similar to how remote work has changed the way we live and work over the past few years.

With an increasing number of people choosing to resign from their jobs, it's possible that we may see a move towards more contractor-based work and freelancing, as people become less reliant on traditional employment arrangements. Alternatively, this could also lead to increased entrepreneurship and self-employment, as people look for more control over their working lives.

Whatever the future holds, it's clear that The Great Resignation is shaking up the world of work, and we're still only beginning to understand the implications.

Methodology

In order to carry out this study, we've collected data to determine where in the U.S., what demographics and industry is facing the biggest resignation. We've compared quits by state, industry, region, age by year, and most recent month, further looking into time in jobs by age and industry to best understand how long people are sticking with their job and if industry and age play any factors.

SOURCES
1US BUREAU OF LABOR STATISTICS - JOB OPENINGS AND QUITS REACH RECORD HIGHS
2US BUREAU OF LABOR STATISTICS - JOB OPENINGS AND LABOR TURNOVER
3NPR - NEW BUSINESSES SOARED TO RECORD HIGHS IN 2021.
4US BUREAU OF LABOR STATISTICS- STATE AND METRO AREA EMPLOYMENT, HOURS, & EARNINGS
5US BUREAU OF LABOR STATISTICS- NEWS RELEASE: METROPOLITAN AREA EMPLOYMENT AND UNEMPLOYMENT — MAY 2022
6US BUREAU OF LABOR STATISTICS- NEWS RELEASE: EMPLOYEE TENURE IN 2020