Resource Management Hub
Guides, Tips, & Solutions for Your Team
Managing your resources is the organized process of planning, scheduling, and allocating resources in a business: from money to people to physical materials - so that every aspect of a project is delivered on-time, on budget, and at the expected quality. Learn more about Resource Management with these detailed guides.
What is resource management?

Resource management is a practice in project management in which a manager allocates, schedules, and ensures successful implementation of people, materials, money, and other individual components of a project.
What are the basics of resource management?

The basic principles of resource management include: organization, communication, leadership, utilization, and people.
Why is resource management important?

There are many approaches in project management but resource management is especially useful in (but not limited to) creative fields - where a project manager may be coordinating and budgeting non-traditional external resources or relying on third-party vendors to deliver materials.
What are the benefits of resource management?

The main benefit of resource management is clear insight into all the moving parts of a project or program - and that all pieces align within the scheduled timeline. Example: ensuring that key building materials will arrive in time for workers to install them.
What are some resource management examples?

Workamajig has created a series of helpful and easy-to-use resource management templates that you can access, entirely, free of charge. Free Resource Management Examples.
What is the first step of resource management?

The first step in resource management is organization - in which you will plan the upcoming project, identify deliverables, resources, and establish relevant timelines, guidance, and budgets for all aspects of the project.
What are the techniques in resource management?

The best Resource Management techniques will vary depending on the project and the project manager; however, key areas of focus should be on organization, ongoing management (including updating timelines and budgets as the project evolves), and open communication with team members.
What is resource allocation in resource management?

Resource allocation in Resource Management is the process by which the project manager assigns resources, whether people, budget, or materials to specific tasks and/or deliverables within the project. The key to a successful allocation is that each task has the right amount of each resource to accomplish their goal on-schedule (no more and no less).
What is resource utilization in resource management?

Similar to resource allocation, resource utilization in resource management is the process by which a manager identifies how much work resources are able to take-on at a given time - to ensure that everyone is leveraged aka allocated the optimal amount (not too much, not too little).
What is resource leveling in resource management?

Resource leveling is a project management process used to address allocation issues in resource management. Specifically, resource leveling calls for additional resources, delays, and/or pushing back a delivery date; still, the optimal process is one that alters schedules and timelines in order to free-up existing resources to assist in more time-sensitive tasks - without causing significant delays in the timeline.
What is forecasting in resource management?

Forecasting is an essential piece of resource management. In forecasting project managers set expected resource allocation, budget, and timelines over time to completion of the project - all of which the project manager will measure against as the project progresses. If a forecast is off, which will happen, it's up to the project manager to reevaluate their forecast and provide updated information to stakeholders.
What is a good software or tool for resource management?

The best software or tool for resource management is the one best suited for your specific organization and project - as many tools specialize in certain aspects of project management tool sets. That said, our tool, Workamajig is good for general project management but especially great for creative teams and marketing agencies in need of resource management software solutions. For more about Workamajig, check out our commercial pages.
The Great Resignation
A study by Workamajig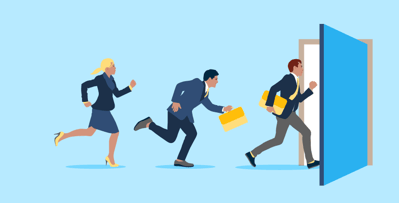 The Great Resignation has taken the US job sector by storm. See the numbers and learn the statistics of the where, who & why people are voluntarily quitting their jobs.