Instant Productivity Boost: 7 Free Tools To Try Today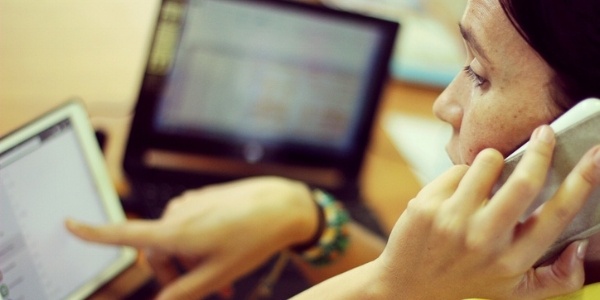 We've all been there. It's Monday morning and you're attempting to maintain a synergy between morning emails and cups of coffee. You're just about done filtering through emails and tasks for the upcoming week. And then, an ad hoc assignment is thrown your way—and it's due EOD. From messaging to meetings, staying on top of daily minutiae can be tough.
Whether you still rely on pen-and-paper to-do lists, or are looking to upgrade your outdated tech tools, these seven apps can help you make the most of your limited workday.
1) Slack
Texts, emails, IMs, and phone calls are great. But let's be honest—things can get lost in translation. Slack is your go-to tool for streamlining communications and integrating them into a third-party service. Between file sharing and real-time message updates, this app lets you add an unlimited amount of users and archive up to 10,000 messages.
2) Privnote
Sometimes, a Post-It note works wonders. But other times, it does not. To avoid paper trail—and unnecessary headaches—consider downloading Privnote. Write notes on its intuitive interface and you'll be provided with a unique, sharable URL to distribute via text, email, or any other method.
Worried about security? Messages are accessible to users, but self-destruct when outside eyes attempt to view.
3) Sunrise
Calendars can be a major headache. Luckily, Sunrise integrates with Google Calendar, Exchange, iCloud, Facebook, Evernote to make sure you're connected at all times of the day. From birthday reminders and travel updates, to weather forecasts and maps, the app enables users to keep track of things in an accessible, central location.
4) OneNote
Illegible handwriting? Terrible short-term memory? OneNote is for you! This free Microsoft app lets you type, handwrite, record, or snap photos to ensure that you capture everything of importance. Whether it's checklists, meetings, or something your boss says on the fly, this convenient app allows you to save and sync note across devices.
5) Prezi
Unless you have a background in graphic design or UX, presenting your ideas is difficult. Prezi enables users to create engrossing, cloud-based presentations that are accessible from numerous devices. Need practice before your big presentation? The mobile app allows you to practice your presentations on the plane or subway. Plus, you can stream presentations to remote attendees—ensuring that everyone is on the same page.
6) If
If this exhaustive list is any indication, we're extremely connected these days. And it seems as if everyone has their favorite app, platform (and OS…) for getting things done. If (previously known as IFTTT), integrates your favorite apps— Facebook, Dropbox, Gmail, Instagram, Twitter—and makes sure they place nicely. Whether you're looking to save your company's tweets to Evernote or post a client's YouTube or Vimeo videos to a blog, this convenient app creates connections between your usual suspects.
7) Jing
No matter the stage of your project, it can be tough to communicate your vision. Especially if it's stored on your desktop. Jing lets you capture video, animation, and still images and share with your team—and then some. The app allows users to capture images and mark them with text boxes, arrows, and captions. But it also allows them to record exactly what they're doing. From mouse movements to narrated tutorials, Jing enables team members to communicate exactly what they're doing.

What tools do you use to stay productive? Let us know below!
About The Author
Rod has had years of experience in the video production and IT industries and has worked for companies such as Universal Studios & IBM.