5 TED Talks to Get You Motivated and on Your Way to Greatness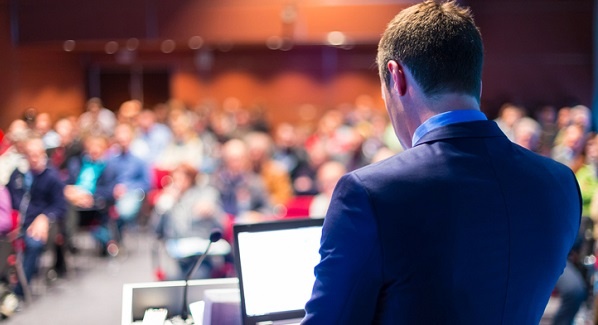 Feeling creatively drained? A bit uninspired? There's a TED Talk for that!
TED (short for Technology, Entertainment, Design) was founded in 1984 as a one-off event and became an annual conference in 1990. However, it wasn't until 2006, when the group began streaming its talks for free, that the popularity of TED Talks exploded. With speakers ranging from Jane Goodall to Al Gore, TED Talks have expanded their focus to include talks on scientific, cultural, and academic topics.
The concept is simple. One speaker, one topic, 18 minutes. But the potential for impact is high. Below are five of our favorite TED Talks to get you motivated and on the path to greatness.
The author of Eat, Pray, Love muses on the expectations we set for artists and geniuses—and how creatives can manage risks that come with their endeavors. Ultimately, Gilbert celebrates the notion that we all have hidden genius capabilities. Highly recommended for writers, art directors, or creative professionals of any sort, this TED Talk provides invaluable insight into the creative process and celebrates the uniqueness of the creative individual.
---
---
This TED Talk is highly recommended for managers of any stripe. An author, speaker, and consultant who deals with leadership and management, Sinek explores how leaders can influence cooperation, trust, and positive change. His simple yet powerful messages are applicable for managers to apply across their respective organizations.
"Sitting has become the smoking of our generation," posits Merchant. The successful CEO, strategist, and author explores how sitting is slowly killing the modern worker—and what we can do to remedy the problem. For her, the answer involves, perhaps unsurprisingly, spending more time outside and taking walks during meetings.
Over the past decade, Musk has become nothing short of a celebrity, thanks to his inventive products and brands, as well as his forward-thinking opinions and policies. In this TED Talk, he muses on the thought processes behind Tesla, SpaceX, and SolarCity, as well as the future of sustainable energy. No matter your industry or profession, Musk is sure to inspire.
In this talk, Duckworth examines the power of one word: grit. The psychologist claims that this simple concept is a better indication of success than IQ, income, and other conventional factors. For her, true grit is getting up close and personal with failure—and being able to overcome these shortcomings or hardships to positively impact your life. Truly inspiring stuff here, people.
What are you waiting for? Pick a talk and get inspired!
Which of these is your favorite? Let us know below.
About The Author