See how Alaska's leading creative agency improved management of finance and budget, creative processes, and even client relationships using Workamajig's integrated agency management platform.
Have you ever wondered whether Workamajig really can perform as a complete end-to-end creative agency management solution?
When Spawn Ideas, a leading marketing and advertising agency, made the switch to Workamajig, it took them only a few days to be sure they didn't need any other management software. That was eight years ago, and since then they've been going strong with Workamajig as their only management solution for everything from finance and budget to client relationships.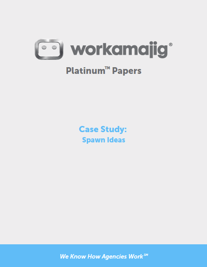 Download the Case Study and Read:
An interview with Spawn Ideas' CEO about whether Workamajig really delivers
An overview of the onboarding and implementation process
How integrated agency management has contributed to company success
Simply complete the form now to get access to your free copy.