Innovative Creative Project Management Strategies to Try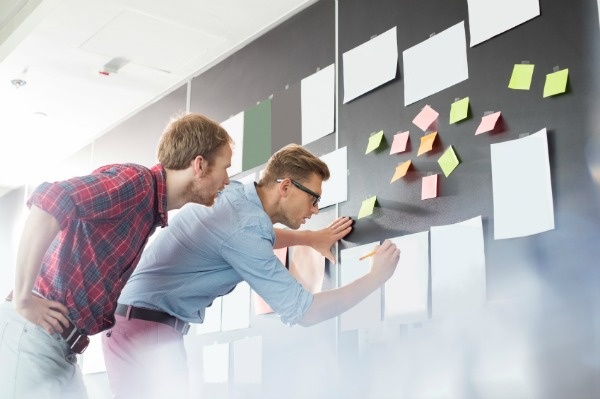 At its core, project management is designed to ensure predictability and productivity. Keeping projects within scope and budget is an agency's main goal, no matter the project.
But often, the rigid nature of traditional management prohibits innovation. The trick to finding a strategy that keeps projects within scope and budget while still encouraging innovation? Implement strategies that account for oversight and allow for creativity.
To help project managers do this, consider the following strategies.
Consider adopting methodologies from different industries
Agile project management, usually associated with tech industries, allows developers and programmers to test multiple versions of a product and make changes accordingly. This iterative, incremental methodology allows for highly flexible, interactive product management.
Because change-driven project life cycles—or agile methods—are fixed in time and resources, PMs are able to pinpoint exactly what is working, all while staying within scope. And while human resources differ from tech products, at its core, agile can be viewed as an adaptive process that is driven by a project's changing life cycle. Sounds like the creative industry, right?
Learn from past mistakes—both big and small
Generally speaking, the bigger the mistake, the greater the repercussions are. But it's equally important to account for smaller mistakes. That's why it's crucial to track your project's hours and budget—and constantly look for flaws in your processes. In order to avoid billable silent killers, it's important to address the people, processes, and systems with early warnings and past lessons learned.
Having specific details on estimated and actual hours by resource type ensures that you have the ability to see what's actually working. Learning from your mistakes can save your agency money, time, and headaches.
Consider your agency's management structure
This may sound counter-intuitive, but more and more companies are doing away with traditional management hierarchy and implementing flat structures. While we're not saying that agencies should do away with PMs, we're implying that it's important to be aware of your firm's structure.
Empower your employees to self-organize projects, when possible. Consider having a creative spearhead your next meeting. And value your team member's strengths. Not only will this boost ownership, it will encourage innovative and creative solutions.
Automate your project's processes
By now, your agency has most likely implemented at least one project management software tool. Due to the digital dominance in the industry, software has been used for years to automate certain processes. But why stick with outdated, general PM software when there are options that are designed specifically for the creative industry?
Multifunctional, fully integrated creative project management software ensures that your departments work together and address communication issues that have plagued the industry for years. Thanks to features like digital proofing, streamlined reporting, and real-time file sharing, software ensures that your team works more efficiently, and that your stakeholders are constantly kept in the loop.
About The Author
Mike joined Workamajig back in 1997 and now serves as the Workamajig Director of Training and Support.