The Creative PM: Resource Oversight and Mentoring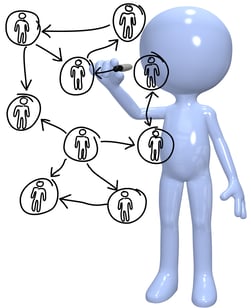 You wonder why I chose project management as a career path? There are many reasons, but direct management of resources is not one them, and neither is daily personnel responsibilities. In fact, the position screams responsibility and leadership while promising to not bog down the project manager with the daily chores associated with management and oversight of direct reporting resources. In other words, project managers are not department managers.
That said, there are some key areas in resource management and oversight that the project manager will need to be able to handle in order to run a successful project and to have a productive project team. From my experience, the four points discussed below are key to project success. Please think of responsibilities from your own experience where you need to excel in project team resource management in order to be successful. The list can likely be long.
Conflict Management. Among probably the least favorite resource management tasks for any manager, be it a creative manager, project manager, department manager or otherwise, is the concept of dealing with conflict among team members. Worse would be between the client and a team member. Good luck if you work in a matrix organization and you try to push the conflict issue off to the department managers you are borrowing your resources from. If you can do it, great. More often than not, it's an issue with something on your project and they are mainly reporting to you for now so it will probably be your task to handle.
Client Interaction. The creative project team members on our projects are constantly interacting directly with the client. If they aren't, then you likely have a productivity and efficiency issue on your hands. Much, but not all communication needs to go through the project manager and creative director. But that individual does need to be aware of the communication and be brought up to speed during weekly team meetings and client status calls. That direct communication from the team members to the client is critical to the timely flow of information and often necessary for quick decision making. It is, however, the responsibility of the project manager to ensure the interaction is appropriate and that the team is not agreeing to work that isn't already planned for in the requirements and in the project schedule and budget.
Task Progression. This one basically comes down to "are they getting done the work that they say they are getting done?" Week in and week out, creative team members are continually responsible for reporting their percentage of completion to the project manager on the tasks they are assigned to. It's just common Project Management 101 practice. Is it accurate? Is it honest? If a team member is not making progress on tasks assigned, they can do one of two things: they can raise a red flag and ask for assistance and let everyone know that they aren't progressing because of this obstacle or that. Or they can keep bumping that reported percent complete up by 2% every week and hope no one notices. That happens way more often than anyone probably realizes. The wise project manager needs to stay on top of that tendency with the team and find out what the real problem is. Otherwise he's soon going to be finding his team and project missing key deliverable deadlines with the client... and that is where client satisfaction ends.
Mentoring. If there is a project management office (PMO) led by a PMO director in your organization, then that person is likely the one in charge of PM career development processes, plans and training. But there is always an opportunity for the seasoned project manager to mentor the right candidate on his team. After all, that is where your organization's next wave of project managers may come from. How do you do it? You do it by looking and listening for the right resource asking the right questions and giving them some project management leadership responsibilities to handle. Small at first, but definitely increasing in responsibility and complexity over time. The same is true when mentoring new project managers in your organization. Counsel them on key aspects of project leadership like task delegation, resource management, client interaction, project financial forecasting, and that fun task of creating and finalizing project change orders with the client.
Summary / call for input
The project manager isn't going to be responsible for individual performance reviews and raises. I try to avoid that responsibility like the plague. But the PM will need to be available and participatory in some resource management issues that come up on the project. Excelling as a leader in resource management needs to be a quality that is definitely desirable in the project manager.
What are your thoughts on this topic? What types of resource management topics do you consider necessary for the project manager to be able to handle well in order to be successful and run a successful project?
About The Author