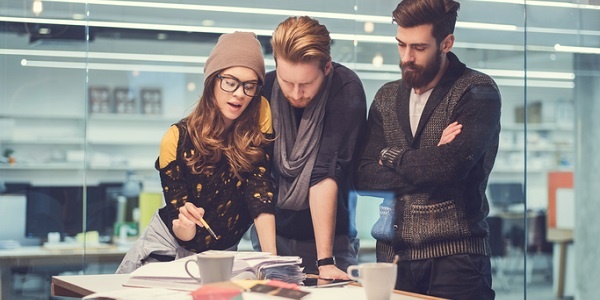 Creative professionals want to create, and creativity is most effective when it is focused.
Unfortunately, one of these often negates the other at creative agencies, where the pressure to produce can nullify the benefits that an overwhelmed professional could otherwise provide for a project.
Effective project management strategies are essential for harnessing the energy of creative professionals. You must challenge creatives to go where they haven't gone before while keeping them grounded in the reality of deadlines and deliverables.
Here are the five best project management strategies for creative professionals.
1. Focusing on growth
Creativity is only as good as the results it generates, so connect projects to goals. Center on projects that define growth, such as in terms of increases in website visits, leads, or customers. Challenge your creative professionals to formulate and execute the best ideas for meeting your goals. Consistently completing the projects that yield the largest return on investment—for you and your client—will keep your agency productive and profitable.
2. Outlining your plan
You may have great ideas in your head, but that is where they will stay if you don't put them to paper. Project plans bring ideas to life. Establishing scope, breaking work into tasks, setting deadlines, and wrapping it all together in a plan that can be followed by team members and stakeholders alike will help you ensure accountability and efficiency. Also, if your project veers off track, you, or someone else, can refer back to the plan and reset your course.
---
---
3. Leveraging software
If formulating and sticking to a plan is the most tried-and-true project management strategy, then using technology to increase efficiency may be the newest and truest. Project management software lets you develop estimates, project schedules, and creative briefs through templates based on similar projects that you completed previously, thereby improving accuracy and speeding client approval. Furthermore, creative management software allows you to view the calendars and to-do lists of everyone working on a project. You can also simplify timekeeping and streamline billing with integrated finance software. In connecting departments, you will increase collaboration and thus increase productivity.
4. Helping, not hindering
Push but not hard. Guide but don't direct. Critique but don't criticize.
With the right mix of structure and freedom, you will maximize the creativity and productivity of your team. Check on your team without stalking. Strike a balance between micromanagement and disengagement. Creative professionals are most engaged when they feel empowered. Value their opinions and they will value your contributions.
5. Learning from other industries
Managing creative projects does differ from completing work like software development or building construction. But you can learn project management strategies from other fields. For example, software developers often use agile project management to test and revise multiple versions of a product. You may be able to apply agile management principles in managing your creative project.
Creative professionals thrive when they are challenged but can burn out if they have too much to do, too much time to do it, or too little information to do it right. Keep your projects on time, within budget, and in line with your client's goals by applying these five best project management strategies for creative professionals.
Do you have a project management strategy to add to this list? Tell us.