Evaluate your creative agency or team with five simple questions for each department and identify areas for improvement.
Our experience is that many agencies think they need minor process improvements (such as project management), only to discover that the visible problem is only the tip of a very big iceberg. But do you know how to identify where your creative agency could be at risk?
Drawing on well-established best practices and years of consulting experience, our creative agency self-assessment kit helps you flag potential warning signs of serious process problems before they lead to a disaster. With five multiple-choice questions for each common agency function, you can get insight into exactly where your agency is healthy and where it may need help.
Download Now to Receive: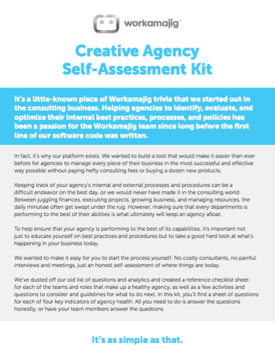 Simply complete the form now to download your free self-assessment kit and get started.
Separate assessments you can distribute to department leads or complete yourself
A grading rubric to score your agency's performance
A list of guidelines and references for learning more about key process improvements and how to begin