How to Get Started with Influencer Marketing Services at Your Agency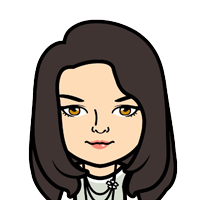 It was once dismissed as a 'buzzword' and a 'fad'. Today, it's one of the most viable marketing tactics for growing brands.
I'm talking about influencer marketing, of course.
Influencer marketing is when you use people with a large following on social media to promote a product. The influencer shares the product with his audience, bringing you both validation and exposure.
The demand for influencer marketing services continues to grow. This article will help you start an influencer marketing campaign for yourself, or to offer it to your clients.
What is Influencer Marketing
Have you ever scrolled through your Instagram feed and noticed a celebrity promoting a promote, often with the '#sponsored' tag?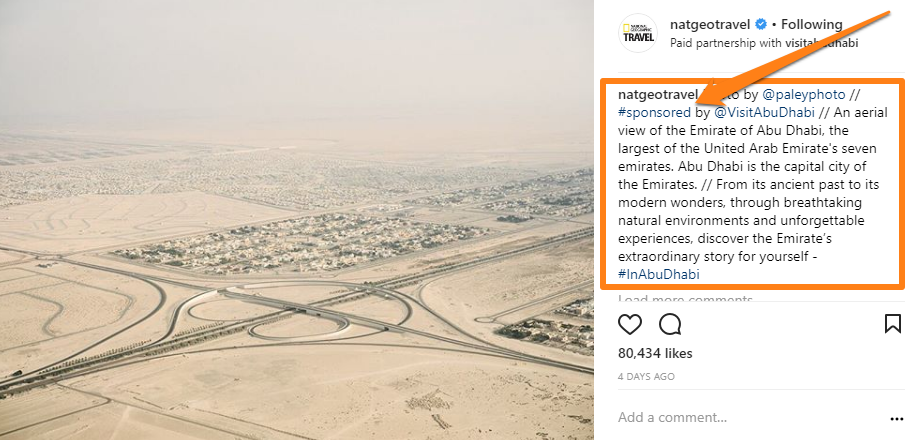 An example of a sponsored post - or influencer marketing - on NatGeo Travel's Instagram feed


This is essentially an example of influencer marketing.
Influencer marketing is when an 'influencer' - anyone with some social clout or influence - promotes a product to their audience. This is usually in exchange for a fixed fee or tangible gift (such as the product itself).
The goal of influencer marketing is twofold:
Validate the product by getting a public endorsement from a trusted public figure.
Get exposure by promoting the product in front of a large audience.
Thus, both the size of the influencer's audience and his/her trustworthiness matter a lot in influencer marketing. You don't simply want influencers who have a lot of followers; you want influencers whose advice is trusted by their followers as well.
Why Use Influencer Marketing?
You might be wondering: why even bother with influencer marketing - for yourself or for your clients?
Although the term itself is new ("influencer marketing" barely registers any searches until 2013 onwards), the practice of paying a celebrity to promote a product is old hat in marketing. Everyone from sports brands to cooking equipment manufacturers have used celebrity endorsements to get validation as well as exposure for their products.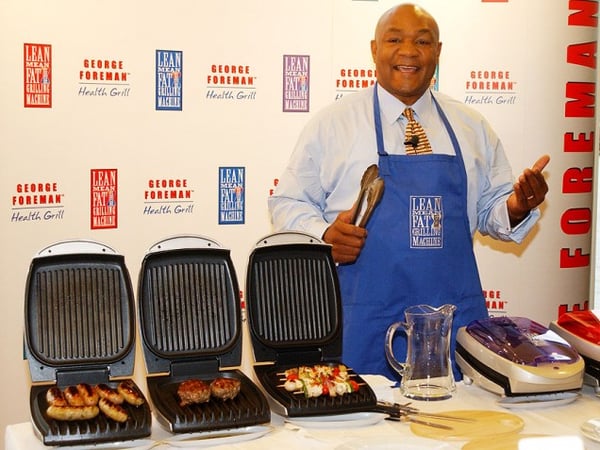 George Foreman Grill is a great example of the power of celebrity endorsements, even if the celebrity himself has no relation to the product being sold (Image source)


With social media, the domain of 'celebrityhood' is open to anyone. If you have even a few thousand followers who listen to your advice, you are essentially an 'influencer'. This means that you can pitch ideas, products, or services to these followers.
And it works too.
70% of millennials in a survey said that they are influenced by their peers on social media when making purchase decisions.
This phenomenon is spread across social channels. 34.4% of men in the survey referenced above turn to blog reviews for their purchase decisions. 19% of Facebook users and 18% of YouTube users use these platforms for making decisions as well.
On Twitter, people tend to trust influencers almost as much as their friends - 49% of users rely on influencers while 56% rely on friends.
There is a distinct age bias in influencer marketing. For teenage YouTube users, YouTube stars have substantially more influence than traditional celebrities.
You can gauge the effectiveness of influencer marketing by the fact that a majority of marketers planned to increase their influencer marketing budgets in 2018.


The total influencer marketing market itself is valued in the billions on Instagram alone.
If your clients have an audience that skews younger, this should definitely be a tactic in your marketing mix.
In the next two sections, I'll discuss how to start with influencer marketing, including important metrics, platforms, and channels. I'll also discuss how to sell influencer marketing services to your clients.
Getting Started with Influencer Marketing
The influencer marketing process can be broadly broken down into four steps:
Identifying your goals
Finding influencers across channels
Selecting influencers based on your marketing goals
Pitching influencers and tracking results
I'll briefly cover each of these steps below.

Identifying Your Goals
What channels and influencers you target will depend greatly on your goals. Want to drive product awareness among female millennial customers? Focus on Instagram influencers. Want leads for a B2B product? Target influencers on LinkedIn instead.
Briefly, identify the following for your campaign:
Goals: What do you seek to accomplish with the campaign - increase awareness, drive traffic, get clicks, capture emails, etc.?
Product category: B2B or B2C? What is the exact vertical - clothing, software, food & beverages?
Target audience: Broadly, what is your typical customer like? Define the gender, age, education-level, and other demographics.
Audience interests: What other brands, products or media outlets does your target customer like? A well-defined buyer persona comes in handy here.
You don't have to have all this information right at the start - you'll get a chance to define things further as you develop the campaign. At the very least, however, you should know what your campaign goals are.
Be specific when defining these goals. If possible, use exact numbers. Summarize the goal in a single sentence, something like "Drive 100,000 visitors to sales page" or "Get 500,000 views to YouTube video".
This goal will impact your choice of influencers, channels, and tracking metrics.
Finding Influencers
Once you have a clear understanding of your own goals, you can start the marketing process by making an initial shortlist of influencers.
This can be a difficult process because of the expansive nature of influencer marketing. From YouTube to blogs, there are thousands of influencers spread across multiple channels, all with varying degrees of influence and following. The signal to noise ratio in this category is large as well; fake metrics and bot followers abound.
Thus, there are a few things you should know when finding influencers
Mega, Macro, and Micro-Influencers
Influencers are routinely categorized on the scale of their following as "mega", "macro", or "micro" influencers.
Mega-Influencers
These are influencers with a massive following, often in excess of 1M on large channels such as Instagram. You can think of them as celebrities in their own right. Most people who are active in their industry would recognize them by name.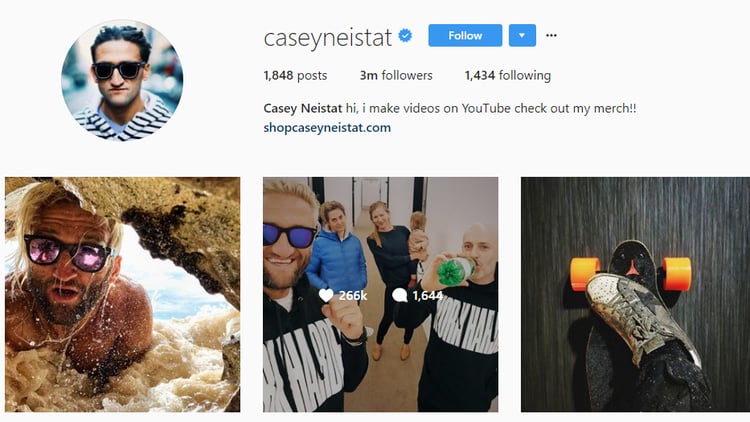 With over 3M followers and over 200k likes on each update, Casey Niestat is a mega-influencer with a highly engaged audience


The scale of these mega-influencers social following means that you'll get a lot of exposure from a single sponsored post. On the downside, the higher scale means poor engagement rates - anything beyond 2-5% is difficult to achieve.
Choose mega-influencers if you:
Want exposure instead of engagement or clicks
Have a large budget
Want to work with a limited number of influencers
Macro-Influencers
These are influencers with a substantial following but who aren't brands in their own right. On a popular channel such as Instagram, macro-influencers might have anything from 20,000 to 500,000 followers.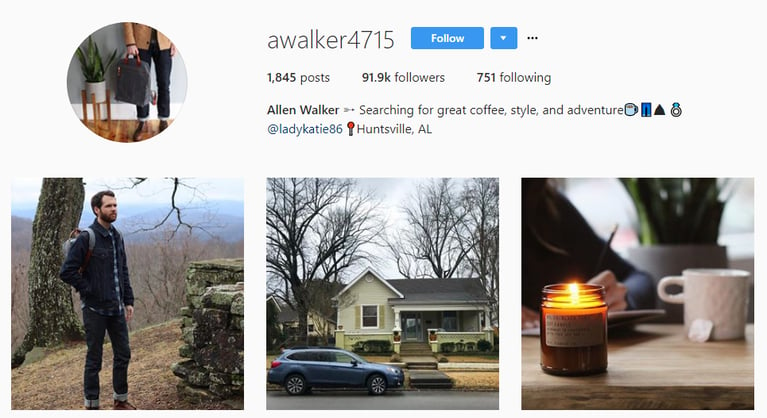 With nearly 100k followers, lifestyle blogger Allen Walker is a macro-influencer.


Macro-influencers typically offer a good mix of exposure and engagement. As they tilt towards the mega-influencer category, however, engagement rates typically go down.
Choose macro-influencers if you:
Want a healthy balance between exposure and engagement.
Want an ongoing relationship or ambassadorship
Have a healthy budget
Micro-Influencers
As the name suggests, these are influencers with very limited following. On Instagram, anyone with 5,000 to 20,000 followers can be placed in this category. Up and coming bloggers, social media personalities, small and independent artists, etc. usually come under micro-influencers.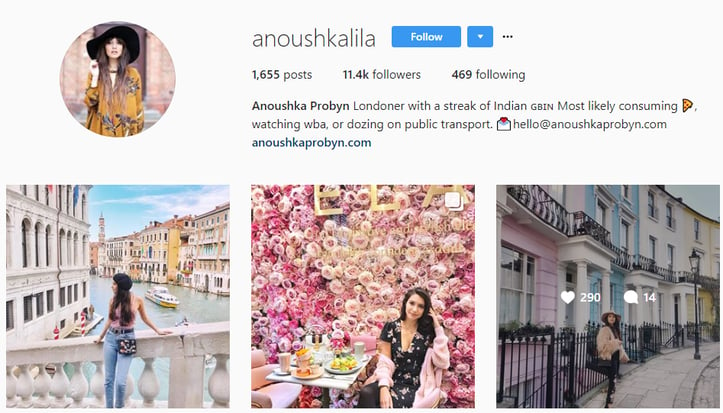 With 11.4k followers and nearly 300+ likes on each update, Anoushka Probyn is an example of a micro-influencer with an engaged audience.


Micro-influencers offer limited reach but usually have high engagement rates. They're also more affordable and easier to work with.
Work with micro-influencers if you:
Have a small budget
Prioritize engagement over exposure
Can work with a large number of influencers
Keep in mind that the above figures are illustrative only. They'll change from social media channel to channel. As a channel becomes more popular, what defines a "micro" or a "mega" influencer will change as well.
Besides the above, you also have "giga" influencers. These are usually traditional celebrities with millions of followers. Think of your average Kardashians and Biebers.
Influencer Marketing Channels
YouTube, blogs, Instagram, Facebook - any platform where someone can build a following is open to influencer marketing. The easier the platform is to access, and the larger its user base, the bigger the scale of the influencer's following.
There are a few things you should consider when selecting your target channel:
Scale: A large user base means that the top influencers will have a lot of followers as well. A million followers is par for the course for a popular influencer on Instagram. But a blog with even 10,000 email subscribers has a lot of influence.
Audience demographics: Consider the channel's core audience demographics. Snapchat, for instance, attracts younger users. Facebook's audience is slightly older. Pinterest, on the other hand, skews female.
Content focus: Some channels are more popular for certain content categories than others. For example, if you want to find influencers in the gaming niche, you'll want to focus on Twitch instead of Pinterest. If you want to promote videos, your target should be YouTube, not Twitter.
Fragmentation: How fragmented is the influencer presence on the channel? A lot of small influencers, i.e. high fragmentation, can make it difficult to access the market easily. On the other hand, low fragmentation can give top influencers an upper hand in setting their rates.
Data availability: Consider how much data does the channel make available to its users for tracking a campaign's performance. Facebook, for instance, gives advertisers a lot of tools to track how an outgoing link is performing.
Authenticity: Lastly, consider the authenticity of any influencer's claimed metrics. Some channels are notorious for fake followers. This can muddy the reported metrics and lessen the impact of your influencer marketing campaign.
In some campaigns, your choice of channel will be clear. If you're promoting a B2B whitepaper, for instance, you'll want to focus on LinkedIn. If you're promoting shoes, you'll pick Instagram.
In other cases, study the type of content that dominates the channel and its demographics. In brief: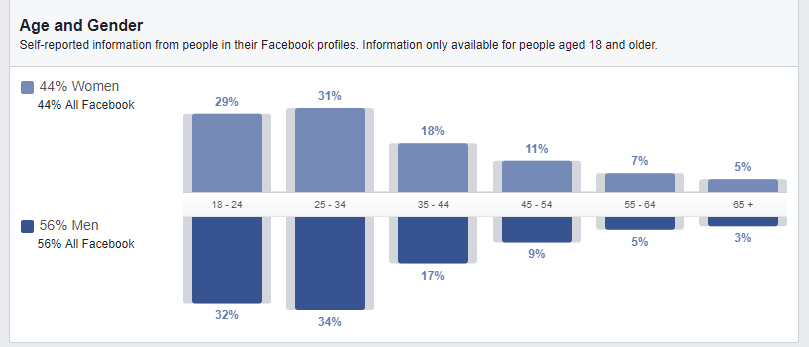 Facebook's audience is more male than female globally


Keep these in mind when selecting a channel for your influencer marketing campaign.
Where to Find Influencers
The final piece of the puzzle is to actually find influencers.
You can use one of two options:
Manual search
The cheapest way to find influencers is to search for them manually. You can do this by looking up a keyword or a hashtag on your target channel, then making a list of all relevant influencers you find.
For example, if you wanted to find food bloggers on Instagram, you might search for #foodblogger. Make a list of all influencers you find that fall into your defining criteria (in terms of followers).
Influencer marketing platforms
An alternative to time-intensive manual search is to use an influencer marketing platform. These are usually two-sided marketplaces that connect influencers with advertisers. Most are self-serve, though plenty also offer managed services to run your campaign.
Some popular platforms are NeoReach, RevFluence, FameBit, and TapInfluence.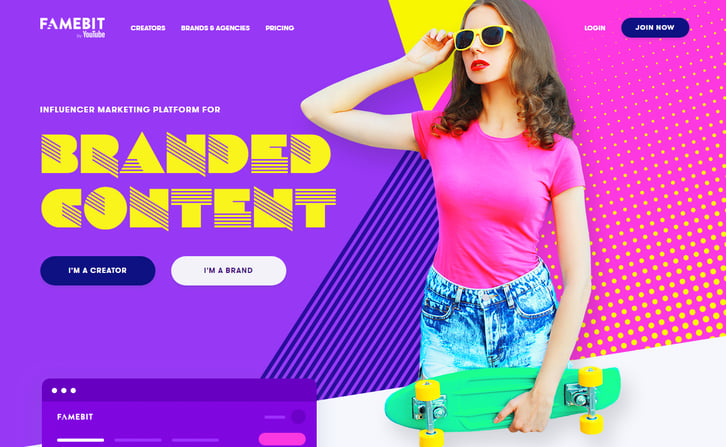 FameBit is YouTube's own influencer marketing platform
Besides the above, you can also use agencies that specialize in influencer marketing.
Once you've made your initial list of influencers, it's time to drill further and select people who can help you reach your campaign goals.
Selecting Influencers
From your initial shortlist, you'll have the much more difficult task of selecting a target list of influencers for the final campaign.
This selection process should take multiple factors into consideration, such as:
Follower engagement rate
One of the most important factors in deciding which influencers to target is their engagement rate or follower loyalty.
This is a measure of the average number of interactions on their content vs. their total followers, expressed as a percentage. So if an influencer with 10,000 followers gets 1,000 likes on average, his engagement rate would be 10%.
For example, Kim Kardashian has 102M followers on Instagram and gets about 2-3M likes per post. That's an engagement rate of approx. 2.5% - par for the course for a mega influencer like her.
A stronger engagement rate indicates that the influencer's followers are actively interacting with the content instead of passively consuming it. Usually, smaller influencers have more engaged followers since they're following them for the content, not because of their celebrity status.
How you measure engagement rate will vary from channel to channel. On Instagram, you might use a Followers-to-Likes ratio. On YouTube, you might use Subscribers-to-Views.
Also, keep in mind the quality of the engagement metric. A comment requires far more effort from the follower than simply liking a picture. If you see two influencers with similar number of likes but one has a higher average comment count per post, choose her instead.
Content quality and brand alignment
If you want to build a brand that's known for quality products, you have to associate it with influencers who create quality content.
This is a largely subjective criteria, but an important one, especially for consumer brands that rely on branding. You want to work with influencers who are known for creating content that reflects your brand's values.
Evaluate the influencer's body of work, especially any content they created for other campaigns in the past. Ask yourself: is this content high-quality? Does it have the same standards that my brand adheres too?
A few things you should consider:
Whether the influencer 'curates' other people's work or shares his/her own?
Does the influencer interact with followers in the comments, especially on sponsored posts?
Does the influencer write descriptive captions?
What content format does the influencer regularly promote - videos, pictures, selfies, etc.?
What content-type does the influencer share - personal pictures, product pictures, photography, etc.?
Is there an overarching theme in all of the influencer's content? Does it align with your brand's values?
This can be a disqualifying factor for a lot of 'spammy' influencers that simply share others' work or fake their followers.
Audience alignment
Lastly, consider whether the influencer's audience aligns with yours.
This can be difficult to measure, especially if the influencer doesn't share content on any particular theme or topic. It's easy to figure out that a food blogger's audience would be interested in food, but how do you know what a lifestyle blogger like Logan Paul's audience cares about?
The solution is subjective analysis. Go through the influencer's content and comments left by followers. Ask the following questions:
Is the content designed to appeal to a certain demographic?
Does the influencer regularly create content on a certain topic? Is this reflected in the influencer's bio?
Are the comments on the influencer's content in your target language?
Are the top 10 comments on any of the influencer's content from people of your target demographic?
What sort of influencer you work with will depend on your campaign goals. If you want to drive clicks or traffic, work with an influencer who focuses on your niche.
If you want exposure and branding, work with someone who creates content that reflects your brand's values (even if there is no niche alignment).
For example, Mercedes tapped into Casey Niestat, a prominent YouTube influencer, to create a video on the Mercedes CLA.

Niestat's content has little to do with cars, but it aligns with Mercedes' brand values.
Accessibility
The final consideration in your influencer selection process should be their accessibility. How easy is it to contact them? Do they have a public facing email address listed in their bio? A website or blog? What are their rates for advertising? Are they available on any influencer marketing platform?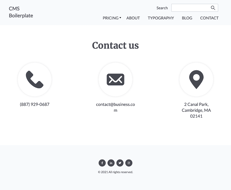 This Instagram influencer clearly identifies her email, Snapchat username, YouTube username, and blog URL in her bio


Consider the kind of feedback and data they'll give you for each campaign. Will they share metrics for the sponsored post? Will they write their own caption or ask you to supply one?
Also, consider the kind of campaigns they'll run. Do you get a dedicated hashtag and CTA? Will they reshare/retweet the campaign on multiple platforms? Do they clearly identify sponsored content as such (i.e. with a 'sponsored' disclaimer)?
Keep all these factors into account to select your target influencers.
Pitch Influencers and Track Results
Once you've selected your influencers, start pitching them your campaign ideas.
There are a few things you should keep in mind when you reach out to influencers:
Personalize emails, especially for influencers you want to work with in the long-term.
Show interest in the influencer's work by mentioning something they've done recently
Be transparent about your campaign goals and product capabilities
Clearly identify what kind of results you seek from the campaign, and what kind of creatives you have to share
Focus on developing a partnership instead of pitching it as a "chance"
Lastly, be professional and courteous
Think of influencers as important journalists. Be polite and treat them as partners. A generic email blast or rude behavior will not only turn away influencers, but can also invite backlash in case the influencer complains to his audience.

Track influencer marketing campaign results
There are a number of approaches you can use to track results from your influencer marketing campaign:
1. Set up custom URLs for each influencer
The first step in the tracking process is to use custom URLs for each influencer. This will tell you how many clicks, sign-ups, sales, etc. can be attributed to the influencer.
The quickest way to do this is through a URL shortener like Bit.ly. For better results, however, I recommend using Google's Campaign URL Builder. This will help you track results right inside Google Analytics.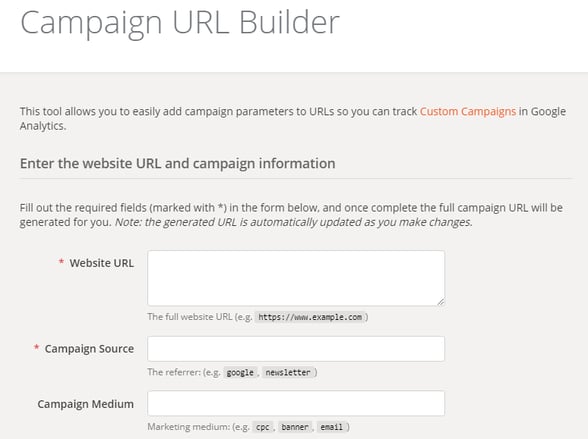 2. Track reach
Besides specific campaign goals (sign-ups, sales, etc.), the two things you should track for every influencer marketing campaign are a) reach, and b) engagement.
To track reach, set up a separate spreadsheet with a list of all influencers and their follower count. Next, track the traffic (or impressions) from each influencer. Measure the 'reach rate' by calculating the traffic amount vs. follower count, like this:
This will tell you which of the influencers are successful in sending you traffic.
3. Track engagement
Besides reach, you should also track engagement in the form of likes, comments, shares, etc.
Again, compare these against the follower count of the influencer to track the effectiveness of the campaign. Add these metrics to the spreadsheet you create earlier - see the example below:
4. Campaign goals and cost metrics
Besides the above, you can also track any campaign goals (such as sign-ups, sales, etc.). It's also a good idea to track cost per engagement or campaign goal.
For example, if it cost $100 for a single sponsored post for an influencer with 10,000 followers, and that post drove 1,000 likes, the cost per like is $0.10. If this post also drove 200 visitors, the cost per visitor would be $0.50.
If out of these 200 visitors, 2 people became paying customers with a lifetime value (CLTV) of $100, your $100 in ad spend had a 100% ROI.
All this data will help you evaluate the success of your influencer marketing campaign.
This is pretty much all you need to run your first influencer marketing campaign - for yourself or for your agency.
Have you ever tried influencer marketing? What were your results? Share them with us in the comments below!
**Note: A tool like Workamajig can help you manage the creative content portion of your influencer marketing campaigns, but not the influencer marketing campaign as a whole. Contact us directly to discuss further.
About The Author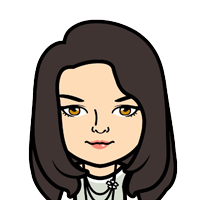 Esther, Workamajig's current Marketing Manager, joined the team back in '14. She's a Jersey girl at heart with plenty of NY grit from her time across the river. Like most credentialed marketing gals, she's always got a good cup of coffee and would love to hear from you at estherc@workamajig.com.