Book Review: Susanne Madsen's "The Power of Project Leadership"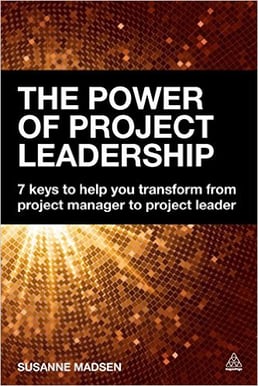 Seven keys to help you transform from project manager to project leader.
As stated in the title, it's all about project leadership. It is based on the premise that today's project manager is expected to do more for less – and I think we can all agree that it's a driving force nearly everywhere in our business culture. Unfortunately, we are not immune to that even as we lead more and more complex projects in an ever-changing technical world.
Essentially, at the core of this book is the separation between a project manager and a project leader. It discusses project failure and project success. It also examines the concept of shifting your mindset from project management to true project leadership with the assumption that by making this transition, your projects can be delivered more successfully, in more fruitful and innovative ways.
The four chapters of this book take you through the fundamentals of project failure and the understanding of your own project management style, followed by insight into your own individual working patterns that may be holding you back. At this point, we hit the heart of the book that introduces Madsen's seven keys to project leadership. The concluding chapter then identifies actions you can take to make the transformation from project manager to project leader.
I hate to give away her seven keys to project leadership. It's a great book. Every PM, aspiring PM, and business leader (because they need project management skills, too) should buy this book and read it. But I will single out two here that I like the best. I do, though, agree with all seven.
Empower the team. When you can empower your team to take control of what you've given them, you – as the project manager - become a leader just through that action alone. At the same time, you free yourself up to be so much more than a "manager" of team members. You become a leader of team leaders. You and your team work on the project, engage the client more proactively, and you drive success rather than back into it.
Be authentic. Examine your own behaviors; this is what everyone else is seeing. Are you honest? Are you managing and leading with integrity? Are you doing what you say you will do? Are you being ethical? All of these questions separate just "getting it done" from truly leading. Don't get it done at any price. Learn to lead. And lead by example.
This is a fantastic book and I think everyone can learn from it. You don't have to be a project manager or any manager, for that matter, to benefit from this book. Leadership is critical in all organizations, at all levels. "The Power of Project Leadership" can help many people learn how to examine their own strengths and areas of weakness and to capitalize on their own behaviors to transform themselves from managers or task managers into leaders who get things done and help others get things done.
I highly recommend this book as you can probably tell. Next we will present some questions and answers with the author herself, Susanne Madsen. Likewise, if you have any feedback or questions for me to pass along to her, let me know. You can also contact her directly about the book through her website at www.susannemadsen.co.uk.
About The Author