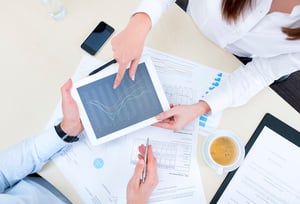 One of the most common struggles of project management is keeping costs within budget. As PM, it's your job to correct inefficiencies across your agency, with the hopes of turning mistakes into profit.
This is easier said than done.
As you've probably heard before, a majority of projects exceed their initial budget in one way or another. And understanding when it's acceptable to change your budget can make or break your project's success.
Here are some common five scenarios where it's okay to change your budget halfway through a project.
1) Lack of Resources
Occasionally, your resources are just inadequate. As a company grows, it's not uncommon for employees to wear many hats. Sometimes, this means that your project team may be stretched too thin.
Stuck between growth and profit and in need of an additional team member or two? Sometimes, it's necessary to account for the lack of resources and adjust your budget accordingly.
2) Poor Planning
This one is a no-brainer, so bear with us. The best way to avoid project changes? Proper planning. Every project must have a plan to back it. Without an established project schedule, you're doomed to fail. While it's one thing to set feasible, attainable deadlines, it's another to track project status, and ensure that things are on track.
While proper planning is ideal, it's important to adjust accordingly. If a project is derailed by missed deadlines or deliverables, it's essential to restructure your budget to account for lost time.
3) Scope Creep
Scope creep happens so often, at this point, we're used to it. So don't say you weren't warned! Over the timeline of a project, your client may request additions to the project: additional features, new copy, different artwork…the list could go on forever. And unfortunately, these changes require additional time and work.
To combat the horrors of scope creep, it's important to charge for this additional work. If you don't manage things wisely, you may find yourself in the hole and losing money.
While it's crucial to adjust your budget if and when scope creep happens, it's equally important to nip it in the bud entirely. Establish strict rules on how much you're willing to change in the course of a project. Keeping your clients happy is important—but do not be afraid to set rigid guidelines and charge accordingly.
4) Project Changes
Unplanned project changes are a prime target for cost overrun. For the most part unrelated to scope creep, these changes are generally linked to either internal employees or external stakeholders making changes that aren't accounted for in the budget. Oftentimes, these changes are a product of oversight, compromise, or other unplanned issues.
5) Lack of Coordination
Your agency should operate like a well-oiled machine. And having a detailed plan and defined scope are really only the first factors of success. PMs should know exactly what, when, and why team members are performing tasks. Establishing precise task lists and deadlines, and utilizing comprehensive, accessible project management software to keep track of your project team's individual statuses is the best way to properly coordinate your project.