10 Key Trends Every Agency Should Watch Out for in 2018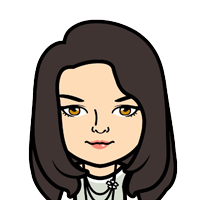 With 2018 nearly upon us, it's that time of the year again when we don our psychic hats and foretell the future.
Trends are hard to predict, but they're easy to prepare for. Forward-thinking agencies have to have one eye on the horizon to spot promising trends and reorient their business. This is particularly true if you're dealing with something as ever-evolving as technology.
On that note, let's look at the 2018 trends for agencies that promise to dominate next year. I'll cover marketing, branding, and design trends every agency should know to be competitive in the coming year.


Marketing Trends for 2018
In 2017, we saw the ever-onward march of digital as it gobbled up even higher marketing budgets. Total digital ad spending saw its biggest rise in 10 years. Total worldwide digital ad spending increased from $194B to $229B - an astonishing 18% growth rate.
You can attribute this increased digital spending on a number of factors: higher smartphone penetration (total users grew from 2.1B to 2.32B), increasing maturity of social (Facebook's revenues in Q3 2017: $10.3B, up 47% from last year), etc.
What is clear is that digital will account for more and more of your client's marketing budgets. The exact marketing mix will vary, of course, but this has profound impact on how you market your clients and your own business.
What trends should you watch out for in digital marketing for 2018? What channels should you focus on? What emerging technologies can you leverage?
Whether you're marketing your own agency or working for a client, let's look at some marketing trends to look out for.
1. Live Video and Short-form Video Will Continue to Grow
That video will dominate in the near future is a foregone conclusion. It is projected to account for 82% of all internet traffic by 2021.
What's changing - and changing fast - is the the kind of video being consumed. Apart from long-form video such as Netflix (a non-threat to most marketers), two video formats have shown remarkable growth:
Live video continues to grow. 81% of people watched more live video in 2016 than in 2015. Periscope surpassed 200M broadcasts in just its first year. Facebook even paid publishers $50M to produce live content - such is the company's faith in live video.
Short-form video, i.e. video under 60s in length that can be shared on Instagram/Snapchat is growing fast. Instagram Stories had 250M users within a few months of launch. 33% of all Instagram content is video as well.
The rapid rise of short-form video - something Instagram Stories is widely used for - can be seen in this graph of Snapchat vs. Instagram growth: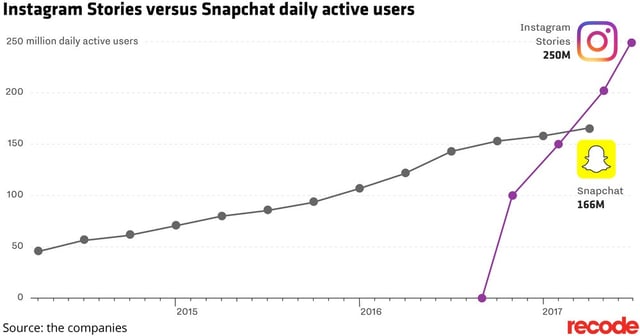 (Image credit: Recode)
Takeaway
Instead of conventional video content and distribution channels (5-15m video, YouTube), consider expanding your focus to include more live and short-form videos. Not only is such video content easier to product, it also aligns with the authenticity and rawness consumers want today.
2. 'Dark Social' Will Account for Even More Traffic
Have you ever looked at a traffic bump in your analytics and wondered "where did these people come from?"
The answer is usually 'dark social'.
Dark social refers to social channels that you can't measure. Think of links shared via chat tools, Whatsapp, Facebook Messenger, etc. Instead of public facing, one-to-many sharing, 'dark social' is often one-to-one.
In 2018, the amount of traffic coming through dark social will only continue to increase. As RadiumOne notes, 84% of all outbound sharing happens through 'dark social'. 62% of these shares and clicks come through mobile devices.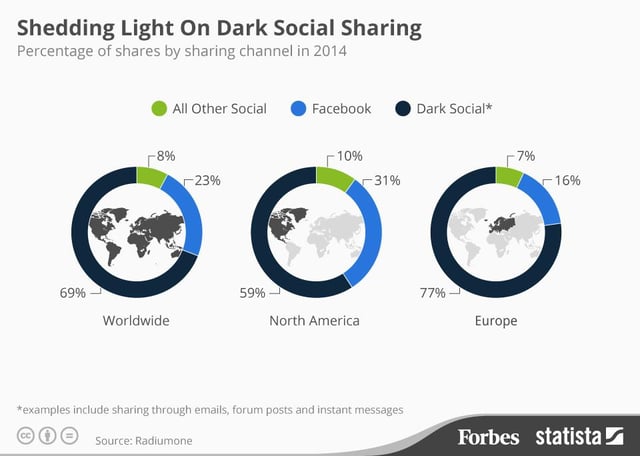 Dark social accounts for a majority of sharing online (Image source: Forbes)

You can estimate the impact of dark social by looking at the user growth for one of its biggest sources: Whatsapp. This messaging app has over a billion daily active users, often in emerging markets where conventional social channels don't have as strong a hold.
Takeaway
Think of how someone using Whatsapp might share your content. Factor this into your content creation and distribution strategy for 2018.
3. More Businesses Will Adopt Voice Optimized Content
The talking computer, long a staple of science fiction and Iron Man movies, finally grew up in 2017.
Smart retailers have already taken a cue. Industry giants Target and Wal-Mart have already tied up with Google to sell their products via Google Home. Amazon's Alexa has over 7,000 "skills" and integrations with leading brands.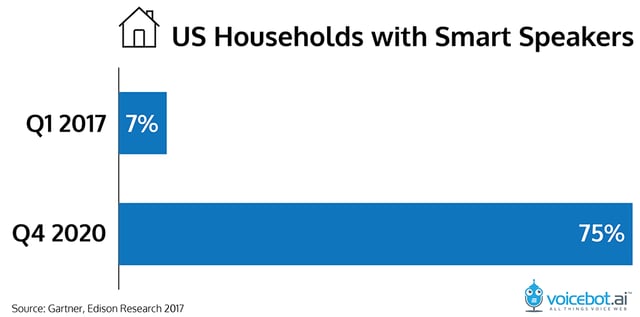 Gartner estimates nearly 75% of US households will have some sort of smart speakers by 2020, highlighting the importance of voice-focused content (Image source)

As Google, Amazon and a range of competitors slug it out to become the center of the home, businesses can't afford to skip this trend.
Takeaway
Voice-based computing experiences require voice-optimized content. In 2018, you'll see more and more businesses launching Google Home/Alexa integrations and creating content optimized for voice. Not doing so means missing out on a big and booming market.
4. AI Will Enter Consumer Interactions Through Message Bots
Soft AI has been a hyped up technology for years now, but we might finally be at a point where we have both the capability and the channels to distribute AI mediated experiences.
First, investment in AI related technologies has soared. In early 2017, PwC reported over 1,100 deals in AI-related businesses totaling over $500M for the just first three months of the year.
That's just for new businesses. Existing companies invested between $26B to $39B in AI in 2016 with Google and Baidu alone accounting for $20B-$30B of investment, according to McKinsey.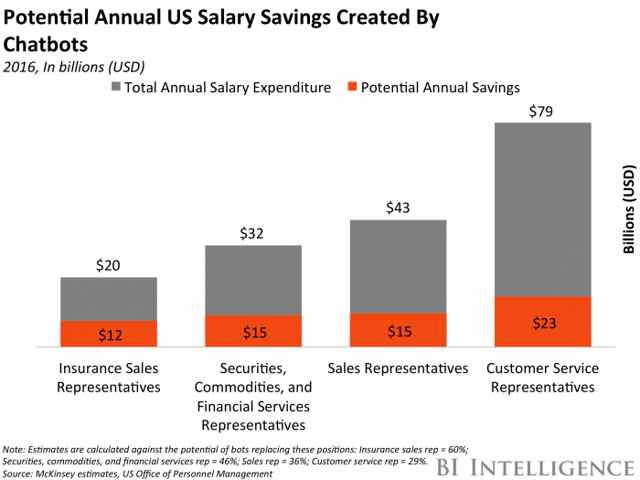 Chatbots are expected to save businesses billions in customer-facing jobs by leveraging AI (Image source)

This massive investment has led to significantly improved AI capabilities, so much so that Mark Zuckerberg and Elon Musk even had a spirited debate about its impact.
How this AI enters the consumer space will be through chatbots and messaging apps. Messaging apps already dominate our digital conversations. Whatsapp has over 1.2B users, the same as Facebook Messenger. China's WeChat is nearing the 1B users mark (currently at 963M users).
These apps give businesses a perfect medium to interact with customers through an AI layer. BusinessInsider estimates that by 2020, 85% of all consumer interactions will be managed by AI. The chatbot market itself is poised to grow to over $1.2B by 2025 - a CAGR of nearly 25%. Forrester reports that in 2018, chatbots will enter the enterprise market as well.
Takeaway
Try to use chatbots to support your customer service team. Use them to reduce the number of human interactions to save costs while also giving customers immediate and round the clock service. Better AI capabilities and implementation makes this easier than ever before.
5. More Businesses Will Adopt the Blockchain
The biggest financial story of 2017 was the surge in Bitcoin prices. From a Jan 1, 2017 price of under $1,000, BTC jumped to an all-time high of close to $20,000.
This graph is indicative of the massive investment in BTC and related cryptocurrencies in 2017:
Whatever side of the crypto debate you might fall on, the surge in crypto prices shows the massive disruptive potential of blockchain technology.
20% of the global finance trade expects to use it in some way by 2020. Deloitte expects blockchain to overtake cloud computing and IoT as far as attracting investments goes. And Forrester reports that by 2019, a "viable blockchain-based market will be commercialized".
Blockchain adoption can be seen in the massive increase in the number of initial coin offerings (ICOs) used by startups to raise money.
One thing is clear: blockchain will continue to be a buzzword in 2018.
Takeaway
There are countless applications of blockchain technology - accepting payments, enhancing operations with distributed apps, etc.
Although the technology might still be newfangled for real-world business uses, the disruptive potential (and rapid advancements) mean that it isn't something you can afford to ignore in 2018.
Branding Trends for 2018
Creative agencies are often tasked with the hard work of building and updating brands. Unlike marketing trends, how branding trends aren't always easy to spot. There is seldom enough data or attention-grabbing disruptive technology.
Instead, spotting (and then using) branding trends often comes down to intuition. Knowing the zeitgeist, then taking a leap of faith. Businesses that constantly do branding right also tend to have an innate grasp of the trends and movements shaking up society.
On that note, let's look at some ways businesses can change their brands to thrive in 2018.
1. Brands Become Political
Brands and politics seldom mix. Businesses would usually avoid taking sides in political debates at the risk of offending any customer segment.
Or at least that's how things used to be.
In 2017, we saw brands adopt clear stances on political issues. From Pepsi's Kendall Jenner ad to Heineken's "World's Apart" ad, brands are increasingly becoming political.
As Geoff Cook of branding agency Base Designs says:
"As a reflection of the changing political tides, many brands will evolve from 'mission-driven' to 'activist,' encouraging consumers to go beyond simply subscribing to a set of core values and driving them to participate in actions to defend them."
Much of this stems from consumers' demand for brands that align with their beliefs. A 2014 survey found that 56% of Americans believe that corporations should "stand up for what they believe politically".
Takeaway
Regardless of your political affiliations, it might be time to consider your brand's political alignments. It might generate controversy, but with consumers demanding political action from their brands, this isn't something you can afford to sit on the fence on in 2018 and beyond.

2. Businesses Will Use Privacy as a Branding Tactic
2017 saw arguably the worst data breach in history as over 143M Americans' personal information was leaked following a breach at Equifax.
This, and the dozens of high profile data leaks before it places the spotlight firmly on the need for privacy protection.
"No matter what market you're in, no matter what service you provide or product you sell… from right now until the end of time, you're in the privacy game"
Some of this push for privacy protection is a result of legislation, such as EU's General Data Protection Regulation which comes into effect in 2018.
At the same time, consumers are also demanding better privacy protection from their brands. One study found that 89% of consumers won't do business with a brand that doesn't protect them online.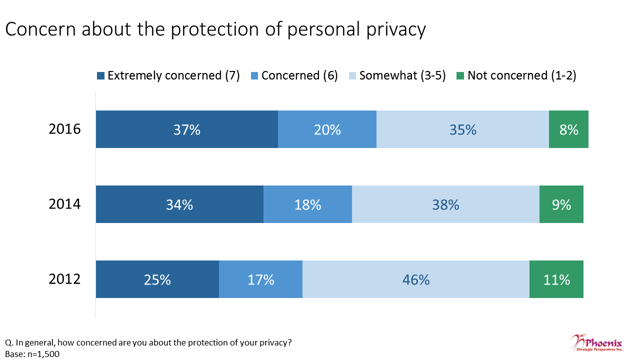 The percentage of people concerned about privacy online has been rising constantly (Image source)

In this situation, any brand that can promise to protect your privacy is likely to win your favor. In fact, some large businesses are doing that already.
Case in point: Verizon offered its users a way to completely opt out of 'supercookie' tracking.
Takeaway
If you aren't doing it already, 2018 might be a good time to think of emphasizing your privacy protection, especially if you deal with sensitive personal data. More and more of your customers are going to want some guarantee of privacy before doing business with you.
3. Businesses Will Use Live Events as Branding Tools
There's a strange modern paradox: millennials are becoming more absorbed in their online lives, but also attending far more live events.
Marketers call this the "experience economy". A Harris study found that 3 out of 4 millennials would choose to spend money on experiences, and that 55% of them are spending more money than before on live events. Deloitte reports that 83M millennials will spend roughly $62B on live experiences.
And it's not just music festivals. People are more willing to spend money on conferences and seminars as well.
For businesses, this represents a wonderful branding opportunity. By hosting live events, you not only get to create a personalized brand experience for your customers, but also position yourself as a modern and helpful brand.
This even works in B2B markets where events can act as an extension of inbound marketing.
At Workamajig, we've been long believers in live events. We'll host the 6th edition of our Workology user conference next year.

Takeaway
Host or sponsor more live events to become a part of the "experience economy" and reach out to younger customers in 2018.
4. Businesses Will Use Authenticity as a Branding Signal
Remember the Old Spice Man ads from 2010 onwards? Or the Dos Equis' 'Most Interesting Man' ads from the same era?
As successful (and hilarious) as these ads might be, they might not find as much favor if they were to be released today. There's been a cultural shift in the decade or so since their release. From a culture of irony, we seem to have moved towards a culture of authenticity.
The most talked-about campaigns of 2017 were neither humorous nor ironic; they were raw, emotional and authentic. Think of NYT's "The Truth is Hard", Heineken's "World's Apart" campaigns or Dove's "Choose Beautiful" campaigns.
In 2018, this trend will continue its upward swing. Consumers will want their brands to be less Photoshopped and managed and more real and authentic.
Takeaway
Strip away the artifice and start a more authentic conversation with your customers in 2018. Use channels that engage rather than sell - live video, social media, etc. - to appeal to customers' increasing yearning for more authentic experiences.
5. Changing Design Trends Will Force Brands to Adapt
Design trends change fast, and as an agency, you have to adapt your and your clients' brands to keep pace with the market.
2018's design trends seem to revolve around the themes of optimism, authenticity and nostalgia.
Nostalgia is most visible in the emergence of '80s-themed designs and concepts. From the success of movies like Guardians of the Galaxy to TV shows like Stranger Things, '80s-era music, strong patterns and bold colors are making a big comeback.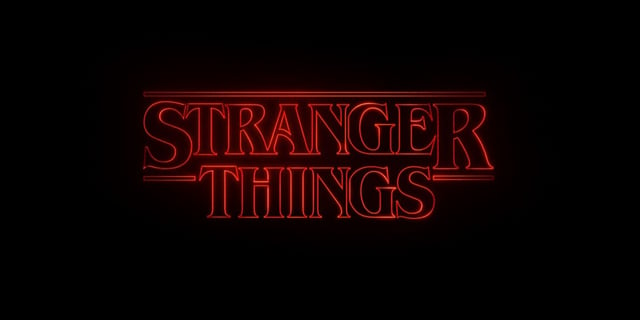 Netflix' Stranger Things was a massive hit, indicative of the resurgence of '80s-themed music and design patterns

A resurgence of '80s designs also means a resurgence of bold colors and shapes. You'll see more and more businesses ditch the stark minimalism of the mid 2010s and embrace brighter colors with large typography, like Deskpass:
Similar to the shift away from minimalism, we will also see businesses ditching completely flat design in favor of more depth. Gradients and subtle shadows will make a comeback, adding a layer of complexity and visual interest to otherwise flat designs.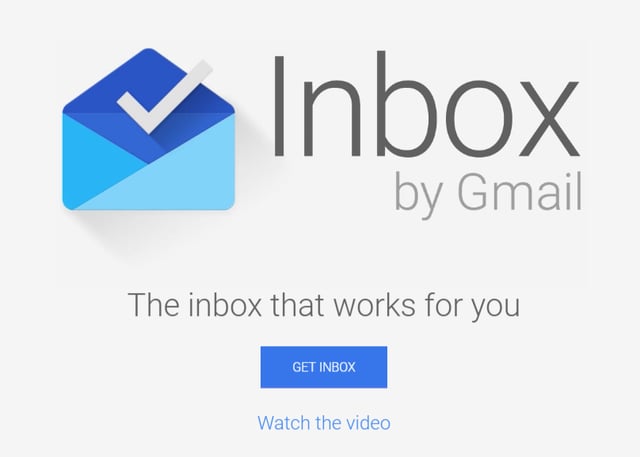 Note the subtle use of shadows on Google Inbox website - an early pioneer of flat design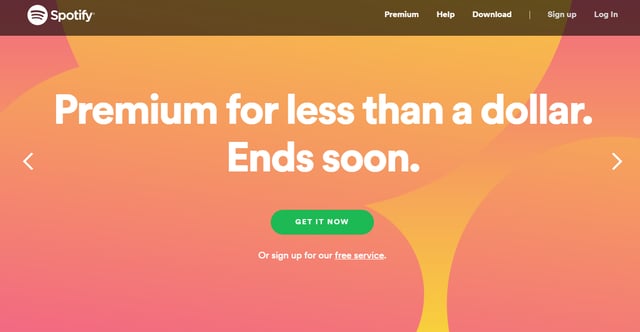 Spotify uses gradients liberally in its designs


In UX design, we'll see more and more designers emphasize micro-interactions and motion design. These tiny animations can add a dash of delight to user interfaces, making for a more positive experience, such as Google's liberal use of animations: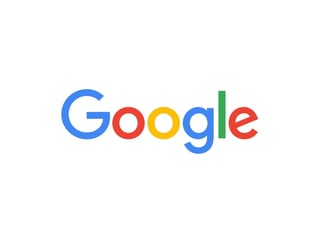 Takeaway
To sum it up, the keyword for 2018 designs seems to be 'more' - more patterns, more depth, and more motion. Whether you're building your own agency brand or a client's, take stock of these design trends.
That's it for our predictions for agency trends for 2018. Which of these do you think will catch on? Which will fail to thrive?
Let us know in the comments below!
About The Author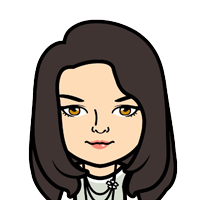 Esther, Workamajig's current Marketing Manager, joined the team back in '14. She's a Jersey girl at heart with plenty of NY grit from her time across the river. Like most credentialed marketing gals, she's always got a good cup of coffee and would love to hear from you at estherc@workamajig.com.