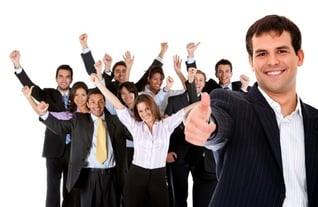 Project leadership is challenging no matter what. Lots of decisions need to be made throughout any creative engagement, many times with less information than you would like to have. Toss in the fact that you have a very talented creative team to manage and to keep as engaged as possible. The project manager or creative director's job can be almost overwhelming at certain points in the project depending on what issues are being faced.
The following four tips are some strategies that I like to employ when managing creative team resources on client engagements. The main points are task ownership, communication, and ongoing full engagement. Consider your own strategies as you read this and be ready to share at the end.
Identify and utilize each team member's strengths. Everyone has strengths and everyone has weaknesses. It may be hard at times to identify those, though. I think many of us aren't even fully aware of our own strengths and weaknesses. A good project manager or creative director can assess his team and single out most of the strengths among his team members – although it may take some one-on-one discussion sessions with each team member to pin point and agree on what those strengths are. Once identified, focus on those areas when assigning creative project tasks and design efforts.
Communicate effectively and efficiently. At the forefront of leading a successful project and effectively leading the creative team is always communication. The project manager or creative director who excels at effective and efficient communication will have a team that is on the same page (more often than not), a client who feels informed and remains engaged, and a senior management who is more confident in the ability of the project manager and team to deliver on critical projects to their most important clients.
Let team members engage the project client. Allowing team members to own their tasks and engage the client directly on task status, decisions, and requirements issues breeds task ownership and accountability among team members. Your team will be more engaged and will focus more on the project's success and goals – you will see that they really "own" it much more than those teams and members who are behind the scenes and not engaging the client on a regular basis. Let them show off their skills. You won't be sorry.
Involve the team in early project and risk planning. It will help keep them engaged throughout when you involve the creative team in as much early planning for the project as you can. If you have time to include them in that financial planning and analysis process, it will also lend well to overall ownership of the success of the project including the financial success. However, that does mean that you must keep them apprised of the budget throughout the engagement.
Summary / call for input
Leading a creative team is difficult, no doubt about it. Any project management situation of leading skilled project resources can have bumps, especially since you're leading very trained, efficient and driven individuals who also have their own thoughts on how things should be done. Communication is key, as is ongoing involvement with the team and making sure that they have the tasks in front of them to keep them fully engaged throughout the project.
What are your tips? What strategies do you have for effective leadership of creative teams and individual team members? What problems have you run into and what actions have you employed as remedies for any issues? Let's share and discuss.