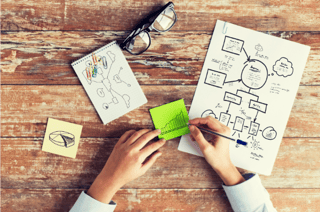 Communication. It's the straw that stirs the drink in the world of project management – and in really successful business and client management in general. Poor communicators don't last long in the daily rat race. Even the loud screamers and the squeaky wheels know how to communicate well... albeit in a whiny and manipulative way... but it seems to work for them.
One key aspect of the communication process in the imperfect world of project management is the project meetings that we have with our creative teams and our creative clients. I'm going to set the client communication aspect aside for now, though, and focus on team meetings. That's where it all starts – at least for me and from my experience. Manage the team well, manage the team communication well, and you end up with a better project and more consistent relationship across your entire team with the project client. You are also far more likely to have mostly everyone on the same page at all times throughout the entire creative project engagement. I've said it before and I will say it again: project communication is Job Number One for the project manager. It is truly the most important thing they do and if you can't communicate well and efficiently and effectively... then you must find another line of work.
Off my soap box and onto what I think every creative director and/or project manager must do in order to make the team meetings all that they can be. Five keys:
Have a regular, weekly team meeting. Even if you don't have much to say in any given week – which is not likely for a project team meeting – still conduct the meeting. The project manager keeps the schedule no matter what and keeps the project cadence and communication going. The ones who do that will be the most successful in the end. Get task updates from team members; discuss outstanding issues and risks; and review the project budget, resource forecasts and what's happening in the upcoming two week timeframe.
Include personal discussion. Whether anyone is remote or virtual or not, always be sure to allow and instigate some personal discussion. I'm not talking about hours of wasteful discussion like what happens at the water cooler in many offices – which is the very reason I fully support remote work and virtual teams in the first place... the office or headquarters is a breeding ground for unproductive labor practices. But it makes a difference when you give some spice to the meeting by bringing up personal experiences, and discussing topics other than whats on the exact list on paper.
Go around the room – make sure everyone has the stage during the meeting. 100% team member participation is critical to the flow of project communication and to ensure that all tasks are properly reported on. Plus, each team member, at any given point in the project, may have client contact. That information – however small or large it may seem – could be very important to the work being performed and the need for any change orders or client discussions to take place. Get them to talk during the meeting... there is lots to be learned through these discussions.
Have an agenda and status report from where to direct the discussion. Don't go into the meeting cold and then wing it. You need much more than just around the room banter for real team project updates as well. Go into it as if it were a client meeting, but slightly more casual. Have an agenda, a purpose, points to discuss, and be ready to share some new key project information. Make sure you're also ready to take notes. From all this you'll get the latest and greatest status updates from the project team that really mean something. Your top tech artist may indicate on the latest schedule update that he is 65% done with a key design task. But when you hear it from his mouth in this meeting it may sound like 90%... and now you have a chance to question him: is it 65% or is it 90%? Probably somewhere in between, but you get the picture.
Follow-up after the meeting to ensure understanding. Far too many meetings conclude with a good majority of 80% of attendees on the same page, but 20% who were napping or think they heard something a bit different. Take those detailed notes that you put on the agenda or status report that you were using to drive the meeting from and re-distribute that to all attendees. Ask them to review, revise and return it to you in within 24 hours so that you can ensure everyone is on the same page and left the meeting with the same understanding. You may be surprised how far off some attendees are.
Summary / call for input
The bottom line is that your project meetings often drive the communication on the project. The important stuff comes out during meetings, so its crucial to ensure that they are well-attended and that everyone talks. It's just as crucial how the meeting is wrapped up and followed-up on. Circle back around to ensure common understanding because without that you're all just trying to hit a pinyata blindfolded with a baseball bat... and we all know you really don't have time on projects to take a bunch of whacks at it before you start to lose big money and big time.
What about our readers? What's your take on the team project meetings? What would you add to this list or change about it? Please share and discuss.