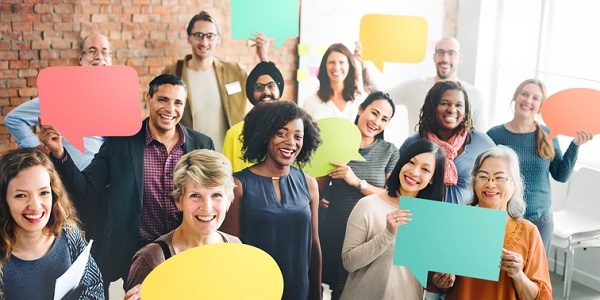 What's the secret to project communication? How can we successfully coordinate and direct our project teams to make sure that everything is done on time and we don't compromise relationships in the process? There are many items to remember in this regard, but above all, it's important to remember that your entire team is made up of people just like you, and they also want to have a life outside of work.
Keep Project-Based Discussion on Task
This doesn't mean you can't catch up with your team members about how their weekend went or their personal lives. But it does mean that when you're talking about the project, keep the conversation focused on the specific task at hand. Don't stray to other deliverables without first buttoning up the initial topic. Keep everyone focused and driven by wrapping up all of the project discussion before going back to personal matters.
This way, you can focus your team's attention, as well as your own, and efficiently communicate project status and future work. If you let other topics creep in during this focused time, you lose the audience (your team), and you also run the risk of missing the mark for the discussion. At best, you and your team have to retreat and attack the conversation again when you have regrouped. At worst, your message becomes lost in the shuffle, and the project suffers because of it.
---
---
Stay Between Brevity and Verbosity
As project managers, we have to walk the thin line of making sure that we say what we need to say while making sure to maintain the team's attention. While off-topic conversations are easy to quell, thus shortening the time it takes to convey your message, it's a bit harder when the root cause hits closer to home.
If you're someone who has a hard time stringing sentences together, then you need to make sure your message is long enough to actually count as verbal communication. On the other hand, if your speeches tend to be lengthy, then it'd be wise to shorten things. You need to be able to provide enough direction to actually be useful, but not so much that your team doesn't remember what you were talking about in the first place.
Adhere to Your Communication Plan, but Adjust as Needed
If you've already set up a communication plan, then great! If you haven't, even if you're in the middle of the project, it's not too late to start one. Set up how you're communicating with the team, including the methods you'll be using and the frequency you'll be sending out each type of communication. Be sure to determine how you'll be notifying your stakeholders, both internally and externally. Consider whom you'll be discussing various details with and what their expectations might be as well.
Your time spent constructing a communication plan isn't complete once you have everything filled out, though. You still need to monitor how well it's working and tweak it when as needed. If your team isn't functioning efficiently and the communication is to blame, alter the way that you're bringing up important topics and how you're disseminating information.
With these ideas in place, you should have no difficulty mastering project communication. Should you become stuck, we have a project communication plan template, which can work wonders to make sure you're taking care of all areas that need attention. Even if your project has already started, it's not too late to set up or evaluate your communication plan.