10 Things to Consider: Project Management Software Implementation
This post was orignaly published on January 30, 2014 and was updated with new information on August 31, 2017 with new information.
Implementing a creative project management software for your agency can be tough ask. In a fast-paced environment such as a creative agency, even a slight delay in implementation can lead to disaster.
How you start the implementation process is up to you. You can take the help of the software vendor itself, contract an outside consultant, or even do the entire integration yourself.
Whatever your choice, you'll want to streamline the integration and migrate all relevant data as quickly as possible. In an industry where your time literally means money, you can't afford to lose even a day's productivity.
With that in mind, let's look at some things you should consider when implementing project management software.

How to Implement Creative Project Management Software
When making a company-wide change, particularly with a software product that's expected to be used by all or most of your employees, making a seamless transition is critical.
Your priority should be to keep downtime to a minimum, ensure that you don't lose any data, and give employees all the training they need to be productive with the software.
Any time you spend in implementation or training is time you can't spend billing clients and building products.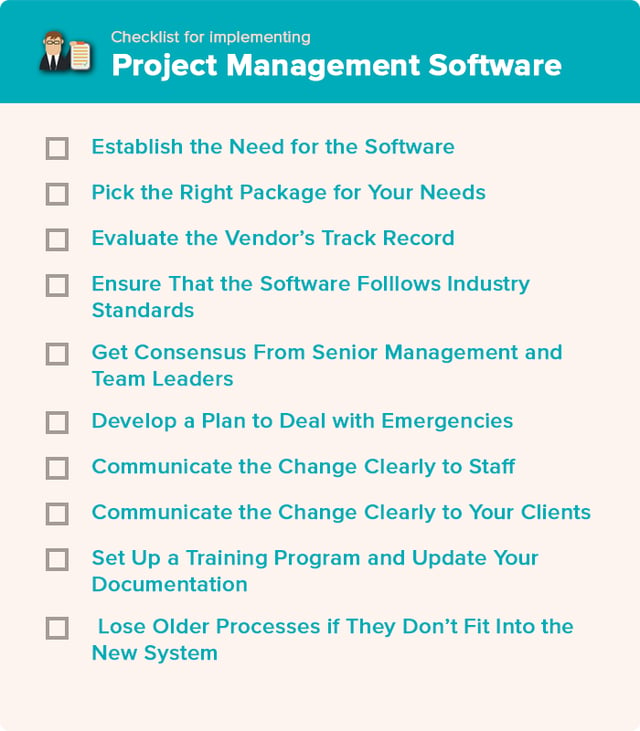 The ten things to consider at a glance
With these things in mind, here are some key points to consider when implementing creative project management software for your agency:
1. Establish the Need for the Software
One of the most important steps in any software implementation is establishing an actual need for the software. Far too many businesses end up purchasing products that are either underpowered or overpowered for their needs.
Like Goldilocks, there is a solution that is just right for your requirements.
This should be a collective decision. Consult your project managers, senior project leaders and management. Ask them:
Does your existing project management affect team performance negatively?

Are your teams mature enough to use an advanced solution effectively?
Consider your financial records. How fast are you growing? How many people did you hire last quarter? What is the projected growth rate for this quarter? The next year?
Next, evaluate your chosen software's features. Bring in your project manager(s) and make a list of all the features. Ask them to categorize each feature as:
Must have

,

i.e. the team can't run without it.

Nice to have

,

i.e. the feature will make work easier and will likely improve productivity.

Unnecessary

, i.e. the feature won't be of much use, at least in the near future.



If you see far too many features in the 'unnecessary' category (or too many empty spaces in the 'must have' category), it might be the right time to buy the software.
You don't always need a full-fledged project management solution. Many creative teams can get by perfectly well by using separate tools for monitoring, tracking and managing creative projects. See if this is an option for you.
Your goal should be to make sure that the software is a usable solution that works for you today, and can grow with your business in the future.
2. Pick the Right Package
Most project management software vendors offer different packages for different needs. Features, support and can prices vary greatly across packages.
Do not allow a software vendor to convince you that you "need" a software package that you actually don't. Have your goals and expectations in mind and stick to what you know you need, and what has direct relevance to the features and options you require.
Besides features, there are three things to keep in mind when picking a plan:
Future growth:

Most PM tools are priced on a per-user basis. With higher-tier packages, the rate per-user usually goes down as the number of users increases. If you plan to grow substantially in the near-future, negotiate with the vendor to lock in a lower price per user for future expansion.

Support and training:

Be clear about what support and training you'll get for free, what you'll have to pay for. Most vendors will charge you extra for more in-depth training. Factor this into your decision.

Data migration:

Ensure that the vendor has a robust process for ensuring there is no data lost during migration. If the vendor has worked with companies of your size in the past, it's usually a good sign.
3. Consider the Vendor's Track Record
Of all businesses started in the US, only 50% have a chance of surviving after four years.
For information companies (which includes tech companies), however, this record is far worse - only 37% survive after year 4.
This is a big risk that you must take into consideration when implementing a project management software.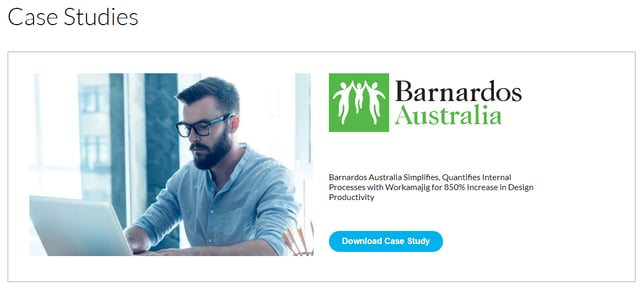 A large number of case studies like this one are a good sign of the vendor's competency and longevity
Software companies are notorious for either just folding up altogether or being acquired by a larger rival. In the first case, you'll be left stranded. In the second case, you likely won't get the level of service and attention from the larger company.
Neither of this situations is ideal.
Therefore, ask the following when picking a vendor:
How long has the vendor been in business?

Has the vendor worked with businesses similar to yours (in size and industry)? If yes, were the deployments successful?

What is the founder's track record?

Is the vendor well-funded?
While you can't stop a business from folding or being acquired by a rival, do your due diligence and you can avoid being burned.
4. Ensure That it Follows Industry Standards
Project management, unlike a lot of other sectors, is well codified with established industry best-practices and norms. There might be no "right way" to design a website or edit a video, but there is definitely an accepted way to manage a project.
Confirm that the software you chose was developed on an industry-standard platform that has fully enabled scheduling, resource management, tracking, and shared communication tools. You should be able to use best-practices as recommended by PMI on the platform without any issues.
For example, Gantt charts are an industry-standard way to visualize project schedules. If your PM software can't help you create Gantt charts, your productivity will suffer.

Gantt charts in Workamajig is an industry-standard feature
Following industry practices is particularly important for a growing business. If you hire new project managers, they'll likely be used to industry standards from their education or their previous jobs. If the software doesn't follow these practices, new managers will have a hard time getting on board.
Thus, ask your project managers to evaluate the software based on their own training and industry best practices before making a decision.
5. Get Leadership Consensus
The project management software touches every aspect of your business. It's not a simple tool that only junior developers or designers will use; everyone from project team leaders to top execs will interface in some way with the software.
Therefore, make sure that your management staff and team leaders are fully behind the implementation of the new system. If the upper management and team leaders have any reservations, make it a point to resolve them prior to implementation.
At the same time, get all leaders on board to communicate the move to the new software to their respective departments and project teams. Ask them to create a list of benefits, processes and possible concerns for their respective departments. Communicate these clearly to everyone involved.
The success of your deployment depends on your leaders. Build consensus before any project management software implementation.

6. Plan for Contingencies
Even with your best efforts, there is a possibility that you will suffer some downtime or issues during the implementation process. Your goal should be to foresee these issues and develop a contingency plan for them.
For instance, you should have multiple copies of your data in case there is any data loss during migration. Similarly, you should have a backup system in place in case there is downtime. Your organization shouldn't grind to a halt just because you're moving to a new system.
If your software vendor has experience dealing with businesses like yours, it's a good idea to ask them about any common issues in previous deployments. This way, you can develop a plan and minimize any potential damage.
7. Communicate Clearly With Your Staff
As we've said so many times in these pages, communication is the foundation of a successful creative agency.
This skill will become particularly important when you're moving to a new software platform. Your staff will invariably have questions about the new solution. Some might be apprehensive about how it will impact their work. Others will want resources for learning the tool better and improving their productivity.
Prepare yourself for responses and reactions from your staff and keep the lines of communication open. When confronted with change, some people readily accept it and others are more resistant. Allow a learning curve and be supportive.
Specifically, have documentation where your staff can see:
Who to contact in case of a software-related emergency

Where to find training resources

Where to report any bugs or data-related issues

How to access old data

Any changes in operational policies and best practices as a result of the move
This will go a long way in reassuring your staff and making the transition smoother.
8. Communicate Clearly with Your Clients
When you're moving to a new project management platform, it's always a good idea to involve your clients. There might be some issues and communication mishaps during the move. Informing clients upfront will reassure them and make your agency appear more transparent.
This issue is particularly important in case you're using the project management software for client communication as well. Apart from your own staff, the client will also have to learn the ropes of the new system.
In such a situation, make sure that all your clients know the following well in advance:
The timeline for the move. If some communication channels will be unavailable, specify the exact timeframe for it and emergency contact options.

How to access old data

New URLs, account details, etc.

Tutorials on how to navigate and use the platform. Even better if someone can jump on a call and show the client how to do this directly.

Who to contact in case the client can't login to his account, can't access his data or encounters a bug.
The more transparent you can be during the shift, the more your clients will appreciate it.
9. Set Up a Training Program and Update Your Documentation
Work with the software vendor/consultant to set up a training program for your staff. This can be online or in-person. The latter works well if you want the team to get up to speed faster, though it will cost you more.
At the same time, update all your existing documentation with details of the new software. Your internal wiki and onboarding documents should tell everyone the following:
The timeline for the change

Where to find old data

New login and support URLs
Search for any mentions of the old system in all your documentation and change it to reflect the new software.
Your goal in any implementation should be to incorporate the new software in every part of your business.
10. Lose Existing Processes if They Don't Fit
During and after implementation, you'll likely encounter some old processes or practices that don't fit into the new system.
If this happens, don't hang onto the old practices. Nor should you change the new system substantially just to accommodate the older practices. If it doesn't work or isn't efficient, let it go and move on to what does and is.
Sometimes, the software makers have designed the system to be a particular way because it works better than the older one. Sticking to older processes just because you're used to them will drag down your efficiency and make for an unsuccessful deployment.
Conclusion
Selecting and implementing the right creative project management software for your agency will prove to be a cost-efficient decision and will also save you time and resources.
It will give your staff the ability to work together on a variety of tasks, whether those are minor in-house projects or large scale marketing campaigns.
The right software will also benefit your project manager by simplifying their job and giving them the tools they need to monitor and track projects, goals, and overall progress.
Use these 10 factors as a guide when implementing a new creative project management solution. If the deployment checks all the boxes listed above, there is very little chance of failure.

About The Author