How to Keep Your Creative Team On-Task and Focused on Their Roles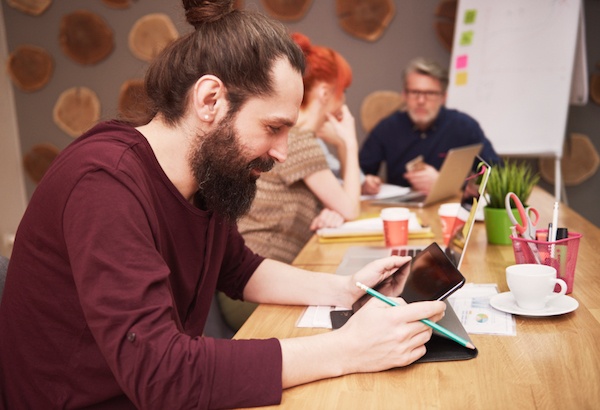 Good project management skills maintain a work-team commitment to and focus on, the various tasks necessary for its completion. An overriding project goal generates successful collaboration among team members as they fulfill their respective responsibilities. Keeping the entire team appropriately motivated is as important as meeting deadlines, particularly if the project is comprised of numerous smaller tasks executed in succession over the longer term.

This can be especially important for creative industry work teams. Implementing appropriate workflow-assignment software helps management delegate tasks and track job performance according to project objectives. Enacting social CRM (customer relations management) organizes creative assignments around clients' expectations, storing important contact data to generate project completion as a component of customer-centric task performance.
Selecting Qualified Team Members
The process of selecting qualified team members focuses on work-task efficiency for project success. Basic qualifications include:
Technical proficiency - the ability to consistently do the job.

Defined member roles - optimal team performance requires accurate recognition of member skills and assigning work accordingly.

Problem-solving skills - the ability to innovate, resolving project problems.

Flexibility - adaptability to changing project conditions.

Communication skills - expressing and sharing ideas clearly, directly, honestly, AND listening constructively to other team members' opinions.

Assuring these qualities pertain among team members leads to superior focus on job tasks and the motivation to work productively, completing the project objective.
Explain Roles, Responsibilities, Goals
Work teams require a clear explanation of what is expected of them, in sufficient detail so their precise task responsibilities are explicit within the context of the project's goals. Define everyone's roles and responsibilities within the team.
Coaching for Project Improvement
Implemented at the outset of the project, coaching is a powerful management tool that ensures team members know their goals and the best methods for meeting them on schedule. Ongoing coaching can maintain focus and performance.
However, since teams may acquire, and even depend upon, a certain familiarity among members to interact and perform effectively, avoid at all costs the tendency to micromanage. Management intervention should be discreet; coaching must be tactfully implemented, so employees do not feel unduly singled out for gratuitous criticism, potentially distancing them from the group processes and tasks they were selected to fulfill. This may diminish the quality of the entire team effort, undermining project realization.
Enabling Work-teams
Excessive management intervention also hinders work-team focus and the achievement of project goals. Intervention-overkill shifts project focus from its essential objectives, generating diminished motivation and performance instead, for both individual workers and the teams they comprise. Instead, encourage innovation and worker inter-dependence to stimulate work-team accountability and improved performance.
Providing Appropriate Resources
Even the most qualified team members cannot remain on-task if they have not been given the proper tools to work with. In addition to whatever training might be required to bring personnel up-to-task, access to task-appropriate equipment and technologies must be available. Failure to provide adequate resources generates a pretext for lower project commitment and off-task behaviors.
Monitoring and Recognition
Monitoring work-team performance ensures tasks are completed correctly and on time. Tactful implementation of monitoring points out performance errors and scheduling-delays, while understanding team members' needs, preferences, and work styles. Social CRM keeps creative teams on track with both client and management expectations, monitoring assigned tasks and tracking project milestones.

Aligning the project with worker values establishes behavioral expectations that support project focus and on-task performance. Your firm's reward/recognition initiatives and performance-management systems need to support enabled team values, rather than explicitly individual performance.
Employee recognition (ER) enables work-team performance through affirmative acknowledgment of on-task achievement. Positive feedback provides employees with a sense of value, as they are recognized for their contribution to the project. ER also improves project customer-centricity by uniting on-task behaviors with customer expectations.
About The Author