3 Ways That Resource Forecasting Affects Profitability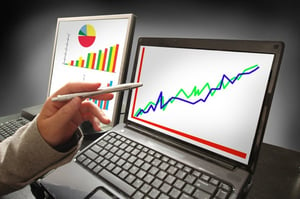 A project team is only as good as its resources. And as project manager, it is up to you to manage your resources proactively. Resource Forecasting not only identifies organizational goals, objectives and plans, but it can drastically influence the productivity and outcome of a project.
The primary advantage of resource forecasting is that it provides agencies with invaluable information that can be used to make future decisions. And while it is impossible to accurately predict the future, resource forecasting increases organizational flexibility by providing insight into operations.
To help illustrate how resource forecasting affects profitability, refer to the following advice:
1. It Predicts Future HR Needs
HR forecasting is the process of confirming the net requirements for staffing are being met and that future HR needs are being addressed. As industry vets, you know that agency life can be sporadic: creative teams often change personnel; freelancers come and go; and vacations, personal days, and meetings are an absolute reality.
Forecasting your HR status on a project-by-project basis can give you a realistic overview of your agency's available resources. It also provides PMs with historical data to help predict your needs. Developing a comprehensive plan for each employee can provide an accurate prediction for future demands. By taking individual schedules into account, PMs are able to foresee HR requirements before it's too late.
2. It Encourages Accountability
In the past, checking in with employees meant physically walking to their desk to ensure that they were on task. In our digital world—one that often involves remote workers—this is often impossible. However, managers still need to ensure that employees' are utilizing their time. Resource forecasting can help encourage this accountability.
The best resource management software allows PMs to analyze schedules, update projects and manage workloads—all from a convenient, central portal. By collecting and measuring timesheets and updating project responsibilities in real-time, managers are able to compare actual time to predicted numbers. In this regard, forecasting enables PMs to ensure that all resources are being utilized to the best of their ability and that team members are on task.
3. It Optimizes Agency Operations
Some firms are small enough that managers know everyone in the office. However, for PMs at larger firms—or at smaller firms that experience sudden growth—it can be tough to keep track of the available skills in each department. And accurately assigning resources to projects is a primary concern for project managers.
The best resource management software allows agencies to search through entire agency databases to find resources, jobs and projects. Resource forecasting updates the skills, training and experience of each employee in real-time, enabling managers to identify the right resources for each job. By providing qualitative data that analyzes the efficiency of all available employees, forecasting enables PMs to optimize agency operations.
What ways have you seen resource forecasting affect your profitability?
About The Author
Mike joined Workamajig back in 1997 and now serves as the Workamajig Director of Training and Support.