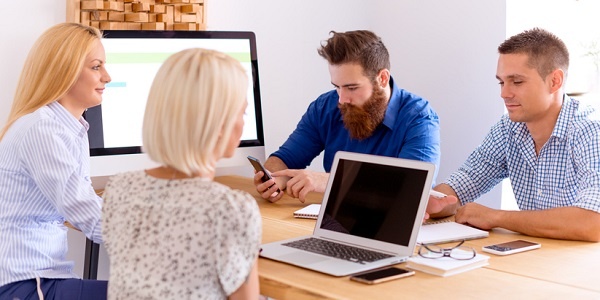 Sales enablement is most often a foundational strategy that is delivered top-down, from executives through sales managers to the front-line reps. In the beginning, this strategy was a complex, hairy initiative that necessitated cross-organizational buy-in. While that's still the case when it comes to scaling sales success across an entire company, the popularity of enablement strategies has led to a greater conversation that empowers sales reps to incorporate these practices into their strategy regardless of overall support.
While we'd recommend following whatever program is prescribed by your company, if you're one of the unlucky many without one in place, here are some tips you can use in 2017 to meet your goals and help increase your agency's revenue. Sales enablement is too important to wait for the powers that be to do it for you.
7 Tips for Agency Reps
1. Define Your Version of Enablement
If you do a Google search for sales enablement, you'll find more alternative definitions than any one thing should ever have. However, there's enough overlap between them to give you ideas for creating your own strategy.
Before you try any of the other tips and strategies, it's important to articulate your own version of what enablement means to you. What can you do to set yourself up for success in 2017?
Ultimately, sales enablement is about providing the tools, structure, and guidance to help salespeople execute their roles more effectively. On a personal level, what tools are available? What sort of structure can you apply to your day? Are there books you could be reading or training programs you could petition your boss to incorporate?
Once you have a concrete idea for your version of enablement, you can begin identifying which methods and practices you want to incorporate into fully realizing it.
---
---
2. Set and Track Goals for Yourself
A sales program lives or dies by its ability to help leadership reach its goal. In company-wide deployments of sales enablement programs, each organization will have a particular set of metrics it tracks to determine if a strategy is moving the needle in the right direction. As a sales rep, you work at the intersection of all these metrics. Investments in sales and marketing mean very little if they don't result in more clients.
Consider the resources you have at your disposal courtesy of your company (or even tools you've invested in on your own). How can you integrate them into your sales goals this year? Is there a way to measure how each one impacts your ability to hit your quota and keep your clients happy?
3. Create Opportunities to Speak with Prospects and Clients
While no one will ever mourn the death of the cold call, it's still important to maintain a line of communication with your prospects and customers. It's all too easy to fall back on emails and phone calls (though they'll do in a pinch).
If it's possible, make an effort to schedule monthly or bimonthly face-to-face check-ins with your clients. Not to sell them on anything necessarily, but to develop rapport that locks you in as the go-to subject-matter expert for pains related to your solution. Another plus: In-person meetings give you an opportunity to feel out any possible red flags that might lead to client churn or a lost deal.
4. Align Yourself with Marketing (but Remember It's a Two-Way Street)
One of the original tenets of sales enablement was correcting the misalignment between sales and marketing. This conflict, regardless of its validity, led many professionals to zero in on the most painful point of friction for these two teams: the lead hand-off. While this alignment has since evolved to incorporate sales collateral/content as well, starting off your enablement journey by taking stock of the marketing qualified leads in your pipeline is a smart place to begin.
Practice compassion in your feedback to the marketing team (remember—everyone, despite how it may appear, has a vested interest in your success as a salesperson). Try to help the marketing team understand the reality of your day-to-day sales experience and how its leads impact your ability to succeed. Just like you don't want to waste your time barking up the wrong tree, the marketing team doesn't want to spend precious budget resources attracting the wrong types of leads. So make a point to be direct with marketing this year—but be cool about it.
Additionally, you're probably receiving a lot of content from your marketing colleagues. It's important to track which content you use and to what end. Is there a particular ebook that resonates with your prospects? Are multiple clients asking the same question for which you have no go-to resource? These are both opportunities for you to help marketing support your sales efforts. Don't settle for what seems like the status quo. Communication and measurement are two essential components of a healthy sales strategy.

5. Audit Your Go-To Content
This follows from our previous tip but is important enough to warrant its very own number. Most sellers suffer from the curse of familiarity and keep using the same content they were trained on. Take a serious look at the collateral you're most often sending to your prospects. Is it three years old? It might have an initial impact, but are you able to tie the content back to the rest of your sales cycle, which will inevitably reflect a more up-to-date approach to your product and customers?
This point of friction is usually able to be solved when a company embraces sales enablement, but if you're leading the charge, you might have to be the first to take an honest account of how you're incorporating (or not) new content into your sales process.
6. Explore Continuing Education or Online Courses
Aligning training with sales goals is another facet of enablement, albeit a relatively new one. Ongoing training can help sellers focus on the messages and activities that have been proven successful. Without the help of company-wide data, you can still find ways to align training with your own goals.
Beyond tracking your metrics and activities against what works and what doesn't, there are a variety of tools available to help you improve your selling skill set. Whether it's public speaking, Excel 101, or basic copywriting, find ways to continue strengthening the skills that have either tripped you up or helped you succeed in the past.
7. Identify and Develop Your Unique Value
Continuing on the topic of strengths, creating a personalized sales enablement program provides you with an opportunity to better understand the unique value you bring to the table. Just like every product needs a competitive differentiator, every world-class salesperson has something that sets him or her apart from the rest. Maybe you're particularly good at understanding complex information or you have the gift of gab. Whatever your unique value might be, it's important you find a way to use it. Any salesperson can show up and go through a routine, but only you can find a routine that's tailored to ensure you succeed.
3 Strategies to Test in 2017
Sales Enablement Technology
Software for sales teams isn't cheap, so you might have to wait until your company goes all-in to fully enjoy the benefits of salesforce automation and data analytics tools. However, now's the time to start familiarizing yourself with what technology is available. You can use your experience with the above tips as an avenue to sell the benefits to your colleagues and managers. If you're seeing success from just a fly-by-night sales enablement process, think about what could happen if you scaled it to the whole organization.
Social Selling
Social selling is one of the more interesting techniques to evolve in recent years. While some consider it to border on stalking, others have built entire consultancies around strategies for using social networks and resources to warm up prospects and win new business.
Possibly the most important thing you can do as a salesperson is provide value. The thing to take away from the social selling movement is understanding how to use all the various platforms to fill out your understanding of a prospect. This means fewer scattershot e-blasts and more targeted campaigns built around the needs and interests of a single prospect.
Front-Line Sales Coaching
An unfortunate side effect of salesforce automation technology becoming a standard solution for sales teams is the reliance on software to intervene where managers used to. This misconception about the limits of technology has led to a lot of bad practices spreading like wildfire through organizations. A way to mitigate this is by developing a sales strategy that emphasizes the relationship between front-line sales coaches and their sales team. Just-in-time feedback and regular one-on-one coaching sessions are just a couple of the practices due for a revival in 2017.