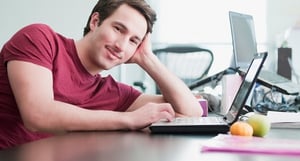 A great creative project manager is part creative, part manager and all results.
You must stoke your team's creativity, support your client's success and sustain your agency's profitability.
Doing so requires you to be capable of thinking big in dreaming up creative campaigns, while also being able to plan and execute in detail to keep projects on time, within budget and in line with expectations.
You must also be able to maximize your team's performance in terms of creativity and productivity without indulging every creative whim.
Here are eight characteristics of a great creative project manager:
1) Big-picture thinker
Seeing the end product before it's completed is essential in determining how to bring it to fruition. You must grasp your client's goals and envision the time, talent and tasks required to achieve those objectives.
2) Detailed planner
Creativity may awe but plans deliver. You can conceive a winning idea but you must establish a detailed budget and project plan to make it happen. Overlooking any potential problems like scope changes could cause delays or cost overruns should they arise.
3) Inspiring do-er
Creatives will do what you do. Leading by example can inspire your team to mirror your performance, whether it be in terms of expanding their creative boundaries or hitting the deadlines that you set.
---
---
4) Peacemaker
Conflict management is a skill that every creative project manager needs to master because disagreements inevitably arise. You must be adept at mediating creative differences between team members as well as dealing with disgruntled clients or displeased executives.
5) Client pleaser
Engaging the client throughout the project eliminates surprises for them and your team. Ensure that the client signs off on any briefs and provides detailed feedback on deliverables before finalizing. "I don't like it," doesn't suffice. Extract what they want more or less of so that your team can meet—or exceed—your client's expectations.
6) Responsible manager
You can have the most creative project but if it isn't profitable it isn't worth doing. Revenue forecasts and budget updates are vital for maintaining profitability. Agency management software can help you stay within budget.
7) Continuous learner
Learning from mistakes helps you avoid them in the future. It can also make you a better project manager by allowing you to plan more effectively and execute more efficiently.
8) Compassionate communicator
People are people first and team members, clients or executives second. A great creative project manager recognizes the value of emotions and connects with people in terms that matter.
Ultimately, a creative project manager is many things to many different people. But these are eight common traits that they share. What makes a great creative project manager for you? Tell us.