Learn how to predict and navigate the unique demands of finance and budget planning for creative teams and agencies.
Creative agencies and teams face unique challenges in budget management. From client and contractor billing to accurately forecasting profit, loss, and human resources, budget and finance management is one thing that is always crucial to get right.
Get Key Insights Into: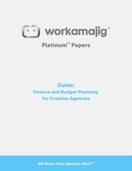 Budget considerations specific to creative agencies
Planning for sustainable growth
Troubleshooting common budget issues
Simply complete the form now to access the free guide with all of this and much more!