Discover Which Financial Tools You Need to See Your Agency Succeed.
Finance software can be a tricky area to research. There are a lot of offerings out there, some of them tailored towards agencies specifically, and others offer a "one size fits all" option. With so many different options, brands, features, and prices, making a decision can be a tough challenge.
So how do you decide what's best for your agency?
In our new guide, Finance Software Comparison for Agencies, we discuss how agencies can choose the financial tools they need to help them succeed. The guide covers topics such as: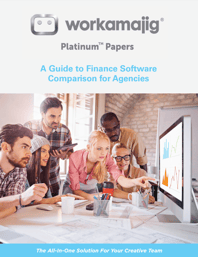 Agency Needs and How they Differ

Agency Specific Benefits of Finance Software

Key Features and Capabilities of Finance Software

Comparison Tips

How to Make a Decision
Simply fill out the form to get started.