See what sets Workamajig apart from the other project and creative team management software platforms on today's market.
Managing a project in a higher education setting is different than other project management situations. For that, you need a project management platform that can handle all of your unique higher education needs. Workamajig can do just that.
It doesn't take long to notice that no two project management platforms are exactly alike. However, a lot of them seem to be pretty similar indeed.
What is it that differentiates the different project management software solutions on the market today? How can Workamajig be so confident in saying that theirs is the best-in-class solution for creative agency management software?
In this guide, you will: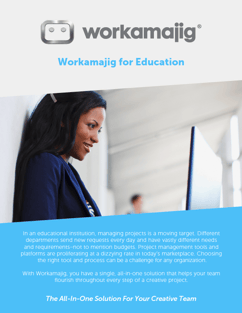 Learn why Workamajig can handle the unique demands of higher education creative teams
See a sample screenshot of the Workamajig platform.
Learn what others have to say about using Workamajig in a higher education setting.
Simply complete the form now to access the free guide