Do You Need a Better Project Communication Plan?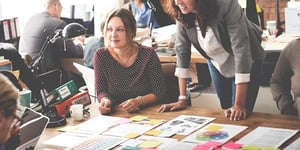 Congratulations! You have taken the first step to a better project communication plan. You have acknowledged that you need one. What exactly ails you? Are you inundated with emails, making it hard to separate the important from the mundane? Or perhaps your client is complaining that you don't seem to care about them. No matter. You have come to the right place. If you need a better project communication plan, here are five steps to make it amazing.
1) Determine what you want to do.
Your purpose determines your plan. Identify your project's objectives. Set SMART goals. Your goals should be:
Specific

Measurable

Attainable

Realistic

Time-related
Clarify your goals, for example, to increase website visits or generate social media shares, in your project communication plan to eliminate confusion about what you hope to accomplish.
---
---
2) Choose who will do it.
Now that you know where you are heading, you must choose who is making the trip. Research and assign roles for each member of the project team. From project lead to project sponsor, everyone should know their responsibilities. Establish expectations for the execution of their duties as well so that you can hold them accountable.
3) Define how they will do it.
You know best how your team works. Match workflow to work style. Email. Text. Call. Each has its place. An amazing project communication plan emphasizes the methods that your team uses most efficiently.
Speed up projects by leveraging the means of communication that works the most quickly for you and with optimal clarity. Detail who will communicate what to whom, when and how, and use project management software to help you keep track.
4) Plan for meetings.
Death, taxes, and meetings are life's inevitable unpleasantries. You could likely add traffic too, because—like meetings—it can waste your time and energy. Nobody likes to listen to irrelevant information, especially if they have more pressing needs to focus upon. Plan your meetings to maximize the use of the time that team members take from their busy schedules.
Invite only those people whose participation is required and provide them with an agenda in advance so that they can prepare. Solicit input from everyone who was invited. Keep the discussion focused on the agenda and end on time.
5) Involve stakeholders.
Incorporate clear instructions for keeping stakeholders informed as part of your project communication plan. Establish thresholds for when to communicate and how, accommodating their personal preferences like communicating via email or phone call, for example.
Don't assume that any matter is too small to warrant your client's attention—nor an update for your agency's owner even. They may perceive something that seems to be a minor detail to you to be indicative of large issues for them.
Your project communication plan is the ideal opportunity to set expectations. Create the tone for all communication that will transpire from the outset and maintain consistency throughout to deliver your project on time, within budget, and in line with your client's expectations.
Now that you know you need a better project communication plan, follow the five steps above to make it amazing.
About The Author
Ron began a career in the software industry at 13, while working with his father. He's become an expert in job cost and project management for creative teams.