How to Analyze the Success of a Project Communication Plan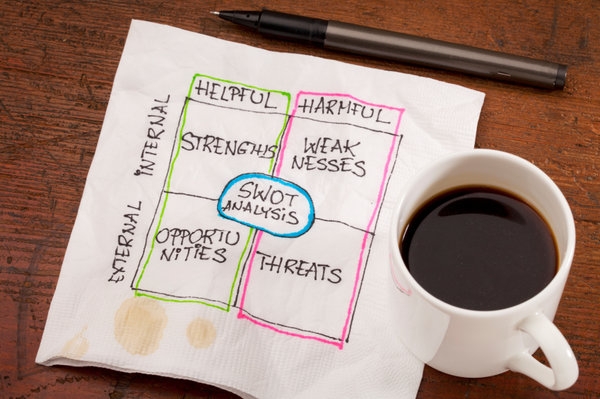 If implementing an effective communications plan is the genesis of any project, than analyzing its success should be the end goal for managers.
However, this important step is often overlooked.
Measuring the achievement of communication plans can get complex, as creative project managers must often rely on intangible metrics. No matter the project, evaluation creates accountability—and in the context of a communications plan, assessment creates an opportunity to analyze the effectiveness of your goals.
To help analyze the success of a project communication plan, consider the SWOT Analysis, which measures the strengths, weaknesses, opportunities and threats of a project.
Strengths
As a project manager, it's important to first assess the strengths of your plan. Consider your assets from both an internal and external perspective—and in relation to your competitors. Typically, strengths are manifested in terms of tangible metrics.
Consider the following:
Traffic: how often people are visiting your site or other digital channels (social or otherwise).

Level of engagement: the number of comments on blog posts, social media posts, questions at events, conversations going "viral" online and more.

Interest: how much public interest your project influenced, including: media attention, attendance at speaking engagements, sign-ups to blogs, and RSS feeds.

Attitude: behavior among your target audience members, which is often measured formally through market research or sales cycle changes.
Weaknesses
As important as it is to identify the positive impacts of your plan, considering its weaknesses can be just as enlightening. A weakness is a limitation, fault or defect in your particular product or service that negatively impacts your communication plan.
To help identify weaknesses, ask yourself the following questions:
What can be improved: Was there any miscommunication between your team?

What can be avoided: Was time wasted during any process of your plan?

What are customers, competitors, and other people in your market likely to see as a weakness?

What factors negatively impacted your sales?
Opportunities
Once your strengths and weaknesses have been identified, it's important to consider the opportunities that have been created. What interesting trends developed during your project? Were there changes in your market that will help your campaign? A helpful way to do this is to look at your strengths and ask yourself whether these open up any opportunities; alternatively, consider your weaknesses and ask yourself whether you could create opportunities by eliminating them.
Threats
Threats are also known as red flags encountered during your project. They can be manifested as obstacles, initiatives by competitors, changing technology, or new demands and requirements for your products or services. Often, threats are ignored until they become major problems. It is up to project managers to assess the likelihood of the risk or threat so that if they do emerge, you are able to quickly implement a communication response.
Measuring Success
The underlying purpose of any successful communications plan is to sustain the work with maximum efficiency and meet the project's overall goals. And in conventional project management terms, this translates to finishing a project on time and under budget.
However, instead of asking whether your project is a success, consider the successfulness of your plan—or in other words, identifiable SWOT factors. Remember, it's important to measure success within the confines of your unique goals. And once you pinpoint your plan's SWOT factors, it's important to prioritize these insights.
Understanding these factors within a realistic and tangible paradigm will help analyze your plan's strengths and weaknesses and identify room for improvement.
About The Author
David studied at the Northern AZ University & spent years working with agencies like J. Walter Thompson and McCann-Erickson and Fortune 100 companies in Tokyo.