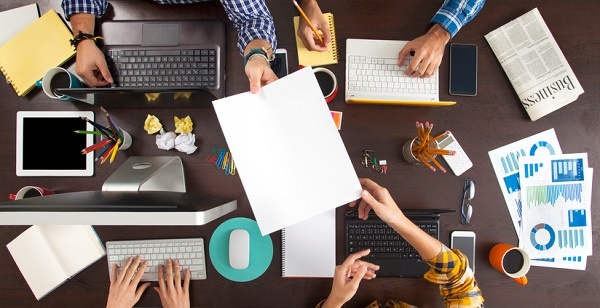 Creative resource management is as important for finishing projects on time as budgets and deadlines. You must have the right people, at the right time, to do the right work. Otherwise, even your best-laid plans will go awry. But managing your resources can be difficult, particularly when you need them for multiple projects with conflicting deadlines. If everything is urgent, you can easily overschedule team members.
Giving creative resources too much to do and too little time to do it impairs their productivity and jeopardizes your ability to complete projects on time, within budget, and in accordance with your clients' expectations. Here are five tools to streamline creative resource management so that you can please your clients while maximizing productivity and profitability for your agency:
1. Resource pool
Knowing what you need begins with knowing what you have. Account for every creative in your agency—and those creatives outside of it if you use freelancers as well. Note the abilities of each. You should have a blend of the skills that your projects require, like copywriting, graphic design, and media buying. You also should have the right level of competencies. If your clients demand complex projects that require experienced professionals, you shouldn't supply them with raw resources who are still developing their skills. Hire or outsource the talent you need to efficiently complete the work that will help your agency achieve its goals.
2. Resource forecast
Just because you have someone who can work for you doesn't mean that he or she is available to do so. Compile a resource forecast based on project schedules and team members' availability. Connect resources to project budgets and timelines. Monitor your progress against both the former and the latter. Weekly reviews of your resource forecast and usage will help you keep your projects within budget and on time by allowing you to deploy your team members where and when they are needed. Maintain profitability by consistently comparing resource actuals to projections.
---
---
3. Resource request
Perhaps you've heard the old journalism adage "If your mother says she loves you, check it out." If you need to request a resource, write it out.
A formal resource request process can help your agency optimize resource usage by ensuring that the resource is added to the proper projects at the proper time. You can prioritize assignments based on project plans and documented requests instead of assigning resources to teams that shout the loudest or to work that is more urgent but less important than other tasks. Frequently remind executive management of your project plans and resource requests. Escalate unfulfilled resource requests as needed to keep your team on track.
4. Project management software
Creative management software for agencies can streamline creative resource management by allowing each team member to view his or her tasks. You can also view schedules and to-do items in real time, thus enabling you to shift work from an overburdened resource to one who has the capacity to complete the task on time. You may also be able to set your software to alert you when an employee is overloaded.
5. Resource management software
You don't want an employee to be overloaded, but you don't want him or her to be underutilized either. Resource management software can help you manage workloads and priorities. You can also generate custom reports that show you how, where, and when resources are being used. You can use this insight to keep from overcharging projects by ensuring that resources aren't overcommitted to a project. For example, resource management software can help you tell when a resource is 100 percent assigned to a project but his or her actual usage will only be 60 percent. Therefore, the resource has 40 percent availability that can be distributed to other projects.
It may sometimes seem as if you have more work than you can handle, but that may not always be true. Effective creative resource management can help you ensure that you have enough team members—and the right ones—to keep your projects on time, within budget, and in line with your clients' expectations.